Thu, 25 Sep 2008, 09:10 AM



Humphreys and Johnson Alliance Pays Immediate Dividends as 2008 POWERade Series Grinds



Courtesy of NHRA Communications



MILLINGTON, Tenn. --
Toward Conclusion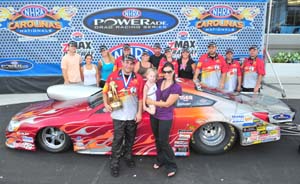 Humphreys celebrates win.
To some, Justin Humphreys may seem like an accidental giant killer.
In Charlotte two weeks ago, Humphreys earned his first NHRA POWERade Series win in just his second year of driving in the Pro Stock category. And he outlasted none other than Jim Yates, Jeg Coughlin and Kurt Johnson to do it after facing rookie Rob Mansfield in round one.
The final round itself was unexpectedly anticlimactic. Johnson's ACDelco Chevy Cobalt broke on the starting line, giving an automatic win light to Humphreys. It obviously wasn't the way he wanted to win, he said. But he did go three rounds to do it - and after the Wally was his, Humphreys' focus naturally gravitated to the round before the final, where he defeated the 'natural,' and current series points leader, Jeg Coughlin, by .013.
It seems Humphreys always had the right parts and the right connections to succeed on the big stage. For him, it may have been more a matter of getting all of those things at the same time - devising just the right equation from a mound of variables that could, finally, equal a win.
Humphreys is focused on securing a second victory as the NHRA POWERade Series comes to Memphis Motorsports Park for the 21st annual O'Reilly NHRA Mid-South Nationals presented by Pennzoil, Sept. 25-28. The race, which will be telecast on ESPN2 and ESPN2 HD, is the 21st of 24 races in the NHRA POWERade Drag Racing Series, and the third of six races in the Countdown to 1 playoffs.
>From the start, Humphreys had a solid lead on a potentially successful career here. In the beginning, an early alliance with Pro Stock veteran Bob Glidden, as well as driving lessons and a lasting working relationship with drag racing instructor Roy Hill, got Humphreys started on his transition from the now-defunct Sport Compact Series, where won a world championship. The last piece was a quiet alliance he formed with Warren Johnson and his son Kurt - of all people - at the Mac Tools U.S. Nationals in Indianapolis.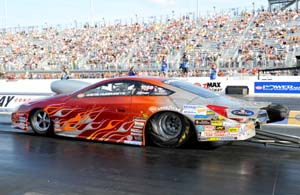 Justin Humphreys
The new relationship wasn't entirely hush-hush. News of Humphreys' switch back from a Dodge to Pontiac was announced, as was the partnership itself. There were no press conferences or media stunts. Those who missed the press release probably didn't know that the unlikeliest of the unlikely to share secrets, Warren Johnson, had brought the young driver into his circle.
In fact, Humphreys estimates he spent 80 percent of his time during the three weeks leading up to his win at the Johnson's shop in Atlanta.
"When we started running Pro Stock, we had no idea what we were getting ourselves into," Humphreys said. "But to have the opportunity to work with Bob Glidden and Warren and Kurt with this deal - they've been pretty open with us over here. It's a good team. It's definitely unexpected. We figured we'd come down here and everything would be top secret. But they've helped us out a lot. They've shared everything with us. It's been like a dream come true. It's something we never expected would happen, but now that it's happened we're hoping to move forward and come out next year and be a strong contender."
The relationship with the elder Johnson, one of only two drivers on record to start more than 500 races (the other is Funny Car's John Force), was discussed first in the Spring, with a possible 2009 start in mind.
Instead, they opted for an early start and for three rounds in Charlotte the house of cards fell the right way for both Humphreys and his new teammate, Kurt Johnson, who left Charlotte with the points lead. Humphreys faced a KB/Summit Racing car first; the triplet of the world championship two-car team of Greg Anderson and Jason Line. Johnson drew Vinnie Deceglie, Anderson, and V Gaines before losing to his new teammate in the final round. They'll have four more races to gather data before the 2008 NHRA POWERade Series ends.
Another Pro Stock driver fighting Kurt Johnson for this season's world championship title, Dave Connolly, is the defending event winner in Memphis. Melanie Troxel, who won the 2007 event in a Top Fuel dragster and has since switched to Funny Car, Gary Scelzi (Funny Car), and Andrew Hines (Pro Stock Motorcycle) all won in Memphis in 2007. All could do it again.
SCHEDULE: Pro qualifying sessions are scheduled for 3:15 and 5:45 p.m. on Friday, Sept. 26. Qualifying continues at 11:15 a.m. and 2:15 p.m. on Saturday, Sept. 27 and final eliminations begin at 11 a.m. on Sunday, Sept. 28.
TICKETS: Tickets are available for the O'Reilly NHRA Mid-South Nationals. Call (866) 407-7333 or check memphismotorsportspark.com.
ON TV: ESPN2 and ESPN2 HD will televise two hours of qualifying highlights at 10:30 p.m. on Saturday, Sept. 27. ESPN2 and ESPN2 HD will televise NHRA Race Day, a 30-minute pre-race show, at 11 a.m. (ET) on Sunday, Sept. 28. ESPN2 and ESPN2 HD will televise the race beginning at 7 p.m. (ET) on Sunday, Sept. 28.
LUCAS OIL SERIES: The O'Reilly NHRA Mid-South Nationals also will feature competition in four categories in the NHRA Lucas Oil Series, where the future stars of the NHRA POWERade Series earn their racing stripes. Lucas Oil Series qualifying begins at 8:30 a.m. on Sept. 26, with eliminations starting on Sept. 27.




NHRA: 10 Most Recent Entries [ top ]

Apr 18- Haney Headed for NHRA Pro Mod with Summit Racing on His Side
Apr 18- HOUSTON - Richie Crampton Enjoying Early-Season Success Heading to 31st Annual NHRA SpringNationals
Apr 18- 2018 Mustang Cobra Jet Celebrates 50th Anniversary of Racing Legend with Quickest
Apr 18- New Ford Mustang Funny Car Scheduled to Debut In 2019 NHRA Mello Yello Season Opener
Apr 16- HOUSTON - Fact Sheet
Apr 16- HOUSTON - After Early-Season Mishap Funny Car's Jonnie Lindberg Looks to Get On Track