Sat, 20 Sep 2008, 07:34 PM



Hight, Dixon, Coughlin, Krawiec Earn Top Qualifying Honors at Texas Motorplex



Courtesy of NHRA Communications


Photo copyright 2008 Auto Imagery, Inc.





ENNIS, Texas --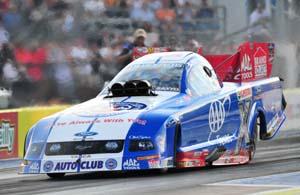 Robert Hight
Even though it was only Saturday, points were the topic drivers wanted to talk about after the conclusion of qualifying at the O'Reilly Super Start Batteries NHRA Fall Nationals.
In Funny Car, Robert Hight moved within one point of leaders Cruz Pedregon, who entered the weekend alone in the top spot, and Jack Beckman, who's since joined him, in the standings after qualifying his Auto Club of Texas Ford Mustang in the top spot in 4.063 seconds, at 301.81 mph. A quick look down the point standings show the driver who goes deepest into eliminations Sunday will leave with the lead in the Countdown to the Championship point standings.
It's not a fact lost on Hight, who hovered just below the leaders in the regular season and could now, realistically, regain the top spot for the first time since Gainesville in March.
"With this Countdown, not qualifying or first-round losses just kill you," said Hight, whose 2007 title hopes basically ended with a DNQ at this event. "It's obvious. But we don't have an easy one tomorrow, with Jim Head. To be honest, I think he has a winning record against me. There are no easy ones. We're going to have to earn this tomorrow to win it."
Hight won at this track in 2006 after qualifying No. 1. This top qualifying award was his fourth of the year, 27th of his career and second in Dallas.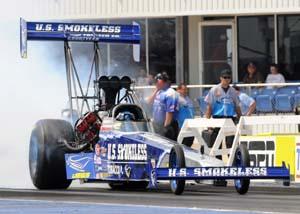 Larry Dixon
In Top Fuel, early-season rivals Tony Schumacher and Rod Fuller square off in Round 1 from the number eight and nine spots, respectively, as do teammates Doug Kalitta and Hillary Will. All four are in the Countdown to the Championship
Larry Dixon hung on to earn his fourth No. 1 qualifier of the year, the 31st of his career and his third at Texas Motorplex. He also led the Top Fuel category into race day in Dallas in 2001 and 1999.
"Instead of just coming out here and hurrying up and just making the run, the guys wanted to stay back and try to make the car perfect for tomorrow, knowing that even if we got bumped down, we'd still be in the top two or three positions," said Dixon, who sat out the final round of qualifying after his U.S. Smokeless Tobacco dragster was injured in an earlier pass.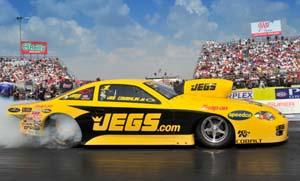 Jeg Coughlin
Jeg Coughlin's second No. 1 qualifier of the season, the 14th of his career and his third in Dallas came on the heels of a 6.631 pass at 207.56 in his JEGS.com Chevy Cobalt.
"The track's been very, very consistent, and the weather's been very, very consistent," Coughlin said. "I think we're probably the most consistent car through qualifying and qualified on the pole. We're looking forward to the first round of the day tomorrow. That's what's important, obviously."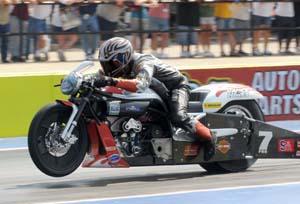 Eddie Krawiec
Eddie Krawiec drove his Screamin' Eagle Vance & Hines Harley-Davidson to a 6.970 at 191.65 to earn his third No. 1 qualifier of the year and the third of his career in Pro Stock Motorcycle.
"To tell you the truth, I'm not really focusing on what's happening out there," Krawiec said. "I'm focusing on myself and making nice, straight, clean runs. Bottom line is, you're racing yourself out there. You're not racing anybody. If you keep focused, stay in your lane and just worry about what's going on in your lane, I think just race the rounds and hopefully by the time you do good, it'll be in the final and you'll end up winning the thing."




NHRA: 10 Most Recent Entries [ top ]

Apr 20- HOUSTON - Friday Wrap
Apr 20- HOUSTON - Saturday Schedule
Apr 20- HOUSTON - Top Fuel Qualifying, Session #2 Order
Apr 20- HOUSTON - Top Fuel Qualifying Notes, Session #2
Apr 20- HOUSTON - Pro Stock Qualifying, Session #2 Order
Apr 20- HOUSTON - Funny Car Qualifying, Session #2 Order
Apr 20- HOUSTON - Pro Modified Qualifying, Session #2 Order
Apr 20- HOUSTON - Funny Car Qualifying Notes, Session #2
Apr 20- HOUSTON - Pro Stock Qualifying Notes, Session #2
Apr 20- HOUSTON - Pro Modified Qualifying Notes, Session #2