Sat, 20 Sep 2008, 02:10 PM



Gary Scelzi to Step Away at End of 2008 NHRA Season



Courtesy of Judy Stropus



ENNIS, Texas --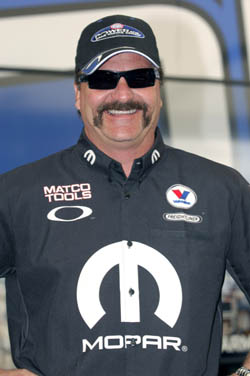 Gary Scelzi
Four-time NHRA world champion Gary Scelzi announced today that he will step down from NHRA POWERade Drag Racing Series competition at the end of the 2008 season.
Scelzi, a one-third partner with his brothers Jim and Mike in Scelzi Enterprises, a custom truck body manufacturing company based in his hometown of Fresno, Calif., said he will concentrate on maintaining and growing the family business during these tough economic times.
The California native joined Don Schumacher Racing in the Funny Car class in 2003 after capturing three Top Fuel championships (1997, 1998, 2000). In 2005, driving the Mopar/Oakley Dodge for DSR, he also claimed his first Funny Car crown.
"After the season finale in Pomona, Calif., I'll be leaving Don Schumacher Racing to go back to work at Scelzi Enterprises," said Scelzi. "With the economy in the state that it is, business being off in these tough economic times, and with all the travel that competing on the pro NHRA circuit entails, I feel it is in my best interest to leave Don Schumacher Racing a year before the contract is up and go back to work at Scelzi Enterprises and get myself more involved with what's going on there.
"When (crew chief) Alan Johnson called me back in 1996 to replace Blaine Johnson in the Top Fuel dragster, I really didn't do it to make a living," Scelzi added. "It turned into a very good living. I did it to race the absolute best of the best, to see how I would stack up. And obviously I did pretty well. I've had some great people as my crew chiefs: Alan Johnson, Mike Neff, Todd Okuhara.
"I've only had a few crew chiefs up until lately, but that's beyond our control," Scelzi added, referring to the team's struggles this year, and bringing in other tuners to help during Okuhara's recuperation from an inner-ear infection.
"I never really thought this was all I wanted to do, to feed my family. I never thought it was stable, I never felt comfortable doing it in the event I got hurt or lost a sponsor, or any of these things. There were too many variables in this business for me to be doing it for a living
"That being said, the real living I need to make is at Scelzi Enterprises and that's where I need to stake my claim.
"I can't put the effort that I need into the company and the business while running 24 races. It's impossible. Even with the little bit of help that (NHRA team owner) Ken Black has given me this year by flying me back and forth to a number of races - which I deeply appreciate - it's just too difficult. And in order for me to do what I feel is right for myself and my family, I'm going to step away and go back to work.
"This doesn't mean I quit. If and when a deal arises and it's the right deal, great. If I decide this isn't the life and find another sponsor down the road in a year or two, maybe I'll come back to Don Schumacher and say, Hey, Don, let's rekindle an old flame and see if we can't do this again.
"I'm definitely leaving the door open. I never had any intention in my mind of actually quitting. That's why I don't want to say I am retiring. I'll make that decision myself, as it is my decision to make. If it does end up being the end of it, then I've had a great career and I have nothing to be ashamed of."
Scelzi has also spent a great deal of time this year supporting his sons Dominic (11) and Giovanni (6) in their Restricted Mini Sprint and Junior Sprint racing and would like to regularly attend their events. His boys also enjoy coming to the NHRA events.
"One thing I think will help ease the pain and help in my missing the sport is that I'll definitely come to the races in California and see my friends and go to Indy, and probably Concord, N.C. I don't think that's one I'm ever going to want to miss. But racing every weekend from March to November with my kids is going to be pretty gratifying, and going to the baseball games that I've been watching on tape is going to be gratifying.
"It's going to be a whole different deal, because (wife) Julie has taken care of the leaky roof, the gardeners, all those things without me. She's a very independent woman. So I'm probably going to mess things up getting back in there. It's something that we'll have to work on."
Scelzi's family also owns a Scelzi Equipment, which manufactures heavy truck bodies, in Azusa, Calif.
"Gary Scelzi has done an awesome job in his NHRA professional career, and in particular with Don Schumacher Racing. We have been extremely proud of his accomplishments," said Don Schumacher. "But I am a business owner and a family man who also used to race, so I understand his concern in these difficult times. I wish him all the best in the future. If he decides to return to the sport in which he's accomplished so much, I know he'll call me."
While earning his four championships competing in 255 races, Scelzi has won 37 national events in 58 final rounds, has qualified No. 1 44 times and has a career round-win record of 375-207 entering this weekend's event in Ennis, Texas.




NHRA: 10 Most Recent Entries [ top ]

Apr 24- CHARLOTTE 1 - Steve Torrence Enjoying Four-Wide Success Heading to NGK Spark Plugs NHRA Four-Wide Nationals
Apr 24- CHARLOTTE 1 - Fact Sheet
Apr 24- Kalitta Motorsports Welcomes NASCAR Stars to the SealMaster Track Walk in Charlotte
Apr 24- zMAX Dragway Celebrates 10th Anniversary
Apr 24- CHARLOTTE 1 - NGK Spark Plugs NHRA Four-Wide Nationals Brings 40,000 Horsepower Thrill Show to zMAX Dragway
Apr 23- HOUSTON - Lucas Oil Drag Racing Series Wrap Up The NHRA Lucas Oil Drag Racing Series Wrap Up
Apr 23- CHARLOTTE 1 - J.R. Todd Aiming for Two Four-Wide Racing Wins in 2018
Apr 23- Mid America Dragway Joins NHRA Member Track Network
Apr 23- HOUSTON - Special Awards
Apr 23- HOUSTON - Sunday Video