Sat, 20 Sep 2008, 10:10 AM



Texas Native Hernandez Enjoying Some Home Cookin' in Dallas



Courtesy of Scott "Woody" Woodruff


Photo copyright 2008 Auto Imagery, Inc.





ENNIS, Texas --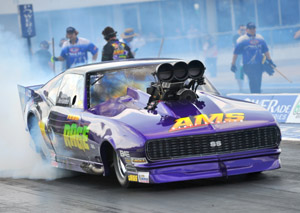 Josh Hernandez
Reigning JEGS ProMod Challenge world champion Josh Hernandez landed firmly on top of the provisional qualifying field Friday night at the 23rd annual O'Reilly Super Start Batteries NHRA Nationals with a pair of five-second passes down the quarter-mile at the Texas Motorplex.
Both of Hernandez's runs landed in the five-second range, but it was his first qualifying attempt that earned him the top spot when he posted a stout 5.964-second pass at 242.02 mph. Hernandez, of Conroe, Texas, was the only racer in the five-second range. The No. 2 spot is currently held by Joe Baker at 6.004 seconds.
"All I have to say is Troy Critchley and Jim Oddy are bad dudes," the current points leader said of his crew chief and engine builder. "With everything that has happened this week as far as our damage from Hurricane Ike and the passing of Steve Engel, it was extremely refreshing to come out here and do what I love to do most. Having said that, it's obvious we are all racing with heavy hearts. My thoughts and prayers are with Steve's family and team.
"All around our program is flawless. The car is happy, the team is working well together, and I am getting the car down the quarter mile. I am confident we will continue our progress through the rest of the weekend."
The rest of the class has one final qualifying session to attempt to catch Hernandez before they line up for the first round of competition Saturday afternoon.
Canadian Tony Pontieri is third on the grid with a 6.011 and anxious to get back in the points lead after ceding the spot to Hernandez in Indy, the last stop on the JEGS ProMod Challenge.
Kirk Wilmes set the Day 1 bump with a 6.408. Ray Vettel, one of the racers who failed to qualify Friday, had an accident in Round 2, but was uninjured.
The final round of professional qualifying is slated for 11 a.m. with Round 1 of eliminations scheduled to begins at 4:30 p.m.




NHRA: 10 Most Recent Entries [ top ]

Apr 23- HOUSTON - Lucas Oil Drag Racing Series Wrap Up The NHRA Lucas Oil Drag Racing Series Wrap Up
Apr 23- CHARLOTTE 1 - J.R. Todd Aiming for Two Four-Wide Racing Wins in 2018
Apr 23- Mid America Dragway Joins NHRA Member Track Network
Apr 23- HOUSTON - Special Awards
Apr 23- HOUSTON - Sunday Video
Apr 22- HOUSTON - Sunday Pro Mod Wrap Up