Fri, 19 Sep 2008, 05:28 PM



John Force Thanks Baylor Docs with Topeka Winners Medal



Courtesy of Elon Werner



DALLAS --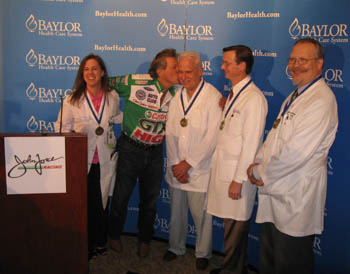 John Force kisses Dr. David Zehr
following medal ceremony at Baylor Hospital.
(from left) Dr. Amy Wilson, Force, Dr. Zehr,
Dr. Alan Jones and Dr. Michael Foreman.
In an emotional press conference held in the Cree Auditorium at Baylor University Medical Center at Dallas, 14-time Funny Car POWERade World Champion John Force thanked the four surgeons who operated on him following his catastrophic crash at the Texas Motorplex last September. Force was joined by Dr. Amy Wilson, M.D., medical director, Baylor Institute for Rehabilitation; Dr. Alan Jones, M.D., medical director of orthopaedic trauma, Baylor Dallas; Dr. David Zehr, M.D., orthopaedic hand surgeon, Baylor Dallas; and Dr. Michael Foreman, M.D., trauma surgeon, Baylor Dallas, at the press conference. A number of the nurses and physical therapists that worked with Force during his 27-day stay in Baylor were also in attendance.
"This is an emotional day for me. I'm usually a comedy act but today I have to be serious and thank each of you for helping the old truck driver get my head right. You got my body right but more importantly you showed me what was important in life. I ain't saying I found God but He is at the top of my list now right there with my family. I came in here screaming about racing at Richmond (the next NHRA event after the Dallas race in 2007) and you settled me down and got me right. I can't thank you enough for that. You and this Baylor hospital changed my life," said Force.
Following Force's opening remarks, Dr. Jones talked about Force's injuries and his dedication to rehab.
"The trauma team that we put together here at Baylor, which is a level one trauma center, from the emergency room to the trauma center under the direction of Dr. Foreman all the way through rehab with Dr. Wilson we are just happy to be a part of the process. It is hard to imagine from the injuries that you had in September that you would be back racing but as we got to know you it is really not that big of a surprise," said Dr. Jones. "You really are one determined guy. Baylor and John Force Racing have a lot in common. We are both determined to get across the finish line. For you guys it is winning races and championships and for us it is taking care of patients and getting them back to what they want to do and need to do."
At the conclusion of the remarks Force personally thanked all four doctors and presented them with replica winner's medals from his 126th NHRA national event win at the Summer Nationals in Topeka, Kansas. The win was important in Force's career considering it extended to 22 the number of consecutive years Force has won at least one NHRA National event tying him for the top spot with Pro Stock legend Warren Johnson.
Earlier in the week Force returned to the Motorplex for the first time the same way he left the all-concrete race track; via Air Evac Lifeteam helicopter. Force was joined on the helicopter by the same crew who immediately began assessing and stabilizing the winningest NHRA driver in history following his top end accident.
Force will be back behind the wheel of his Castrol GTX High Mileage Ford Mustang at the 23rd annual O'Reilly Super Start Batteries NHRA Fall Nationals presented by Castrol Syntec for qualifying starting Friday, September 19 with eliminations on Sunday, September 21.




NHRA: 10 Most Recent Entries [ top ]

Apr 23- HOUSTON - Sunday Video
Apr 22- HOUSTON - Sunday Pro Mod Wrap Up