Thu, 18 Sep 2008, 09:10 PM



At Least I Didn't Hurt Myself



By Bob Frey


Photo copyright 2008 Auto Imagery, Inc.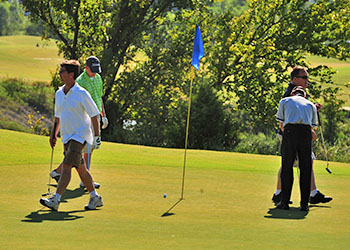 Frey prepares to putt.
I want to preface this by saying that, as hard as it may be to believe, I was pretty good at sports when I was younger. OK, now that you've stopped laughing, it's true. I once played in a football game that my team won twenty-one to nothing and I scored all three of the touchdowns. I don't want to brag, but I ran a kickoff, a punt and an interception all back for touchdowns on that fateful day. I once pitched in a little league baseball game and struck out fifteen batters. And I scored forty-two points in a basketball game in high school. OK, so I made up that part, but my point is that I was fairly good at sports when I was younger. With that as a background I feel required to add that I haven't played much lately and it shows. And I've never played a round of golf. Ever.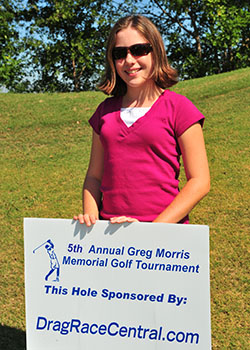 Heather Morris
Several times a year someone in the NHRA community has a charity golf tournament. The folks from DRAW do it, Alan Johnson does it at the end of the season and, I'm sure, there are others. Companies have found golf a nice way to entertain customers and make friends. Of course it's only entertaining for your customers if they play golf. It they don't, it could be humbling, rather than entertaining. It could be frustrating rather than fun. It could even be embarrassing. It could be, well, me. And it could have been yesterday.
For the past few years several of the racers in the Division 4 area have hosted a golf tournament to raise money for a deserving racer in their community and a little girl who is dearly loved by all of them. Called the "Greg Morris Memorial Golf Tournament", it is named after Greg who worked at the Texas Motorplex. Greg passed away a few years ago after a bout with brain cancer, and that came seven months after his ex-wife had been killed in a car accident. That left Greg's daughter, Heather, to be cared for by Debi Feaster who was Greg's fiance at the time of his death. Since Greg was so loved by the racers in the area, they decided that they wanted to do something to raise money to help Heather in her future. Since a lot of them play golf, and play it very well I might add, a golf tournament seemed like a natural. This year's event was held on Wednesday of this week at the Old Brickyard Golf Club in Ferris, Texas. I was invited to play in it, and I mean this from the bottom of my heart, the golfing world may never be the same.
Frey, Needham, Morris, Green and Rowe
Like I said, having never played golf, I learned a lot yesterday, like the fact that golf will probably never be how I spend my retirement days. I also learned that they have these things in golf called, "scrambles." That's where every member of a four-man team hits a shot and then you take the best shot and everyone then hits from that point. I know you'll find this hard to believe, but my team never used one of my shots all day. Not one!! At the end of the day I found out that our team shot a seventy-eight, or eight over par. Never having played before I thought that coming in at only eight over par was good, but apparently it's not in a scramble format. The winners, who had to have cheated, shot an amazing fifty-five, or fifteen under par. They won, but they didn't get a plaque like I did for finishing last. My plaque said. "To The Most Honest Golfer." After accepting it I had to confess that we did cheat on one hole. "Which one," they asked. "The one where we scored an eight." They were amazed that we cheated on a hole and still scored an eight. I guess that doesn't happen often in golf. Honestly, we didn't cheat at all, we just didn't play well. Actually, that's not true, either. My partners, Rick Green, Dave Rowe and Dave Needham, did very well, they just weren't good enough to compensate for my ability, or lack thereof.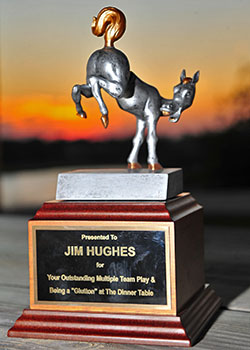 All in all my golf debut was a very enjoyable day, the other players couldn't have been nicer and the folks who put it on raised a lot of money for Heather and another Division 4 racer who will be selected and named later this week. And, at the dinner later in the day, they raised more money with an auction that featured several really nice items including beautifully framed pictures of the 2007 POWERade champ that were donated by Auto Imagery. Golf clubs with spectacular paint jobs on them, golf bags, torque converters and several hand made items that were donated by Wilma Swindoll all brought big bucks. The trophies were then presented and my team was recognized for being honest, not for our golf skills, but for being honest. Hey, it's a start. Even Jim Hughes, who helped a lot with the tournament, was given a trophy. After looking at it I still don't know exactly what it was for but I know it wasn't for being honest. And, in the end, I had a great time, was treated very well by everyone and, the big thing, I didn't hurt myself.
On behalf of Heather I would like to thank everyone (and I won't list names because I don't want to miss anyone), who had a hand in this event. It was for a very good cause, it brought a lot of racers together and it introduced me to the game of golf. Hey, two out of three's not bad. Nice job, keep up the good work and I'll see you next year, that is, if I get invited back.




NHRA: 10 Most Recent Entries [ top ]

Mar 22- LAS VEGAS 1 - Defending Funny Car Winner Tommy Johnson Jr. Excited for Four-Wide Racing
Mar 22- NHRA Northwest Nationals Tickets on Sale Now
Mar 21- LAS VEGAS 1 - Fact Sheet
Mar 21- LAS VEGAS 1 - Event Preview
Mar 20- Strong Stable of Contending Pro Stock Racers Vie for Final Starting Position for K&N Horsepower Challenge
Mar 20- GAINESVILLE - Special Awards
Mar 20- GAINESVILLE - Lucas Oil Drag Racing Series Wrap Up
Mar 19- GAINESVILLE - Sunday Video
Mar 18- GAINESVILLE - Pro Mod Sunday Wrap Up
Mar 18- GAINESVILLE - Sunday Wrap Up