Sat, 27 Sep 2003, 08:23 PM



Kalitta Races to Quickest Time in NHRA History to Claim 9TH NO. 1 Qualifier in Top Fuel



Courtesy of NHRA Communications
Photo by:Auto Imagery, Inc.



JOLIET, Ill. --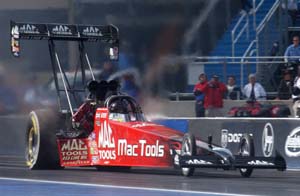 Doug Kalitta
Doug Kalitta recorded the quickest Top Fuel run in NHRA history and posted a national record for speed Saturday at the CARQUEST Auto Parts NHRA Nationals outside Chicago.
Whit Bazemore and Greg Anderson also will lead their categories into tomorrow's 11 a.m. (CT) eliminations for the $1.6 million race, the 19th of 23 events in the $50 million NHRA POWERade Drag Racing Series.
Kalitta raced down the state-of-the-art Route 66 Raceway quarter-mile in 4.428 seconds at 333.00 mph in his Mac Tools dragster to earn his ninth No. 1 qualifying position of the season and 16th of his career.
"That was a straight, smooth run," Kalitta said. "I knew it was quick, but it kind of surprised me. That just shows you what can happen when the conditions are this good at a good track. We're working with a new combination and Connie (Kalitta, crew chief) has switched a lot of stuff around."
Kalitta needs to post a time of 4.472 seconds or quicker tomorrow to certify the performance as a national record.
"I think (setting the national record) is possible if the conditions are the same," Kalitta said. "I think our strategy is to keep the car gassed up, so we'll see what happens. It seems like every time we try and back it down and be conservative that we mess up. We want to win the race and if we could get the record at the same time that would be nice."
Cory McClenathan, who qualified second by posting the second-quickest run in NHRA history -- a 4.463 second effort, also can set the national record by clocking a time of 4.507 or quicker. Kenny Bernstein, who set the national record at 4.477 seconds here in 2001, posted his sixth career run in the 4.4-second zone, powering the Budweiser King dragster to a 4.498 second effort for third in the 16-car order.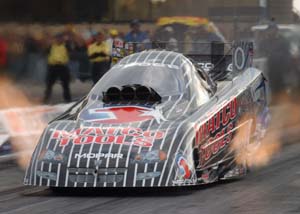 Whit Bazemore
Bazemore earned his third top qualifying award of the season and 24th of his career in Funny Car, posting a career-best time of 4.725 at 324.05 in his Matco Tools Dodge Stratus R/T.
"It is a shame we didn't get to run yesterday because I am sure someone would have set a national record," Bazemore said. "The conditions are very good and this is a great facility. Our goal tomorrow is to try and win the first round and keep it going. At some point it might take a national record run to win this race. If it does, we'll tune the car accordingly."
John Force was second with an identical time of 4.725, but lost the top position to Bazemore due to a slower speed of 323.81 in his Castrol GTX High-Mileage Ford Mustang. Gary Densham drove the Auto Club Ford Mustang to a career-best time of 4.728 at 299.13 for the third in the lineup.
Anderson claimed his 10th No. 1 of the season and 13th of his career in Pro Stock, powering his Vegas General Construction Pontiac Grand Am to a track record run of 6.739 at 205.01.
"With only two sessions we wanted to guard against a DNQ (did not qualify)," Anderson said. "We were just concentrating on making good, clean passes. This is just a testament to how flawless my team has this Vegas General Construction Grand Am running."
Jeg Coughlin was second in his Jeg's Mail Order Chevy Cavalier, posting a 6.747 at 203.34, while Warren Johnson clocked a 6.760 at 204.88 in his GM Performance Parts Grand Am for third overall.




NHRA: 10 Most Recent Entries [ top ]

Aug 17- BRAINERD - Super Comp Round 2 Eliminations
Aug 17- BRAINERD - Stock Eliminator Round 2 Eliminations
Aug 16- BRAINERD - Saturday Schedule
Aug 16- BRAINERD - Super Stock Class Eliminations Finals
Aug 16- BRAINERD - Stock Eliminator Class Eliminations Finals
Aug 16- BRAINERD - Friday Wrap Up
Aug 16- BRAINERD - Pro Stock's Matt Hartford Looking Forward to First Trip
Aug 16- BRAINERD - Top Fuel Qualifying, Session #2 Order
Aug 16- BRAINERD - Top Fuel Qualifying Notes, Session #2
Aug 16- BRAINERD - Funny Car Qualifying, Session #2 Order