Sun, 14 Sep 2008, 08:40 PM



Schumacher Takes All-Time Wins Record in Top Fuel with Victory AT NHRA Carolinas Nationals



Courtesy of NHRA Communications


Photo copyright 2008 Auto Imagery, Inc.





Beckman, Humphreys and Johnson also Earn Victories at First NHRA Drag Race at zMax Dragway



CONCORD, N.C. --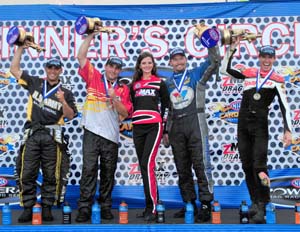 Schumacher, Humphreys, Beckman and Johnson
Tony Schumacher became the NHRA all-time Top Fuel wins leader Sunday at the inaugural NHRA Carolinas Nationals at zMax Dragway by racing to his 53rd career victory and moving past NHRA legend and longtime record holder Joe Amato.
Jack Beckman, Justin Humphreys and Steve Johnson also were winners in their respective categories at the first of six races in the NHRA POWERade Series Countdown to 1, NHRA's playoffs.
Schumacher powered his U.S. Army dragster to a final round performance of 3.882 seconds at 317.64 mph to hold off Antron Brown, who finished in 3.923 at 309.42 in his Matco Tools dragster. It was Schumacher's seventh straight victory and 12th of the year, 28th consecutive eliminations round win and 14th final round appearance -- all NHRA season records in his category.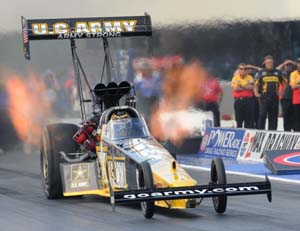 Tony Schumacher
"This is something just special," said Schumacher who increased his Countdown to 1 points lead to 46 over Brown. "I feel blessed to be the driver of that race car. It's hard work to get it. You win two or three races and you start setting records and you start to focus on how to keep it going. It seems so impossible. No one has ever done it before and there's a reason for that. It's hard to win these races. A lot of credit goes to Alan (Johnson, crew chief), but there are nine guys on that team who are incredible. I think the significance of what we've accomplished this year will hit me much later. I am very aware of it. I know how difficult it is to get here. But we've still got a championship to win and we need to focus on that."
Schumacher defeated Countdown contenders Dave Grubnic, Larry Dixon and Hillary Will in earlier rounds before outrunning Brown in the final. Schumacher said the key round was his second round victory over the race's top qualifier, Dixon.
"That round against Dixon was just a huge moment," Schumacher added. "That was another down to the wire moment and we've been fortunate to have been a part of some of the greatest moments in NHRA history the last few years. Alan Johnson wants those moments. The key to having success in those moments is to recognize it and just dig down deep, focus hard and not let your mind get overwhelmed with everything. I was worried about that round because Dixon is a great driver and they have been running great all weekend. Fortunately we were able to get that one and go on from there."
Beckman continued his hot streak in Funny Car and earned his third straight victory in his fourth straight final round appearance. He drove his Valvoline/MTS Dodge Charger to a 4.130 at 302.82 to hold off new points leader Cruz Pedregon, who clocked a 4.162 at 302.08 in his Advance Auto Parts Toyota Solara. Beckman moved from sixth to second in the points order with his victory, the fifth of his career.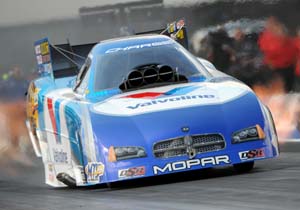 Jack Beckman
The top five drivers in the Funny Car points are now separated by only 13 points and Beckman expects a tight race to the finish.
"It's been interesting," Beckman said. "Tim Wilkerson has been the dude all year long (led the points most of the year and today dropped to fifth). We did some interviews for the Countdown and (announcer) Bob Frey asked me who are the people that you're looking at the closest for being tough down the stretch, and (I said) it's all nine of the other cars. This year it's kind of been momentum swinging back and forth. Look at Cruz. Cruz has yet to win a race this year and he's been 'bad' at every single race. (Ron) Capps is going to win one before the year is out. And the non-Countdown cars - (Bob) Tasca, (Gary) Scelzi and (Jerry) Toliver - are probably going to be in a final round or two before the year's out. So, everybody is tough. The pairings are pretty odd the way we got Countdown match-ups today and then some that weren't. It just worked out perfect for this Valvoline team."
Beckman raced to early round wins over Jim Head, Del Worsham and Robert Hight before beating Pedregon in the final. Beckman says his team is peaking at the right time, enjoying the hot streak and hoping for more.
"We started the off-season with a team that had never worked together as an entire team, an empty race car trailer and no chassis," Beckman said. "It seems like everybody who crews for me has to work extra hard, so, guys, (directed to his crew), this is the thank-you for all the hard work that you have done. And I can't emphasize enough today that the crew won the drag race. I was just so lucky to be in that Valvoline/MTS car."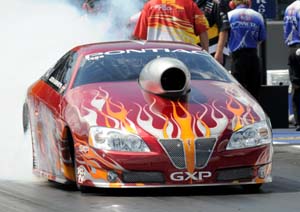 Justin Humphreys
Humphreys claimed his first Pro Stock victory in his Race-Redi Pontiac GXP on a solo run after new points leader Kurt Johnson's ACDelco Chevy Cobalt wouldn't start prior to the final round. Johnson's team pushed off his car and it started. However NHRA officials quickly informed the team that the car would need to start on its own, which it would not do. Regardless, Johnson moved into the points lead with the runner-up finish.
"I wanted Kurt to be in the other lane," said Humphreys, who noted his team is utilizing engines from Warren Johnson's race team. "It's definitely not as exciting when you make a solo run, but I was excited and happy to be in the winner's circle - a Wally (the nickname of the winning trophy for NHRA founder Wally Parks) is a Wally and win is a win. I did the burn out as far as I could and backed up as slow I could, trying to give Kurt enough time to start the car. And when I let out the clutch, the car shook real hard and I had to shut it off."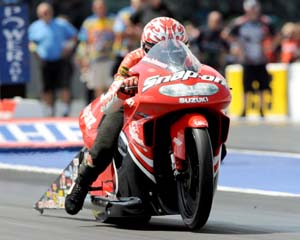 Steve Johnson
Johnson raced to his second-straight Pro Stock Motorcycle victory and fifth overall and in the process vaulted from eighth to second in the point standings. He took the win on his Snap-on Tools/Wyotech Suzuki when final round opponent Eddie Krawiec fouled at the start on his Screamin' Eagle Vance & Hines Harley-Davidson.
"Confidence is a scary thing," said Johnson, who produced an average reaction time of .023 during the day. "I am so proud of my lights. I'm proud of the team, but I can cut lights good."
He used a horsepower advantage to run down Angie McBride in the first round and then took easy wins in the next three rounds as Wes Wells, Hector Arana and Krawiec all turned on the red-light. Johnson said the final round foul by Krawiec was a surprise to him as his crossed the finish line.
"I didn't know that he red-lighted," Johnson said."I was tucked under the paint and looked over and he was ahead of me. I thought, 'How the hell did he do that?' Then I saw my win light and I figured out that he' d red-lighted. I was so excited that I didn't get the bike stopped in time and ran into the sand."
The NHRA POWERade Drag Racing Series Countdown to 1 continues Sept. 18-21 with the O'Reilly Super Start Batteries NHRA Fall Nationals at the Texas Motorplex near Dallas.
Sunday's final results from the Inaugural NHRA Carolinas Nationals at zMax Dragway. The race is the 19th of 24 in the NHRA POWERade Drag Racing Series, and the first of six races in the Countdown to 1, NHRA's playoffs:
Top Fuel -- Tony Schumacher, 3.882 seconds, 317.64 mph def. Antron Brown, 3.923 seconds, 309.42 mph.
Funny Car -- Jack Beckman, Dodge Charger, 4.130, 302.82 def. Cruz Pedregon, Toyota Solara, 4.162, 302.08.
Pro Stock -- Justin Humphreys, Pontiac GXP, 19.849, 42.40 def. Kurt Johnson, Chevy Cobalt, broke.
Pro Stock Motorcycle -- Steve Johnson, Suzuki, 7.029, 191.46 def. Eddie Krawiec, Harley-Davidson, foul.
Top Alcohol Dragster -- Bill Reichert, 5.308, 264.44 def. Ken Perry, 5.352, 265.22.
Top Alcohol Funny Car -- Frank Manzo, Chevy Monte Carlo, 5.593, 261.42 def. Marc White, Ford Mustang, 5.639, 258.91.
Competition Eliminator -- Arnie Martel, Chevy Roadster, 7.841, 169.00 def. Anthony Bertozzi, Dragster, 7.409, 178.71.
Super Stock -- Bryan Worner, Chevy Camaro, 10.237, 130.28 def. Sterling Simmons Jr, Camaro, 10.652, 125.06.
Super Comp -- Ronnie Clayton, Dragster, 8.896, 176.42 def. Brian Guthrie, Dragster, 8.876, 167.09.
Super Gas -- Billy Leber, Chevy Corvette, 9.878, 163.93 def. Sherman Adcock Jr, Pontiac Trans Am, 9.867, 160.81.




NHRA: 10 Most Recent Entries [ top ]

Mar 19- GAINESVILLE - Sunday Video
Mar 18- GAINESVILLE - Pro Mod Sunday Wrap Up
Mar 18- GAINESVILLE - Sunday Wrap Up
Mar 18- GAINESVILLE - Pro Mod Championship Points
Mar 18- GAINESVILLE - Bonus Points
Mar 18- GAINESVILLE - Championship Points
Mar 18- GAINESVILLE - Mickey Thompson Top Fuel Harley Series Championship Points
Mar 18- GAINESVILLE - Bonus Points
Mar 18- GAINESVILLE - Summary of Eliminations in Top Fuel
Mar 18- GAINESVILLE - Summary of Eliminations in Funny Car