Thu, 11 Sep 2008, 05:28 PM



There Is Only One "Broadway Bob"



By Bob Frey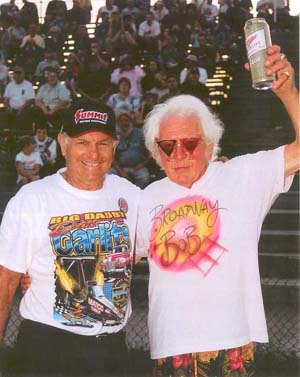 Big Daddy and Broadway Bob
There are a lot of big things happening in drag racing in the next few weeks. The spectacular new Z-Max Dragway will be officially opening in Concord, North Carolina today. If you haven't been there, take my word for it, it is magnificent. But that's not the biggest thing in the sport. The 2008 NHRA POWERade "Countdown to 1" championship quest will begin on Friday, and before you know it, four new professional champions will be crowned. Tony Schumacher will try to hold on to his lead, as will Tim Wilkerson, Greg Anderson and Matt Smith. But that's not the big thing. Across the country, the seven NHRA divisions will crown their Summit Racing E/T Series champions, and those winners will get to go to Pomona to compete for the national championship. But that's not the big thing. No, the biggest thing in drag racing will take place at the world famous Great Lakes Dragaway in Union Grove, Wisconsin, on September 27th and 28th when the world comes together to celebrate "Broadway Bob's" 80th birthday. Now that, my friends, is big. Really big.
"Broadway Bob," or Bob Metzler as he is known to his family, is a true legend in the sport of drag racing. He has been involved with the sport since the mid 1950's and his "Olympics of Drag Racing" is one of the oldest events in the country, having begun in 1957. Over the years virtually every big name in the sport has raced at Great Lakes and most of them have some great, personal stories to tell about the master showman, "Broadway Bob." Known for his fantastic shows and his outlandish wearing apparel, "Broadway Bob" is as much a part of the landscape of our sport as "Big Daddy" or John Force. Really!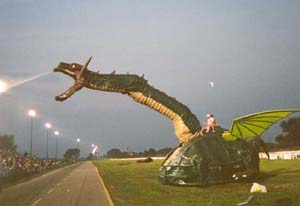 Broadway Bob rides Draco
"This weekend at 'Broadway Bob's' Great Lakes Dragaway it's the big one. See seventy fire scorching Funny Cars in side-by-side action. See Don 'The Snake' Prudhomme against the 'Chicago Patrol' Funny Car in a special two-out-of-three match race." So goes one of his many commercials for another stellar attraction as his track. And were there really seventy Funny Cars there? It doesn't matter, because "Broadway" was there and there was a good chance that he was riding on the front of some fire-breathing jet dragster or sitting astride "Draco the Dragonator" as part of the show. Draco, for those of you who don't know, is the world's only mutant, bionic, mechanical, fire-breathing creature with jaws of steel. Really! And, even at eighty years old, "Broadway Bob" will ride the wild beast as it entertains the fans at his birthday party.
"This weekend at 'Broadway Bob's' Great Lakes Dragaway it's an unbelievable double header. See the United States Wheelstanding Championships, plus over fifty earth scorching Pro Stockers." Just another one of "Broadway's" commercials and it packed them in. In fact, all of his commercials packed them in. They came to see smoke and fire and wild wheelstands. They came to see jet cars, funny cars, and wheel-popping Pro Stock cars. They came to see Marvin Schwartz and "Big Daddy" Don Garlits. They came to see Shirley Muldowney and Richard Tharp. They came to see Jeb Allen and the Motown Shaker. But most of all, they came to see Bob. "Broadway Bob."
Broadway Bob and Wally Parks
To illustrate just how much Bob has meant to the sport, consider this. He was inducted into the Drag Racing Hall of Fame in 1996 even though he never raced a car. Never. He was inducted into the Jet Car Hall of Fame even though he never drove a jet car. Never. Of course, even though he didn't drive a jet car, he did "ride" a jet car. Let me explain. It seems that "Broadway Bob," who has booked in virtually every jet car that ever ran in the history of the sport, and that includes the legendary Arfons family, once had this wacky idea that a good way to get the fans pumped up for his jet car show would be for him to ride on the front of the car while it was fired up. And so he did. In full "Broadway Bob" regalia, which means a multi-colored, tie-dyed T-shirt, and with beer can in hand, Bob came out of the staging lanes, into the burn out box and waved to the crowd, and all the time the jet car driver was popping those after burners as only a jet car can. And, as they say, the crowd went wild.
"See dragsters, wheelstanders, jet cars, Funny Cars, Pro Stockers and more. See Fred Sibley, the Little Red Wagon, the Dodge Rebellion and Tyrone Malone. See Sox and Martin, "Jungle" Jim, the "Blue Max," the Detroit Tiger and more. "See Tommy Ivo, Don Prudhomme, Gary Burgin and more than one hundred touring pros." And where can you see all of this? Of course, "this weekend at 'Broadway Bob's' Great Lakes Dragaway during the Olympics of Drag Racing." Now that's some show, isn't it? But it's just one of the many events that helped put "Broadway Bob" into the Hall of Fame. Or several Halls of Fame.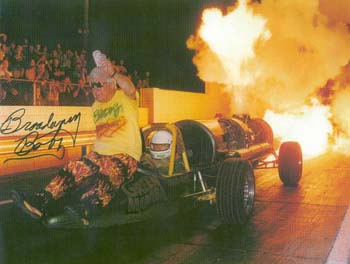 Broadway Bob rides the Green Mamba
"Broadway Bob" had a few health problems a few years ago and so he sold Great Lakes Dragaway in 1995, but he remains a fixture at the facility. His friends, and there are thousands of them, will gather together at the track that Bob built on the weekend of September 27 & 28th to wish him a happy birthday. "I'm only doing this because you only turn eighty once," he said. And, in true "Broadway Bob" tradition, it's going to be quite a blowout in Union Grove that weekend. You'll see jets and wheelstanders, Elvis and the Nitro Man. You'll see wheel popping, well, you get the idea. It's going to be two days of exciting racing action and it's going to be a tribute to one of the true legends in our sport. "We've lined up a lot of special guests who will stop by to honor Bob," Steve "Nitro Man" Wallace told me. "And we started putting together a list of cars to do a cacklefest and that thing has taken on a life of its own. Let me tell you, it's going to be huge." And it should be, after all, there is only one "Broadway Bob." Oh yeah, the highlight of the weekend will be Draco and Bob, and not necessarily in that order.
I've known Bob for many years, in fact , I announced at his track back in the 1970's, and I'm proud to call him a friend. Better yet, I'm proud that he calls me a friend. I even have one of the very few "Broadway Bob" bobble-head dolls and I count it among my most prized possessions. And when I showed my wife the Draco bobble-head, she asked what it was, and she followed that with, "what is that man doing riding on the dragon?" I just smiled and said, "Well, babe, that's 'Broadway Bob,'" and I left it at that. I wish I could take her to Great Lakes Dragaway on September 27th & 28th because I know she'd love it.
You can find out more about the celebration by going to the track's website at www.greatlakesdragaway.com. And if you happen to be in the area, stop by, it'll be easy to find, just follow the crowds. Happy birthday, Bob. And many more!!




NHRA: 10 Most Recent Entries [ top ]

Apr 18- Haney Headed for NHRA Pro Mod with Summit Racing on His Side
Apr 18- HOUSTON - Richie Crampton Enjoying Early-Season Success Heading to 31st Annual NHRA SpringNationals
Apr 18- 2018 Mustang Cobra Jet Celebrates 50th Anniversary of Racing Legend with Quickest
Apr 18- New Ford Mustang Funny Car Scheduled to Debut In 2019 NHRA Mello Yello Season Opener
Apr 16- HOUSTON - Fact Sheet
Apr 16- HOUSTON - After Early-Season Mishap Funny Car's Jonnie Lindberg Looks to Get On Track