Tue, 9 Sep 2008, 03:32 PM



An Important Race for Several Reasons



By Bob Frey


Photo copyright 2008 Auto Imagery, Inc.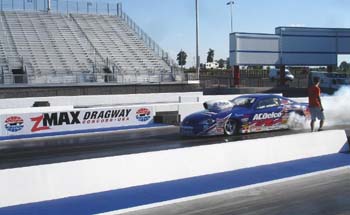 Johnson at zMax.
The race this weekend at
Z-Max Dragway
in
Concord, North Carolina
is special for a lot of reasons. First and foremost, it is the first race of the "Countdown to the 1," the first of six races that will decide the 2008 POWERade champions. Second, it will be contested at the magnificent new track that
Bruton Smith
has built, and, from everything that I have heard from those who have been there, it is spectacular.
Greg Anderson
was there a few weeks ago and he said it is the nicest facility and the smoothest track surface that he has ever been on.
Warren Johnson
, who was there last week, also had glowing comments about it and that says a lot about the track. Everything that Bruton has done in the sport has been top notch and Z-Max Dragway will continue that trend. I can't wait to get there.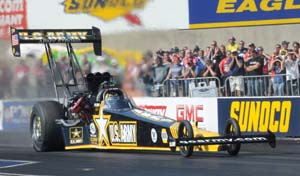 Tony Schumacher
This race will be important to all of the pro teams who are looking to get off to a fast start in the "Countdown." The big question is, can anyone stop the
Army
car?
Tony Schumacher
has raced out to a huge lead and then, with the new format, saw that lead cut down to thirty points as we begin the second part of the season. I spoke with Tony several times this year about the format and he had nothing but good things to say about it. "If we don't win the championship, I'll walk over to the driver who did win and I'll be the first to congratulate him." And he means it. "We all read the rule book and we know how the system works. Sometimes it works in your favor and sometimes it doesn't, and we've been on both sides of that." Tony, who owns most of the records in the Top Fuel class, and who is adding to them every race, will go into
North Carolina
with a thirty point lead over
Antron Brown
and the
Matco Tools
car.
He'll have an extra ten point lead over
Larry Dixon
and ten more over
Cory McClenathan
. And as dominant as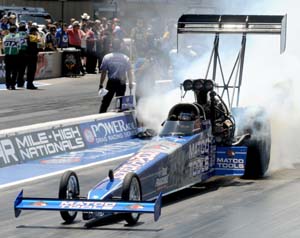 Antron Brown
Tony and his team have been, a thirty point lead can disappear in a hurry. In addition to winning all of those races this year, eleven of them,
did you know
that Tony hasn't lost in the first round since the
Richmond
race last year, a span of twenty races? As good as that is,
did you know
that he has a long way to go to set the record in Top Fuel? Larry Dixon went thirty rounds, from the end of the 2000 season through the early part of 2002 without dropping a round one match....I don't think anyone will argue that the Army car is the one to beat in the "Countdown" but I think they'll get tested early and a new track could be the big equalizer. I thought Tony's comments in the press room at Indy were indicative of the determination that he and his entire team have. "Nobody wants to get beat and I don't want to be the one to cost us a win. I can't make a mistake." He then added that, when it comes to the other drivers in the class, he knows they'll all be gunning for him. "Larry Dixon doesn't make mistakes. He doesn't. And I can't either, not at this part of the season." He also spoke about the departure of
Alan Johnson
at the end of the year. "Who knows, I may be tuning this thing next year and that won't be good. I may never have another year like this so it's time to go out and close the deal.".... Since I mentioned Larry
Dixon
I would like to put at least one rumor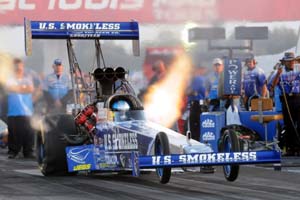 Larry Dixon
to rest. Larry is not, repeat, not going to the Alan Johnson team next year or anywhere for that matter. Larry is under contract to
Don Prudhomme
who has a contract with the
U.S. Smokeless Tobacco Company
for next year. So, Don will have his Top Fuel car and Larry will drive it, and I say that in spite of what you may have read elsewhere....With Tony winning more than half of the races so far we have only had seven winners this season in Top Fuel and only one other driver has won more than one race. Antron Brown, who goes into
Concord
in second place, has won twice while Larry, Cory, Rod,
Hillary Will
and
Doug Herbert
have all won once.
Did you know
that, in the last twenty years, the fewest different winners that we've had in Top Fuel is five in 2003? We also had six winners in 1990 and in 1998, and in each of those years the driver with the most wins had six.
Joe Amato
did it in 1990 and
Gary Scelzi
did it in '98.
Did you know
that the last time the driver with the most victories didn't win the TF title was in 1999? That year Joe Amato won five races and Tony Schumacher won one and still won the championship. In fact, in 1999 six drivers all won more races than Tony did and he still won the championship. Gee, now that doesn't seem fair, does it?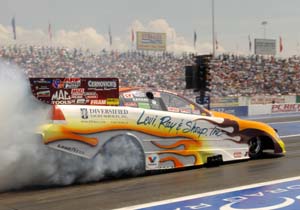 Tim Wilkerson
Tim Wilkerson
goes into the "Countdown" as the points leader, a position he has had since
St. Louis
, a span of twelve races. Tim told me in an interview earlier this year that his intention was to qualify for every race this year, be number one going into the "Countdown" and then, as he put it, "Really run hard over the last six races of the season." It's hard to believe that he could run any harder than he already has. Tim has been the picture of consistency this year, and you would have to think that he is the favorite going into these next six races. Tim has qualified for all eighteen races this year and that puts him in a select group.
Did you know
that only two other Funny Car drivers,
Ron Capps
and
Tony Pedregon
have made all eighteen starts this year? In fact, Ron and Tony are tied for the longest consecutive qualifying streak in the Funny Car class at thirty-three in a row, and that just goes to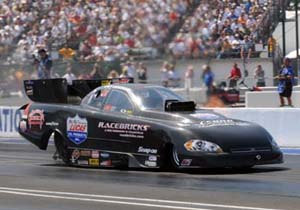 Gary Densham
show you how rugged the class is this year....
Gary Densham
is the latest racer to get some help from
Lucas Oil
and now, for the first time all year, Gary can concentrate on running his car and stop worrying about where the next check was going to come from.
Gary
's seventh place in the standings is one of the real surprises of the year, not because he isn't capable of running well, but with the depth of the class it's amazing to see what a single-car operator can do. I've said all year that
Gary
and his crew chief,
Greg Amaral
, have done wonders and I think they'll be a factor in the "Countdown." I'm not saying that they'll win it, but that they'll be a factor. That also means I'm not saying they won't win it. If
Gary
went the distance it would be the biggest story in drag racing in a long time....There really doesn't seem to be a clear cut favorite in the Funny Car class, at least not to me. There are a lot of cars that can win a race or two but nobody who seems ready to dominate the class over the next six races. To illustrate my point,
did you know
that there have already been nine different winners in the Funny Car class this year? And
did you know
that the most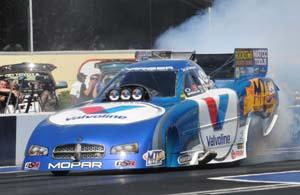 Jack Beckman
winners we ever had in a single season was eleven?
Only 2006, with those eleven winners, and 1997 with ten different winners, produced more individual winners in the FC class than this year has, and we still have six races remaining.
Did you know
that only
John Force
and Tony Pedregon won at least one race in each of those three years of 1997, 2006 and 2008?...Going into the Concord race,
Jack Beckman
and
Cruz Pedregon
are certainly running well as are Tony and Tim. It could be that the team that simply wins rounds, and not necessarily races, will emerge as the champion this year. With the quality of cars in the class it's not too far fetched to think that a driver could win just one of these next six races and still win the championship.Just for the sake of argument, if the last six races had been the ones to decide the championship,
did you know
that Jack Beckman would be the champ? Over that period of time, Jack, in his
Valvoline/MTS Dodge,
has won fifteen rounds and been to four finals including a win in
Maple Grove
.
Robert Hight
would have finished second and Tim and Tony would be next.
....Bob Gilbertson
will make an appearance at his "home track" this weekend and he'll have
Mike Kloeber
tuning the car. I'm not saying that Bob will win the race, but with Mike on board, I will be surprised if he doesn't get in the show. Of course if he does that means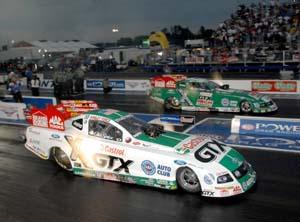 Ashley vs. John
that one of the tour regulars will get bumped out, but which one?...And not for any particular reason, but I thought I would mention this since it popped up in my stats department.
Did you know
that, since we went to the 1,000 foot track,
Ashley Force
has better performance numbers than her dad does? Ashley has gone 4.094 - 302.41 while John's best numbers are 4.112 - 301.37. I just found that interesting. John Force was just one of many teams testing in Michigan this past week and, from what I hear, he was the only one of the Team Force cars that was there...The Funny Car class is loaded with talent and the next six races will be fun to watch, and the team who gets off to a good start this weekend will have a big advantage, and if one of the contenders fails to qualify it will be a long six races for that team.
I looked at the Pro Stock car class and thought about picking a winner and then I thought, you must be kidding. Like the Funny Cars, the Pro Stock class has a lot of really good teams and excellent drivers and that will make it very competitive over these next six races. The spoiler in this class could be the cars who aren't in the top ten, like Warren Johnson, for example. Even though he got bumped out of the field and won't run for the championship, WJ is making big power, and if he can solve those first sixty feet, he could not only spoil things but he could win a race before the end of the year....Justin Humphreys is also not in the top ten, but the talented young driver will switch back to his favored Pontiac for the rest of the season and he will have power from the "Professor," Warren
Larry Morgan
Johnson. That, to me, makes him a contender and he could upset one or two of those top ten teams....I think the teams outside of the top ten will play a big part in deciding who wins the Pro Stock championship. Teams like
Vinnie Deceglie,
Johnny Gray
and the resurgent
Larry Morgan,
among others
,
all can be spoilers....Nobody has had a wackier season than Larry Morgan. Over the first eight races of the season Larry couldn't even qualify, and then, over the next ten races, he qualified for every race, won twelve rounds and went to three final rounds. I don't think any of the contenders want to line up against Larry in round one this weekend..
Rickie Jones
is another one who could mess things up for the "big guys" this weekend. Rickie, who is having a very good rookie season, almost always qualifies and he has started to win some rounds. With his dad, Rick, building the car, and with Larry Morgan providing the power, Rickie can run with almost everyone in the class. OK, so he may not have the brute power of
Greg Anderson, Jason Line
or the two
Victor Cagnazzi
cars of
Jeg Coughlin
and
Dave Connolly
, but he's not far behind. I only wish he had been at all of the races this season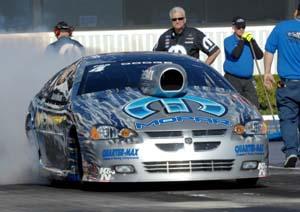 Allen Johnson
because he would be a solid contender for that Rookie of the Year award..A real sleeper, if you can call a top ten driver that, may be
Allen Johnson
. Allen has run well all year even though he hasn't won a race but he does win rounds and he almost always gets out of the first round.
Did you know
that over the last six races Allen has won twelve rounds and the only contender who has done better is Dave Connolly who has won fifteen? Of the contenders, Allen has dropped four first-round matches, and they all came in a row, between Bristol and Englishtown, while Greg, Dave and Jeg have all lost three times in round one this year. That could be huge over these next six races, that is, the team that wins the most first round matches could end up the champion...Another thing to watch in the Pro Stock class is who gets the advantage on the starting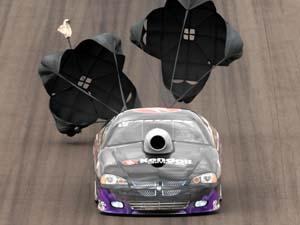 V. Gaines
line. Holeshots will play, or could play, a big part in deciding the championship, and with the cars so evenly matched, a hot driver could decide the championship. Of the top ten drivers did you know that
Dave Connolly
has the most holeshot wins this year with 6 while
V. Gaines, Mike Edwards
and
Greg Stanfield
each have 5. So, all I can say is watch the cars as they go by the "tree" and you might know who is going to win in Pro Stock this weekend.
At least there is a clear cut favorite in the Pro Stock Motorcycle class. Oh wait, I was looking at the results from 1994 when Dave Schultz won nine of the eleven races in the class that year. With seven different winners this year, and six of them running in the "Countdown," it's anybody's championship to win. Matt Smith comes in as the leader and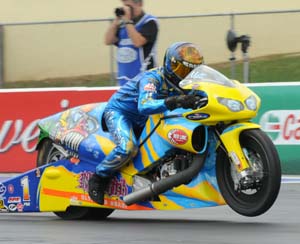 Matt Smith
he'll get that thirty point head start over
Andrew Hines
. Matt, Andrew and
Matt Guidera
are the only ones in the class with more than one win but they certainly aren't the only ones who could win this. With only five races remaining on the motorcycle schedule, this first race takes on added importance. Matt Smith certainly comes in as the hottest rider in the class with fourteen round wins and three event wins in the last five races for the motorcycles. The
Nitro Fish
bike is hot and Matt is riding well and that could be a recipe for back-to-back championships....More than any class, the motorcycles need to get green light starts if they want to go deep into eliminations.
Steve Johnson
, in his winning interview at Indy, said that getting
Steve Johnson
a green light is the most important thing a rider can do in this class.
Did you know
that nineteen different riders have fouled out in the bike class this year?...Andrew Hines and the
Vance & Hines Screamin' Eagle Harley-Davidson
will be a strong contender as will
Chip Ellis
on the
Don Schumacher Suzuki,
but if there is a dark horse in the field this year I think it's
Craig Treble
. Craig, now part of the Schumacher team, has a lot of power, or at least he should, and he is among the best riders in the class.
Did you know
that Craig has five holeshot wins this year and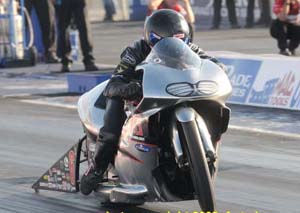 Craig Treble
that's the best in the class? In fact, no other rider has more than two holeshot wins this year, and Craig has only one holeshot loss and he has only fouled out once. I should point out that his holeshot loss came to
Chris Rivas
who had a perfect reaction time on that run. Still, it's a holeshot loss. Anyway, if you put Craig's numbers together with a good motorcycle and you could be talking about a guy running from the ninth spot in the points to contend for the title. But with only five races for the bikes, Craig will need to gain ground on the leaders this week if he wants to make a serious run for the championship....
Valerie Thompson
will make her second appearance on the tour this week while
Peggy Llewellyn
will get some help from the folks at
R2B2 Motorsports
for the next few races as will Matt Guidera.
If the weather holds out and if the crowds come in as expected, this could be a very interesting and fun weekend. I think that we will see an early pattern develop in the championship races this week and the teams who win at Z-Max Dragway could go on to be the champs. Then again....




NHRA: 10 Most Recent Entries [ top ]

Mar 19- GAINESVILLE - Sunday Video
Mar 18- GAINESVILLE - Pro Mod Sunday Wrap Up
Mar 18- GAINESVILLE - Sunday Wrap Up
Mar 18- GAINESVILLE - Pro Mod Championship Points
Mar 18- GAINESVILLE - Bonus Points
Mar 18- GAINESVILLE - Championship Points
Mar 18- GAINESVILLE - Mickey Thompson Top Fuel Harley Series Championship Points
Mar 18- GAINESVILLE - Bonus Points
Mar 18- GAINESVILLE - Summary of Eliminations in Top Fuel
Mar 18- GAINESVILLE - Summary of Eliminations in Funny Car