Mon, 8 Sep 2008, 12:08 PM



One on One with Antron Brown about The Countdown to 1



Courtesy of Ted Yerzyk


Photo copyright 2008 NHRA





BROWNSBURG, Ind. --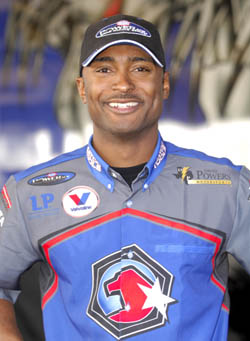 Antron Brown
Antron Brown secured the No. 2 seed in the Countdown to 1 during the prestigious U.S. Nationals at Indianapolis. With the first 18 races behind the first-year Top Fuel standout, Brown now trails five-time champion Tony Schumacher by just 30 points. With two wins and three poles among his 2008 accomplishments, Brown and the Matco Tools team look to add the word "champions" to those accolades when the Countdown to 1 begins at zMax Dragway near Charlotte, Sept. 11-14. In this Q&A, Brown talks about competing in his first Countdown to the Championship, the new structure of the Countdown and his thoughts on beating Tony Schumacher.
You secured the No. 2 seed in the Countdown to 1. Are you surprised the Matco Tools team has been so successful this season?
BROWN: No, I wasn't surprised on how well we've done. I knew from the start that we had a great team that Lee (Beard) structured. I've never been with a group that's so determined to do well. It's hard to get nine or 10 guys that have the same willingness to win and that 'do what it takes' attitude. That's why I knew we had something special with this team and why I'm not surprised on how well we've done.
What are your thoughts on only being 30 points behind Tony Schumacher?
BROWN: I love it. I love the Countdown. It gave us time to put together a tune-up that can run with the U.S. Army car. We've been in test-mode to find a better combination so we can compete with them. I think we've achieved that and we have a very fast and consistent race car. I think that's what the Army car did last season and they won the title again. That's our goal too.
Can anybody beat Tony Schumacher?
BROWN: Yes. I believe there are a few cars that can beat the U.S. Army car. I think a lot of people beat themselves when they race Tony Schumacher. I think our DPM teams are capable of beating the Army car because both the Caterpillar car and Matco car have beaten them this season. We just need to go out and do what we do and not beat ourselves.
Do you like the new structure of the Countdown to 1?
BROWN: Yes, I like it a lot better. It's more of a marathon to win the championship rather than having two good races. With six races, you have time to have a bad race and make up the points.
Are you excited to compete in your first Countdown?
BROWN: Yes, I'm very excited to be in the playoffs for the championship. It adds flair and excitement to the sport. Now you'll see all the teams digging deep. There are 10 cars in contention to win the championship. It should be fun.
How do you see the 1,000-foot rule affecting the Countdown?
BROWN: I think that the 1,000-foot rule makes the racing more tight and competitive. Much of the racing has been real close. I think being the first driver to leave has gotten even more important. So, I need to make sure I'm on my game on race day and on my reaction times.




NHRA: 10 Most Recent Entries [ top ]

Mar 22- LAS VEGAS 1 - Defending Funny Car Winner Tommy Johnson Jr. Excited for Four-Wide Racing
Mar 22- NHRA Northwest Nationals Tickets on Sale Now
Mar 21- LAS VEGAS 1 - Fact Sheet
Mar 21- LAS VEGAS 1 - Event Preview
Mar 20- Strong Stable of Contending Pro Stock Racers Vie for Final Starting Position for K&N Horsepower Challenge
Mar 20- GAINESVILLE - Special Awards
Mar 20- GAINESVILLE - Lucas Oil Drag Racing Series Wrap Up
Mar 19- GAINESVILLE - Sunday Video
Mar 18- GAINESVILLE - Pro Mod Sunday Wrap Up
Mar 18- GAINESVILLE - Sunday Wrap Up