Fri, 5 Sep 2008, 09:28 AM



Kurt and Warren Johnson Praise New Zmax Dragway Following First Test



Courtesy of Jon Knapp



ACDelco Cobalt & GM Performance Parts GXP Crews Put in a Full Day at Concord Quarter-mile



CONCORD, N.C. --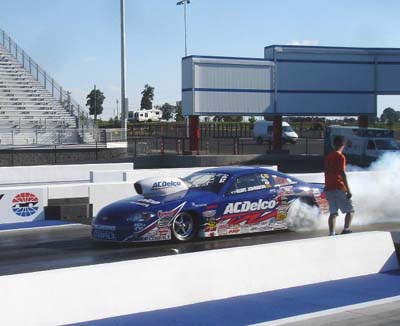 Kurt Johnson
Three days after competing in the U.S. Nationals in Indianapolis, IN, the father-and-son team of Warren and Kurt Johnson were back on the track on Thursday, putting in a full day of testing at Bruton Smith's latest contribution to the POWERade Drag Racing Series, the Zmax Dragway in Concord, NC. Battling stifling heat and a relatively green racing surface, the Johnsons were among four Pro Stock teams making runs at the state-of-the-art speedplant, with their performance often stopping the numerous workers rushing to complete the facility in time for the upcoming Carolina Nationals.
Making a total of 14 runs between them, KJ set low elapsed time for the day in the ACDelco Cobalt (pictured) with his 6.680-second, 206.35 mph pass in the early afternoon, with WJ, who set top speed at 207.43 mph, close behind, tripping the finish line timers in his GM Performance Parts GXP in 6.685 seconds. Afterwards, the duo had nothing but praise for the magnificent new track.
"This is absolutely the best facility I have ever raced at in my career," stated the younger Johnson. "Since no one had really gone down this track before, we came here today expecting to only make eighth-mile runs. However, our ACDelco Cobalt was able to go to the finish line four times with no problems whatsoever, showing that a lot of people paid attention when building this new track. This is a huge addition to our sport, and I can't wait to come back next weekend and race."
"There is no doubt that this is a tremendous facility," added WJ. "The track didn't have a whole lot of rubber on it, and yet it held everything that our GM Performance Parts GXP, as well as every other team, put out there, and it is only going to get better from here. In addition, the shutdown area here is smoother than the racing surfaces at many of the other tracks we run on during the year. All in all, considering how quickly this project was completed, you'd have to say they did a bang-up job. This promises to be a great race."




NHRA: 10 Most Recent Entries [ top ]

Apr 21- HOUSTON - Sunday Schedule
Apr 21- HOUSTON - Saturday Video
Apr 21- HOUSTON - Saturday Wrap Up
Apr 21- HOUSTON - Super Stock Class Eliminations Finals
Apr 21- HOUSTON - Funny Car Qualifying, Session #4 Bonus Points
Apr 21- HOUSTON - Total Qualifying Bonus Points
Apr 21- HOUSTON - Funny Car Eliminations Ladder
Apr 21- HOUSTON - Funny Car Final Qualifying, Session #4 Order
Apr 21- HOUSTON - Top Fuel Qualifying, Session #4 Bonus Points
Apr 21- HOUSTON - Pro Stock Qualifying, Session #4 Bonus Points