Fri, 5 Sep 2008, 08:14 AM



Some Sportsman Indy Notes



By Bob Frey


Photo copyright 2008 Auto Imagery, Inc.





There are over 800 cars that competed at the Mac Tools U.S. Nationals and the majority of them were in the sportsman classes. The pro cars and motorcycles and even the Pro Mod cars get a lot of attention, and rightfully so, but the real heart of the race are the hundreds of sportsman racers who come from all over the country to compete. From the first time that I went to Indy in 1967 and watched Gene Snow beat Jim Wohlfeil to win Super Eliminator and Joe Law stop Gary Sullivan to win Competition Eliminator, I have thoroughly enjoyed the show that the sportsman racers put on at the "Big Go." I also enjoyed watching Ben Wenzel win B/S in his new '67 Camaro and then go on to win the Stock eliminator crown. And, believe it or not, I was there when Leonard Hughes took the SS/AA class title in '67, too. Yes, "that" Leonard Hughes.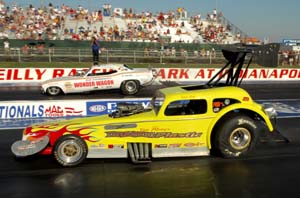 Coil vs. Lewis
The 2008 version of the "Nationals" provided us with some great action in the sportsman classes as well as a very interesting two-car match race. Lisa Coil, the wife of John Force's crew chief, Austin Coil, drove a AA/FA in a race against Mike Lewis who was driving Don Schumacher's rebuilt "Wonder Wagon." Mike, who went to the finals in the Top Alcohol Dragster class two weeks ago in Maple Grove, works for Don and he got the chance to drive the nostalgia car at Indy. Mike did a good job but he came out on the short end of the two runs against Lisa. To say that Lisa was excited after the runs would be an understatement. All you had to do was watch her reaction as she came back up the return road in front of the crowd. And I can't tell you the last time I saw Austin with such a big smile on his face. It was, as the advertisements say, priceless. Congratulations to both Lisa and Mike for a job well done.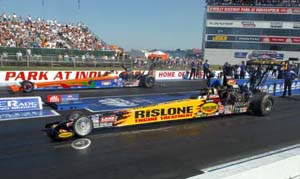 Reichert vs. Shields
The Top Alcohol Dragster class at Indy featured eight of the top ten cars in the class with only John Finke and Arthur Gallant among the missing. In the end, a little bit of history was made when Bill Reichert beat Duane Shields to take his second U.S. National title. He joins Rick Santos as the only drivers to win Indy twice in the TAD class and, in the process, he took over the points lead. Bill, who once struggled to win a race once he got to the final round, now has won thirteen of his last fifteen final round encounters. Now that's the stuff that Lucas Oil World Champions are made of, isn't it? It should be pointed out that in only two of those races did Bill face a supercharged car in the final round....Aaron Tatum continues to run well and he recorded his first number one spot in the alky dragster class while young Zach Beard grabbed top speed in his first national event appearance...Jim Whiteley dropped a first round decision to Kimmelyn Buff Pesz and that dropped Jim to second place in the national points..Kimmelyn was one of three women in the field while a fourth, Brittany Force, didn't make the show. Her sister, Courtney did, and so did Diana Harker who also got out of the first round.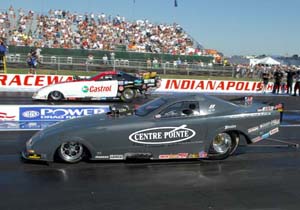 Smith vs. Bateman
Frank Manzo didn't win the alcohol funny car class and that, in itself, was a big story. Frank, who had a record of 57-15 coming into Indy, dropped a semi-final match to Roger Bateman, the eventual runner-up. Frank will still be the Lucas Oil Champ this year, he'll just have to wait until next year to break the record for the most wins at Indy....Von Smith, who had been to the finals in the Pro Mod class at Indy, closed the deal with his win over Roger in the final round. For Von and his car owner, Rick Jackson, it was a nice rebound from their tough weekend in Norwalk. That's when they ran the car off the end of the track and severely damaged it. But, like all good teams in the our sport, especially the sportsman racers, a little damage and one trip off the end of the track doesn't keep them down. Von ran well and he deserved the win...Roger Bateman was making his first trip to Indy and, when I asked him how he liked it, he said it was great "Anytime your car runs like this it's a fun weekend," he said. "Regardless of where you are." Now that I think about it, he's right!!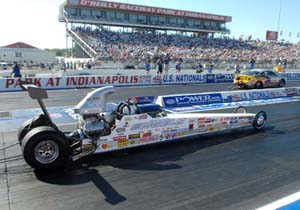 Engels vs. Hickey
As I mentioned in my column earlier this week, Doug Engels had a great weekend. First, he won Indy. Second, he didn't hit his index. And, third, he sold his car. Doug told me that he had been thinking about selling it for a while and when Vinny "Bad to the Bone" Barone came up with an offer it was, as Doug put it, "too good to pass up." When I asked him what he was going to do he said that he would take some time off and maybe race the Super Stock car that he has. "I just got it and have never raced it," he said. And then he told me that he found it on a web site that sells racing "stuff" and, after locating the car, he found that it used to belong to another Comp racer, Jerry Arnold...One of the real exciting runs of the weekend came in the fourth round of Comp Eliminator when Dan Fletcher and Craig Bourgeois squared off. Craig got the win and moved to within one point of Dan in the national standings. With both drivers having the same number of races and no national event left to claim, it looks like the national championship will come down to who does better at their last few divisional races. Should be fun.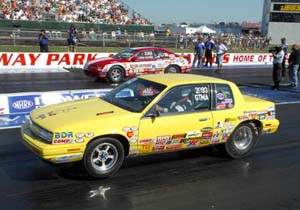 Dennis vs. Nowicki
Bobby Dennis won Super Stock and he was the only winner who won after qualifying number one in his class. In fact, Bobby was the only number one qualifier in any class who even made it to the final round. Bobby, who has been racing for a long time, won his first race since Houston in 2000. He always runs well and he often qualifies at the top of the pack....Matt Forbes and Steve Smith were the other semi-finalists in Super Stock on a weekend that honored Arlen Vanke, the 1968 Super Stock champion. Steve is one of the best Super Stock racers in the country while Matt showed up with a really cool 1966 Chevrolet Bel Air that got a lot of attention....Charlie Wescott Jr. won the Mopar Hemi Challenge and, to be honest, he dominated the class. I can't remember a "Challenge" in a while that had one car go into race day as the prohibitive favorite like Charlie did. After the race he announced that the War Fish was up for sale. Hey, it could be you winning the Hemi Challenge next year.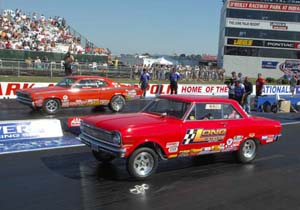 Truman vs. Buckner
Steve Polhill's crowd-pleasing Ford Escort was the top qualifier in Stock Eliminator but he wasn't around for the final round Steve lost to one of the greats when Amy Faulk beat him in the first round. Still, the big head starts that he, and a few of the other front-wheel drive cars got over the weekend, had the fans on their feet. Just like in 1967 when I watched Ben Wenzel chase down Ken Gunning in the final round, the fans love the races that include a head start of a second or two. I know I do...Mitch Truman, driving a '65 Nova, won the eliminator bracket when he beat David Buckner in the final round. Mitch, for what it's worth, qualified 105th in the field....Edmond Richardson, who has done everything in this sport except win Indy, came close this year. He won four rounds before losing to the eventual runner-up in round five.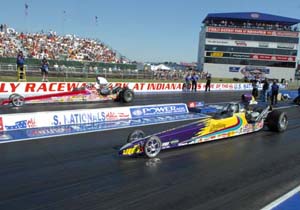 Cohen vs. Klomps
Steve Cohen won Indy for the second time when he beat Dave Klomps for the Super Comp title. Steve, won also won in 2003, has to be rated as one of the best "90" racers ever. To illustrate that point, Steve ran 8.90 four times during eliminations and that included a perfect 8.900 in round four, a round that also featured a .007 reaction time for Steve..Steve's final round opponent, Dave Klomps, ran 8.90 in the semi-finals and appeared ready to win his first national event when he faced Steve but a red light start ended his dreams right on the line. Going eight rounds at any race is tough, doing it at Indy is extra hard. Nice job Steve and Dave.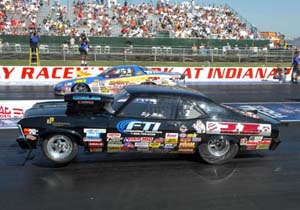 Ruff vs. Cheney
And Michael Ruff beat Jeff Cheney to win the Super Gas title. Michael ran one of the few perfect passes in the class when he went 9.900 to beat Richard Kurth in the third round. Ironically, two of the other 9.900 runs were made by two of Jeff Cheney's opponents. Paul Brown went 9.900 after his red light in round four while Max Tafoya went 9.900 against Jeff in the seventh round, but that wasn't good enough to beat Jeff's 9.911 and a .005 reaction time. The Super Comp runner-up, Dave Klomps, also registered a 9.900 in Super Gas but it, too, was in a losing effort. The men and women who race in these super categories are so good at what they do and I am constantly amazed at the number of perfect runs or "00" reaction times that we see.
The folks at National Dragster do a good job of reporting the action from the sportsman classes and I always look forward to their special insight. Of course, you can keep up to the minute with what's going on in all the sportsman classes at DragRaceCentral.com every weekend. In fact, that's the only place you can see who is doing what in which sportsman classes almost as it happens. Too bad they didn't have that back in 1967.




NHRA: 10 Most Recent Entries [ top ]

Mar 18- GAINESVILLE - Summary of Eliminations in Pro Stock Motorcycle
Mar 18- GAINESVILLE - Summary of Eliminations in Top Fuel Harley
Mar 18- GAINESVILLE - Summary of Eliminations in Pro Modified
Mar 18- GAINESVILLE - Summary of Eliminations in Top Alcohol Funny Car
Mar 18- GAINESVILLE - Summary of Eliminations in Competition Eliminator
Mar 18- GAINESVILLE - Summary of Eliminations in Top Alcohol Dragster
Mar 18- GAINESVILLE - Summary of Eliminations in Super Stock
Mar 18- GAINESVILLE - Summary of Eliminations in Stock Eliminator
Mar 18- GAINESVILLE - Summary of Eliminations in Factory Stock Showdown
Mar 18- GAINESVILLE - Summary of Eliminations in Super Comp