Tue, 2 Sep 2008, 10:30 AM



Reporter's Notebook Number Two at the 54th Annual Mac Tools U.S. Nationals



By Jim Luikens


Photo copyright 2008 Auto Imagery, Inc.





CLERMONT, Ind. --
Notes from Jim Luikens' Reporter's Notebook Number Two at the 54th Annual Mac Tools U.S. Nationals:
Not too long after I posted my first Indy Notebook this year I received an e-mail from Jon "Thunder Lungs" Lundberg. Now a resident of Arizona, the legendary race announcer thanked me on behalf of all those who could not be in here in person this year for posting my notes. Thanks for the kind words, Thunder Lungs. I hope you can make it back here again some day.
I have enjoyed reading the Indy memories this week in some of the other blogs. Since this is my 42nd consecutive U.S. Nationals I have more than my share of U.S. Nationals photos and memories as well. Perhaps I can dust off some of those in preparation for next year's event.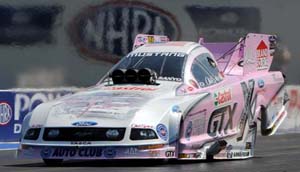 Ashley Force
In my first Indy notebook this year I promised to investigate the reason that Ashley Force wasn't using her pink body during Saturday's second qualifying session. It turns out that a supercharger explosion during the day's first session cracked the body and it could not be repaired in time for the night session. It returned to action for Saturday's first session and Ashley used it for the balance of her weekend. She ended up qualifying seventh before losing in Monday's first round of eliminations. She also lost (to her father) in the first round of the U.S. Smokeless Showdown on Sunday.
For the second year in a row John Force's Indy weekend ended one day early when he failed to qualify for the U.S. Nationals. More fortunate was his John Force Racing teammate Robert Hight, who went to the final round of the U.S. Nationals for the second time in the last three years. Robert's win this year was an encore to his 2006 performance, in which he also won the event.
Last year Max Naylor was the talk of Pro Stock when he earned the first number one qualifying position of his Pro Stock career, as well as his first Indy "Pole", with his Dodge Stratus. One of the most unique components of that combination was his Hoosier rear tires. This year has not been as kind to Max and Indy only served to put an exclamation point on his year. After changing everything, including his tire brand, Max's best run this year was 6.739 seconds which left him 24th, well out of the 16-car field. In an effort to isolate what has been challenging his on-track performance, Max changed to the more traditional Goodyear rear tires at this event that all of the other Pro Stock competitors use. Despite the change his Dodge performed exactly the same as it has all year. Monday morning found Max scratching his head about what to try next. Extensive conversations with his chassis builder, Rick Jones, and his engine builder, Larry Morgan, have not produced a solid direction about what to try next.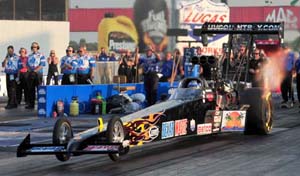 Pat Dakin
Interestingly, Jim Yates qualified second last year in Pro Stock at this event and this year he failed to qualify here as well. By comparison, Allen Johnson won his first Indy "Pole" in Pro Stock this year with his Dodge Status. I wonder if anyone has told him about the Indy Jinx?
On the other side of the emotion scale on Monday morning was Pat Dakin. Pat, who last raced here a decade ago, returned to competition at Indy this year in Top Fuel with tuning help from Mitch King and Paul Smith. Using the same Top Fuel Dragster that Spencer Massey is driving on the IHRA trail, Pat qualified for the Top Fuel field here in the 15th position. In the first round Pat was paired against Cory McClenathan, with Cory having lane choice. Unfortunately, Pat left before the tree was activated and was red-lighted out of competition. Despite the overall success of the weekend Pat has no further plans to pursue a return to active competition.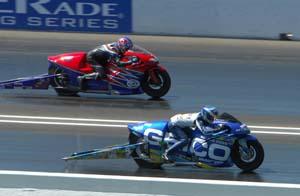 Stoffer vs. Arana
Going into this event only the Pro Stock (car) and the Pro Stock Bike fields had not been set for the 2008 Countdown to 1. When Warren Johnson lost in the first round of Pro Stock (car) it gave the tenth and final countdown spot to Greg Stanfield. Hector Arana and Karen Stoffer were the two finalists for the tenth and final Pro Stock Bike spot. As luck would have it, they were paired together in the first round of Pro Stock Bike eliminations. When Karen beat Hector it meant that she was going to the countdown as well as the second round of the U.S. Nationals.
On Friday NASCAR Sprint Cup star Dave Blaney was on hand to watch qualifying as a guest of David Powers and the Caterpillar team. On Monday it was Kurt Busch's turn to visit the U.S. Nationals. After flying all night following his participation in the Sprint Cup race at Fontana, California on Sunday evening Kurt was genuinely excited to be at The Big Go for the first time. His invitation dated to the time when both he and Don Prudhomme Racing were sponsored by Miller Light. During an impromptu press conference here, Kurt had nothing but good things to say about drag racing and the upcoming Carolinas Nationals in Concord, North Carolina. Kurt said that all of the Sprint Cup drivers and crew members have been invited to come out on a Tuesday night prior to the event with their street cars and experience drag racing first-hand.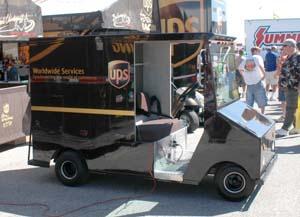 The coolest tow car of the event, in my opinion, had to go to the UPS Top Fuel team of Bob Vandergriff, Jr. It appears that someone has constructed a perfect 1/4 scale package car (the UPS' term for their familiar brown delivery truck) on a golf cart chassis. Although I only saw it one time it left quite a memorable impression on me.
Despite the disappointing weekend of John and Ashley Force a sign appeared in the grandstand that said, "John Force for President, Ashley Force for Vice-President." When a trackside pundit pointed out that Ashley doesn't have any vice-presidential experience, Bob Frey was heard to inquire, "and your point is?"




NHRA: 10 Most Recent Entries [ top ]

Apr 19- HOUSTON - Friday Schedule
Apr 19- Tige Boats Named Presenting Sponsor of E3 Spark Plugs NHRA Pro Mod Drag Racing Series Portion of NHRA SpringNationals
Apr 19- HOUSTON - Previous Success, Early Win has Funny Car's Courtney Force Excited
Apr 18- Haney Headed for NHRA Pro Mod with Summit Racing on His Side
Apr 18- HOUSTON - Richie Crampton Enjoying Early-Season Success Heading to 31st Annual NHRA SpringNationals
Apr 18- 2018 Mustang Cobra Jet Celebrates 50th Anniversary of Racing Legend with Quickest
Apr 18- New Ford Mustang Funny Car Scheduled to Debut In 2019 NHRA Mello Yello Season Opener
Apr 16- HOUSTON - Fact Sheet
Apr 16- HOUSTON - After Early-Season Mishap Funny Car's Jonnie Lindberg Looks to Get On Track