Mon, 1 Sep 2008, 07:50 PM



Schumacher Sets TF Records For Consecutive & Season Wins, Ties For All-Time Wins



Courtesy of NHRA Communications


Photo copyright 2008 Auto Imagery, Inc.





Robert Hight, Dave Connolly & Steve Johnson round out winners



CLERMONT, Ind. --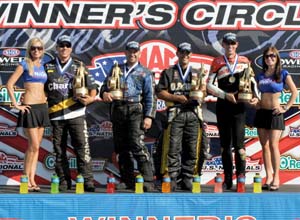 Winners: (l-r)Connolly, Hight,
Schumacher, Johnson
Five-time champion Tony Schumacher capped off a historic performance at the 54th Mac Tools U.S. Nationals Sunday with his decisive final-round win over longtime foe Doug Kalitta.
Tony Schumacher
Schumacher set NHRA Top Fuel records for wins in a row (6) and wins in a season (11) and he tied Joe Amato for most wins all-time in Top Fuel (52). It was also his seventh Mac Tools U.S. Nationals win and third in a row.
"We want people to remember this is one of the greatest teams ever," said Schumacher, who felt the pressure to perform. "You get to the finals and you're down to one round, you're one four-second push of the throttle away from setting all those records, one shot to do it . it's very intense. We had to stay focused. We had to stay a machine."
The other winners at the world's most prestigious drag race, the 18th of 18 regular season races in the NHRA POWERade Series, were Robert Hight (Funny Car), Dave Connolly (Pro Stock) and Steve Johnson (Pro Stock Motorcycle).
Meanwhile, the playoff picture was settled this weekend with the last spot coming down to a winner-take-all, heads-up race between Karen Stoffer and Hector Arana and it was Stoffer who prevailed on a holeshot. The other spot in play on Monday went to Pro Stock's Greg Stanfield, who punched his ticket when Warren Johnson lost in the first round to Dave Connolly.
And with the regular season complete now, the NHRA POWERade Series will begin the turn for home with the start of the six-race Countdown to 1 playoff at the brand new zMax Dragway @ Concord, site of the Sept. 11-14 Carolinas Nationals.
With all of the pressure on Schumacher and the U.S. Army team to deliver one more time, he steered the Alan Johnson-tuned machine to a 3.916 at 309.13 in the final round, good enough to achieve the record-breaking win going away against Kalitta's Mac Tools dragster (4.036 at 299.86).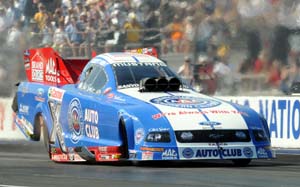 Robert Hight
"I don't think it's all set in just yet. Today was so special," Schumacher said. "It's going to go on the trophy case as one of the most special ones ever."
Kalitta was looking for his first win of the year to extend his streak of consecutive seasons with at least one win to 11, but he came up just short. It is the fourth longest active streak in NHRA history -- behind John Force's 22, Kurt Johnson's 14 and Angelle Sampey's 12 -- and Kalitta will have six races left to keep it alive.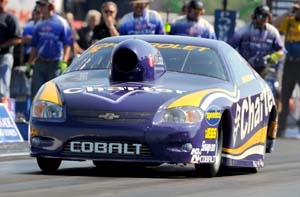 Dave Connolly
In Funny Car, Hight and the Auto Club Ford Mustang team were a bright spot on an otherwise dreary weekend for John Force Racing - John Force DNQ'd, Ashley Force lost in the first round and Mike Neff lost in the quarterfinals - by edging past Jack Beckman's Valvoline/MTS Dodge Charger R/T team, 4.312 at 283.85 to 4.438 at 254.04, in the Funny Car final.
"After first round (his fifth straight pass including qualifying where he spun his wheels), I wouldn't have bet on my team for anything," said Hight, who became the first Funny Car driver in 30 years to reach three straight final rounds at the Mac Tools U.S. Nationals. "This wasn't one of the prettiest wins, but I'm definitely not going to give it back to anybody,"
Beckman, meanwhile, continued his onslaught on the Funny Car class with his third final round in a row and fourth in the last six races to move all the way up from 13th place before the Western Swing to sixth place now (a span of six races), including moving up from ninth to sixth at this the final regular season race.
In Pro Stock, Connolly ended Warren Johnson's playoff bid in the first round and he ended Kurt Johnson's bid to clinch the No. 1 seed - and the 20-point bonus - in the semis en route to his third win of the season and second straight Mac Tools U.S. Nationals. He powered the Charter Communications Chevy Cobalt to a 6.743 at 206.04 in the final to speed past Larry Morgan's 6.797 at 204.70.
"To win one Indy is incredible . to win it twice in a row, I'm just speechless," said Connolly, who moved around Mike Edwards with his win to finish the regular season in sixth place. When the points reset, he will begin the playoffs 70 points behind Greg Anderson.
In Pro Stock Motorcycle, Steve Johnson won for the first time in three years, dating back to the 2005 Mac Tools U.S. Nationals, and for the fourth time overall in his career.
Steve Johnson
Johnson steered his Snap-on Tools Suzuki around Andrew Hines' Screamin' Eagle Vance & Hines Harley-Davidson, 7.034 at 189.79 to 7.063 at 187.63. Hines actually got the jump on Johnson, 0.009 to Johnson's 0.030, but Johnson rode around the three-time POWERade Series world champion.
"We had a good horse and in my entire racing career I've never had the horse that's the big horse.I heard (track announcer Bob Frey) say 'He ran him down' and it was (crew chief Mark Peiser). Mark has a little understanding," Johnson said.
The climactic Pro Stock Motorcycle race was won at the starting line with Stoffer getting a .037 jump on Arana's .061 to make her 7.019 stand up against Arana's 7.017.
CLERMONT, Ind. -- Monday's final results from the 54th annual Mac Tools U.S. Nationals at O'Reilly Raceway Park at Indianapolis.
The race is the 18th of 24 in the NHRA POWERade Drag Racing Series:
NHRA POWERADE DRAG RACING SERIES
Top Fuel -- Tony Schumacher, 3.916 seconds, 309.13 mph def. Doug Kalitta, 4.036 seconds, 299.86 mph.
Funny Car -- Robert Hight, Ford Mustang, 4.312, 283.85 def. Jack Beckman, Dodge Charger, 4.438, 254.04.
Pro Stock -- Dave Connolly, Chevy Cobalt, 6.743, 206.04 def. Larry Morgan, Dodge Stratus, 6.797, 204.70.
Pro Stock Motorcycle -- Steve Johnson, Suzuki, 7.034, 189.79 def. Andrew Hines, Harley-Davidson, 7.063, 187.63.
LUCAS OIL DRAG RACING SERIES
Top Alcohol Dragster -- Bill Reichert, 5.581, 257.04 def. Duane Shields, 6.091, 231.48.
Top Alcohol Funny Car -- Von Smith, Ford Mustang, 6.038, 245.63 def. Roger Bateman, Mustang, 6.329, 252.00.
Competition Eliminator -- Doug Engels, Dragster, 7.394, 172.59 def. Adam Hickey, Chevy Cobalt, 8.295, 158.73.
Super Stock -- Bob Dennis, Oldsmobile Calais, 10.886, 119.35 def. Mark Nowicki, Dodge Avenger, 10.238, 127.76.
Stock Eliminator -- Mitch Truman, Chevy Nova, 11.685, 103.28 def. David Buckner, Plymouth Duster, 11.087, 117.48.
Super Comp -- Steve Cohen, Dragster, 8.915, 153.63 def. Dave Klomps, Dragster, 8.951, 157.78.
Super Gas -- Mike Ruff, Chevy Nova, 9.937, 142.13 def. Jeff Cheney, Chevy Camaro, 9.910, 156.10.




NHRA: 10 Most Recent Entries [ top ]

Apr 21- HOUSTON - Funny Car Qualifying, Session #1 Bonus Points
Apr 21- HOUSTON - Pro Stock Qualifying, Session #1 Bonus Points
Apr 21- HOUSTON - Top Fuel Qualifying, Session #1 Bonus Points
Apr 21- HOUSTON - Funny Car Qualifying Notes, Session #3
Apr 21- HOUSTON - Top Fuel Qualifying, Session #3 Order
Apr 21- HOUSTON - Pro Stock Qualifying, Session #3 Order
Apr 21- HOUSTON - Top Fuel Qualifying Notes, Session #3
Apr 21- HOUSTON - Top Fuel Harley Qualifying, Session #3 Order
Apr 21- HOUSTON - Pro Modified Qualifying, Session #3 Order
Apr 21- HOUSTON - Pro Stock Qualifying Notes, Session #3