Sun, 28 Sep 2003, 09:15 PM



Bernstein Moves in Front of Garlits on NHRA's Top Fuel Wins List



Courtesy of NHRA Communication


Photo copyright 2003 Auto Imagery, Inc.





Pedregon regains POWERade Series lead in Funny Car



JOLIET, Ill. --
Kenny Bernstein passed Don Garlits on the NHRA's Top Fuel wins list by earning his first victory of the season Sunday at the CARQUEST Auto Parts NHRA Nationals at Route 66 Raceway.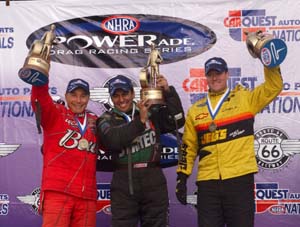 Bernstein, Pedregon, and Coughlin
Tony Pedregon and Jeg Coughlin also were winners in the $1.6 million race, the 19th of 23 events in the $50 million NHRA POWERade Drag Racing Series.
Bernstein earned his 36th career Top Fuel victory, and 66th overall (30 Funny Car wins), when he raced his Budweiser-Lucas Oil dragster to a 4.503 second run at 328.46 mph, to edge rival Larry Dixon, who posted a 4.638 at 312.35 in the Miller Lite dragster. With the victory, Bernstein moved to second in Top Fuel wins behind leader Joe Amato (52 wins) and ahead of Garlits (35 wins).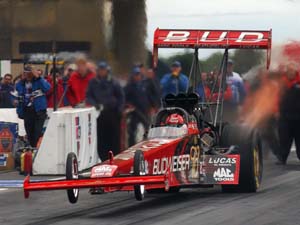 Kenny Bernstein
Bernstein, 59, who retired from driving last season, returned to the cockpit in May after his son Brandon received season-ending injuries in a crash at Englishtown, N.J. It was Bernstein's fourth victory at Route 66 Raceway, where in 2001 he shared the winner's circle stage with his son, who won in Top Alcohol Dragster.
"It's always good to win, but this is a special one because it is for Brandon because he's been through so much since the accident," said Bernstein, who defeated David Grubnic, Paul Romine and Shirley Muldowney to advance to his 115th career final. "To move ahead of Garlits is a great honor because he made this sport go in the early days and I still consider him to be the man. If he would have kept racing he would've won a lot more. We really worked hard today to get this win."
Amazingly, Bernstein's national E.T. record of 4.477 seconds (Chicago 2001) survived the onslaught of stellar performances during the weekend, including three of the quickest runs in NHRA history: 4.428 seconds (Doug Kalitta), 4.463 seconds (Cory McClenathan) and 4.464 seconds (Tony Schumacher). Kalitta set the national speed record at 333.00 mph, but neither driver was able to certify their quick elapsed times by posting another run within one percent as required by NHRA rule.
"I can't believe that record held up," Bernstein said. "I was sure that baby was going to fall this weekend with the numbers those guys were throwing up there. I thought Doug or Tony would knock it out of the park for sure."
Dixon increased his series points lead to 323 with his 13th final round appearance of the season.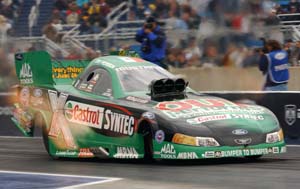 Tony Pedregon
Pedregon ran unopposed in the Funny Car final round when Phil Burkhart's Checker Schuck's Kragen Pontiac Firebird broke on the starting line following the burnout. Pedregon clocked a 4.769 at 316.52 in his Castrol Syntec Ford Mustang for his seventh victory of the season and 26th of his career. Pedregon moved back into the series points lead, 69 ahead of Whit Bazemore, who was upset in the first round.
"It was important to come out of this race with some momentum and a little more confidence," said Pedregon, who had posted four first round losses in the last six races. "Today was all about teamwork and we pulled together when we needed to. Bazemore got ahead of us last week but that didn't affect us much because I know in my heart that we have a great team. We know our work isn't done because things can change easily out here from week to week. We need to win some more races."
The cool weather conditions also helped produce record-setting performances in Funny Car as Gary Scelzi set the national speed record in his Oakley Dodge Stratus at 329.18 mph. Gary Densham clocked the second-quickest time for a Funny Car at 4.723 seconds and was followed by Bazemore (4.725 seconds) and John Force (4.725 seconds).
Coughlin claimed his second win of the season and 33rd of his career in Pro Stock, defeating series points leader Greg Anderson, who fouled at the start in the final round in his Vegas General Construction Pontiac Grand Am. Coughlin drove his Jeg's Mail Order Chevy Cavailer to round wins over Ron Krisher, Kurt Johnson and Bruce Allen to make it to the final. He posted a string of low 6.7 second times in his march to victory, including a 6.749 at 203.22 in the final.
"We've definitely narrowed the performance advantage Greg has had for most of the year," Coughlin said. "I used another new engine this week so the guys back at the shop are obviously on their game. It's a great feeling to win. We're working on finishing strong this year and we'll come out swinging next year (for the POWERade championship)."
With the runner-up effort Anderson increased his points lead to 286 over Johnson.
The next NHRA POWERade Drag Racing Series event is the rain-delayed Lucas Oil NHRA Nationals, Oct. 3-5 at Maple Grove Raceway in Mohnton, Pa.
JOLIET, Ill. -- Sunday's final results from the at the Third annual CARQUEST Auto Parts NHRA Nationals at Route 66 Raceway. The $1.6 million race is the 20 of 23 in the $50 million NHRA POWERade Drag Racing Series:
Top Fuel -- Kenny Bernstein, 4.503 seconds, 328.46 mph def. Larry Dixon, 4.638 seconds, 321.35 mph.
Funny Car -- Tony Pedregon, Ford Mustang, 4.769, 316.52 def. Phil Burkart, Pontiac Firebird, broke.
Pro Stock -- Jeg Coughlin, Chevy Cavalier, 6.749, 203.22 def. Greg Anderson, Pontiac Grand Am, foul.
Top Alcohol Dragster -- Morgan Lucas, 5.258, 270.92 def. David Wells, 5.272, 270.59.
Top Alcohol Funny Car -- Bob Newberry, Chevy Camaro, 5.586, 257.19 def. Doug Gordon, Camaro, 7.519, 137.65.
Competition Eliminator -- Doug Engels, Dragster, 7.835, 132.96 def. Sal Biondo, Chevy Beretta, 16.422, 64.04.
Super Stock -- Tony DeFrank, Pontiac Grand Am, 10.221, 116.15 def. Dan Fletcher, Chevy Camaro, 10.090, 127.70.
Stock Eliminator -- Mark Biskup, Ford Mustang, 12.370, 104.99 def. Nick Folk, Chevy Camaro, foul.
Super Comp -- Lonnie Grim, Dragster, 8.953, 155.54 def. Jim Perry, Dragster, 9.391, 137.11.
Super Gas -- Steve Cohen, Chevy Corvette, 9.922, 152.45 def. Mike Coughlin, Corvette, 9.921, 155.96.
Super Street -- Gary Thompson, Chevy Corvette, 10.914, 133.75 def. Bill Webb, Ford Fairlane, 10.900, 136.86.




NHRA: 10 Most Recent Entries [ top ]

Apr 23- HOUSTON - Sunday Video
Apr 22- HOUSTON - Sunday Pro Mod Wrap Up