Tue, 30 Sep 2003, 09:17 PM



It Was Cold, Wet & Fast In Chicago!!



By Bob Frey
Photo by:Auto Imagery, Inc.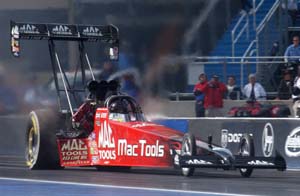 Doug Kalitta
Even with only one day of qualifying, from a performance standpoint the
CARQUEST Auto Parts Nationals
will go into the books as one of the greatest races ever. From
Doug Kalitta's
stunning 4.428, to
Gary Densham's
4.723 and
Gary Scelzi's
blazing speed of 329.18 mph in his Funny Car, the records were falling like the temperature in Chicago. At least the individual records, or what we like to call the "career best" numbers were falling. Ironically, when it was all said and done, not a single national elapsed time record fell in the professional classes and even though four different drivers had a shot at the Top Fuel record,
Kenny Bernstein
left Rt. 66 Raceway with the Top fuel record at 4.477, just like it was when we all got there on Thursday. Overall there were 49 individual career best marks set in Joliet in the pro classes, twelve in Top Fuel, sixteen in Funny Car and another twenty-one in Pro Stock. And yet,
did you know
that with all of those records being recorded not a single one of them was recorded by the race winners? That's right, Kenny Bernstein,
Tony Pedregon
and
Jeg Coughlin
, the three professional winners, were not among those who recorded their personal bests in Joliet. So, when all is said and done, maybe setting a "career best" isn't all it's cracked up to be. After all, the name of the game is winning and that's what KB, Tony and Jeg did this past weekend. A further check on the stats will indicate that of all six finalists, only
Phil Burkart
recorded a personal best this past weekend….Just for the record, nine of those marks that fell were replacing old records that drivers had set at the Chicago track in the spring, indicating that this may be the quickest and fastest track on the circuit. Of course, we haven't finished the Maple Grove race yet, so stand back this weekend. The weatherman says that it's going to be cool and clear so this race could be very fast.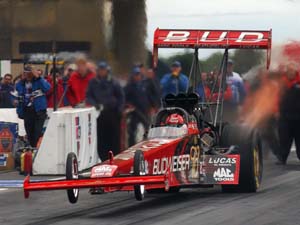 Kenny Bernstein
Kenny Bernstein did go into the record books for one thing and that is he moved past
"Big Daddy" Don Garlits
and into second place on the all-time NHRA win list in Top Fuel. With thirty-six wins, the "King of Speed" now trails only
Joe Amato
(52) in the TF hit parade. Congrats to Kenny and I think that now he will be able to retire at the end of the season knowing that he has accomplished all that he can in the sport.
Larry Dixon
had some interesting words on the subject after the race, basically saying that he wanted to keep Don's position safe but was unable to do it in the final round. Larry, with 33 wins, will eventually pass both Kenny and Don and may, I said may, eventually wind up as the all time leader in victories in Top Fuel. But for now the list reads Amato, Bernstein, Garlits and Dixon…..
Cory McClenathan
, who was part of the career best hit parade with his 4.463, is fifth on the list with 27 wins and the car, which is owned by
Darrell Gwynn
, never looked better than it did in the windy (and rainy) city…..And
Shirley Muldowney
certainly gave the fans lots to cheer about, didn't she? Driving the "Pink Ladies" car, in honor of the 25
th
anniversary of the movie
"Grease,"
Shirley ran like greased lightning when he she ripped off a 4.579 in qualifying and then got even better with a 4.578 in round one. The Chicago fans roared with every pass that Shirley made and they may have especially liked her efforts in her semi-final loss to Kenny, a run that featured a vintage Shirley driving job behind the wheel. And, while she lost to KB, her trip back up the return road in front of the crowd was one of the highlights of the entire weekend. Remember, you heard it here first, Shirley will go to the final round before the year is over. Now wouldn't that be sweet?....Another run that must be mentioned is the one that
Mike Strasburg
made in round one. Driving the family's
B & J Transmission
car, and getting help from
Brieser Construction
, Mike ripped off a 4.623 (career best) in a very close race with Doug Kalitta. Throw in the
Luigi Novelli
4.669 in qualifying and the fans had a lot to cheer about this weekend in the dragster class….Kenny's four rounds gave him a career total of 997 and that means that he'll join the very exclusive 1000-round club before he hangs up his helmet for good. John Force (1117) and
Warren Johnson
(1097) are the only other club members.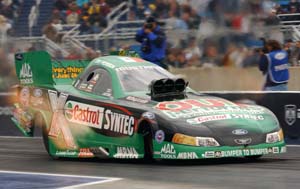 Tony Pedregon
The Funny Cars weren't too shabby either, with Gary Densham knocking on the national record door and Gary Scelzi almost hitting 330 mph. Speaking on Scelzi,
did you know
that he has now gone 329.18 mph in a Funny Car and that his best speed in a dragster has been 329.58? And guess what, he recorded both of those speeds at the Rt. 66 track… Of course a lot of the talk centered around the matches between Tony Pedregon and his teammates in the second and third rounds. And, while it is tough for some people to understand the scenario of "taking one for the team," the "Team Force" cars all did what they had to do in order to help Tony win the championship. For those who say that the fans came to see racing and not a business, I ask you this question, is it any different than going to a baseball game to see Barry Bonds break the home run record (or just hit a home run) and then all you see is the opposing pitcher intentionally walk him? That's business too, but you do what you have to do to win the game. Did the fans come to see the opposition hack away at Shaquille O'Neal and send him to the foul line (not a pretty picture for the fans) or did they come to see him throw down some thunderous dunks? The defense does what it has to do to win the game, because that's the business and the fans know it. And when the Houston Astros used six pitchers to toss a no-hitter against the Yankees this year, most fans thought the manager should have left the starter in there to get the record by himself, but the manager had one goal…win the game. Winning is what it's all about, this isn't a match race, it's a business and everyone understands that. Ours is the only sport where drivers can help their teams in such an obvious way and occasionally it looks bad, but what should the teams do, leave the one car in the pit area and not even come to the line? If you think that's a good idea, call
George Bryce
or ask
Angelle Savoie
about it, they tried that up front approach in Topeka years ago and it didn't go over too well. And can you imagine what the reaction would have been if instead of Phil Burkart in the other lane in the final round in Joliet it had been John or Gary and they were shut off on the line giving the solo run to Tony? Teams are paid to win and that's the bottom line. Because it is a business the teams do what they have to do to win the race and, if you're honest about it, you'd do the same thing if it were your team. Imagine losing the championship and $400,000 by one round because you beat your own teammate. When it was still up for grabs last year John and Tony gave us the run of the season in the semi-finals at Pomona and that was all the fans could ask for. Now, I'll come down from my soapbox…. Lost in some of the hoopla was the fact that Tony's win was his 7
th
straight this year and it ran his record to 13-2 in final rounds over the last two years.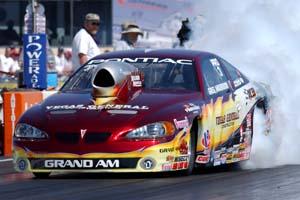 Greg Anderson
While
Greg Anderson
didn't win or set a career best at the event he did do something that hasn't been done in Pro Stock in a long while.
Did you know
that Greg went to his sixth consecutive final round and that's the first time that's been done in Pro Stock since 1988 when
Bob Glidden
did it? Now that ought to tell you how good the
"Vegas General
Construction"
team is? Of course Jeg Coughlin isn't too bad, either. When Greg Anderson fouled out in the final round against Jeg it was only the eighth time in his career that Greg has lit the red light, but there's an interesting little twist to that number.
Did you know
that half of Greg's fouls have come against Mr. Coughlin? The Jeg-Greg feud has all the potential to be as good a rivalry as we've had in Pro Stock in a long while. When you look at the numbers you see that if he has a good couple of races at the end of the season, Jeg could finish as high as second in the points…The win was Jeg's 33
rd
of his career and it marked the sixth consecutive year where he has won at least two races or more and it solidified his hold on third place on the all time list. In case you've forgotten, it's Warren (91), Glidden (85) and Jeg. And since I've mentioned Bob Glidden a couple of time already, he has to get a lot of credit for the turnaround in
Larry Morgan's
season, doesn't he? Larry qualified 4
th
and that's his best start since Memphis in 2000. Plus,
did you know
that Larry has now qualified for six consecutive races and that's his best run since the end of the 2000 season? Coming back to Maple Grove this weekend, a track that has always been good to Mopar drivers, look for one of the big "M" cars to be in the winner's circle this weekend.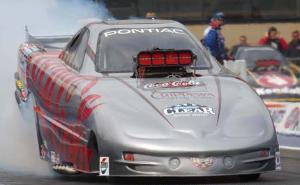 Cy Chesterman
Without a doubt the sportsman cars were nothing short of spectacular in Joliet.
Morgan Lucas
doubled-up, winning the Jeg's All Star race and the national event, while
David Wells
and
Marty Thacker
both joined the exclusive 5.20 club for blown dragsters. That club now features four drivers, the two from this weekend and
Rick Santos
and
Duane Shields.
David's run of 5.272 at 270.59 mph in the final against Lucas was absolutely stunning. The
"Blue Bunny Ice Cream"
man could finish as high as third in the points this year…
Cy Chesterman
had to leave Chicago with mixed emotions after setting the national record at a crushing 5.531 but losing the race, while
Doug Gordon
had a spectacular weekend only to lose to
Bob Newberry
who had an even better weekend.
Did you know
that this was Bob's tenth final round of the season? And
did you know
that the national record that Cy set was done using a Bob Newberry motor? Big props to Bob for a great season and to Cy for the record. Still, when it's all said and done
Frank Manzo
will be the champion, again and that makes nine, in case you're counting. Even though the chase is all but over, I can still wish for
Bucky Austin
to come to Maple Grove, can't I?...Two other sportsman winners get a tip of the hat here,
Doug Engels
could still win the Competition Eliminator title and
Lonnie Grim
kept his title hopes alive with a win in Chicago. Lest you think they are both long shots I leave you with two words…
Todd Stewart
. 'Nuff said.




NHRA: 10 Most Recent Entries [ top ]

Mar 20- Strong Stable of Contending Pro Stock Racers Vie for Final Starting Position for K&N Horsepower Challenge
Mar 20- GAINESVILLE - Special Awards
Mar 20- GAINESVILLE - Lucas Oil Drag Racing Series Wrap Up
Mar 19- GAINESVILLE - Sunday Video
Mar 18- GAINESVILLE - Pro Mod Sunday Wrap Up
Mar 18- GAINESVILLE - Sunday Wrap Up
Mar 18- GAINESVILLE - Pro Mod Championship Points
Mar 18- GAINESVILLE - Bonus Points
Mar 18- GAINESVILLE - Championship Points
Mar 18- GAINESVILLE - Mickey Thompson Top Fuel Harley Series Championship Points