Thu, 28 Feb 2008, 08:26 AM



Nancy Matter Racing Announces Marketing Partnership with Drag Strip Girl Apparel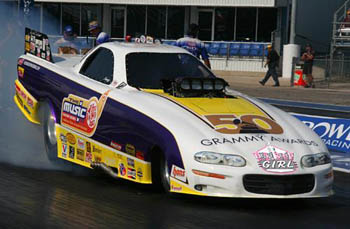 Nancy Matter
The Top Alcohol Funny Car Team of Nancy Matter is very proud to announce their new multi-year associate marketing partnership with Drag Strip Girl.
The apparel and accessory company based in New Hampshire prides itself with having the most hip, yet casual drag strip attire. Drag Strip Girl Apparel is perfect for on and off the track, and appeals to women as well as young girls throughout the drag racing community. "Drag Strip Girl is an outstanding partner for us". states Nancy. "All of the Drag Strip Girl merchandise is of the highest quality and affordable. It makes perfect sense for a female-owned team and driver to represent such a great brand. Dawn Mazi-Hovsepian, owner of Drag Strip Girl, has been involved in drag racing her entire life, and has a very strong working knowledge of not only what goes on in the pits, but also within the business world for success. We're extremely honored to be included as a new partner with Drag Strip Girl, and look forward to a very successful partnership in 2008 and beyond."
"Becoming a marketing partner with Nancy Matter Racing was a no-brainer", said Dawn. "Nancy is an extremely talented and self-motivated individual. I've watched the progression of her team over the past year, and appreciate her team's dedication to fielding a top notch alky funny car in one of the toughest classes out there. I'm excited to be partnered with her team, and look forward to watching and helping Nancy achieve her many goals."
Nancy Matter Racing will carry a variety of Drag Strip Girl merchandise at all Lucas Oil Events, trade shows, charity events, and scheduled match races. In addition, Drag Strip Girl merchandise will be available at www.NancyMatterRacing.com.
Drag Strip Girl is dedicated to providing high-quality, affordable products, and support USA manufacturers. For a complete look at all the products available or to learn more about Drag Strip Girl, please log on to: www.dragstripgirldesigns.com




Drag News: 10 Most Recent Entries [ top ]

Apr 22- K&N Spring Fling Million Final Day Results
Apr 21- K&N Spring Fling Million Friday Results
Apr 20- K&N Spring Fling Million– Thursday Results
Apr 19- K&N Spring Fling Million- Wednesday Results
Apr 18- Buckeye S/SS @ National Trail April 28th
Apr 18- Don "the Snake" Prudhomme Returns To Baja Competition After 50 Years
Apr 18- K&N Spring Fling Million Tuesday Results
Apr 17- K&N Spring Fling Million Pre-Race
Apr 12- Summit Racing Equipment is Newest Sponsor of Midwest Junior Super Series
Apr 12- Summit Racing Named Official MWPMS Sponsor and Event Title Rights Holder