Thu, 14 Feb 2008, 01:34 PM



Not Many Guys Slow Down And Run 155 Miles Per Hour



By Bob Frey


Photo copyright 2008 Auto Imagery, Inc.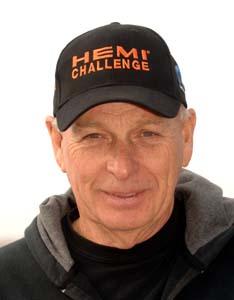 John Rains
Years ago, when I was just a young pup announcing at Atco Raceway in New Jersey, a guy came to the track with the most unusual vehicle I had ever seen. His name was E.J. Potter and he went by the name of the "Michigan Madman." E.J. would later go on to fame as the man who drove a V-8 powered motorcycle down the quarter-mile, but on this particular day he was driving a 1957 Plymouth with an Allison aircraft engine in it. In his book, "Michigan Madman," E.J. describes the car as "crude as a stone and as ugly as dirt." Yeah, but it sure was fun to watch. Not to drive, mind you, but to watch. The reason I mention E.J. is because when I was interviewing one of the newest national record holders recently the subject turned to Allison aircraft engines. And the guy who was doing the talking has a car that is one-hundred and eighty degrees away from E.J.'s. About the only thing they have in common is that they are both fun to watch, although this gentleman's car is also nice to look at.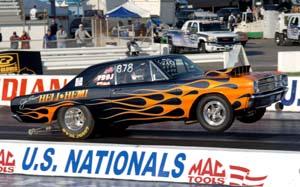 Rains' Dart
John Rains is sixty-five years old and he owns and operates a company called Helipower Service. "We overhaul turbine engines that are used in helicopters," he said. "I've owned the company since 1987 and we do a lot of work for the government, private companies and individuals." One of the staples of John's business is the famous Allison 250 engine, and while I don't think he has ever put one in a '57 Plymouth, he probably could. "Business is good and we've made a reputation for ourselves by being the best with the Allison engine," he said. "He is also the best in one of the premier classes in drag racing, the SS/AH class, the class that is reserved for those big, honkin' hemi cars. John is also the best in the Production Supercharged class at Bonneville where he drives his 1989 Pontiac Trans Am. The car holds fifteen different land speed records at Bonneville, El Mirage and Muroc. It's a stock-bodied car with a turbo-charged V-6 engine that makes about 1,500 horsepower. John has been as fast as 303 miles per hour in the car and he currently holds the record in his class at 297. "We had an exit speed of 303 on one run but didn't set the record at that speed." After a run of 303, a pass down the quarter-mile at about 155 must seem mild. "It's a real kick to run at Bonneville, and if I had to pick drag racing or running on the salt flats, I'd pick the salt flats." At sixty-five years old it's great to have choices like that to make.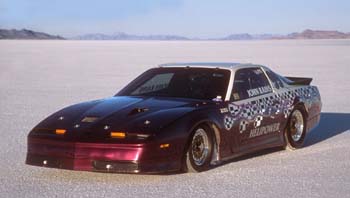 Rains' salt flats car.
John Rains began drag racing about the same time that E.J. Potter was building his first contraption. "I raced back in the '60's at Lions, Santa Maria, San Fernando and places like that," John said. "At Lions you could race four cars at a time. You could beat two of them and still lose to the other guy." John's car of choice back then was a 1960 Chevrolet with a 348 cubic inch engine. "It was a pretty nice car," he said. "It had a four speed transmission and a tri-power setup." Back then, that was about as nice as it got and the car, which ran in the Super Stock class, covered the quarter-mile in about thirteen seconds at around 102 miles per hour. After racing the car for a few years John parked the car, headed for college in 1967 and never drag raced again until 2004. "I heard about the Hemi Challenge and I thought that sounded like a lot of fun. It was heads-up racing and that's what got me back to the drag strip." It's also what got John the national record in the class. "When I came to Las Vegas (for the Division 7 National Open), I wasn't even thinking about the record. After I made my first pass some of the guys came up to me and told me that I was close so we decided to go for it." The end result was a new record of 8.54 and now John is one of the few to hold records at both Bonneville and on the drag strip.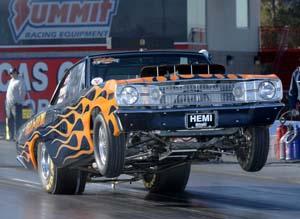 John's car is one of the more recognizable at the track. It's a 1968 Dodge Dart that has flames going from front to back. "Gary Hansen built the car and it was painted by a guy that everyone just calls 'Waldo.' It really is a fun ride and to set the record is something very special to me." For the record, "Waldo's" real name is John Glaspey and he had help painting the car from former Top Fuel racer "Wild" Bill Carter. Gary Hansen, who builds some of the nicest cars in the sport as well as some of the best street cars, also serves as the crew chief for John. "He sets it up and makes the calls. When I go to the starting line all I have to worry about is the driving." That part looked pretty easy in Vegas, at least after the first run down the track. "On that first run we had the wheels pretty high in the air. It was fun but I knew we had to make some adjustments." After they made those adjustments to the four-link suspension, John was flawless with his driving and the team, which includes Mike Capesius and Tim Richards, left town with the record. "This is such a competitive class and everyone works real hard and invests a lot of money in their cars, so to be able to set the record is really special."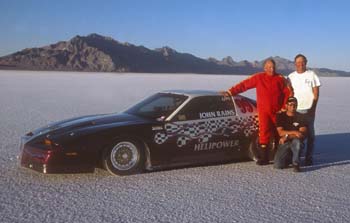 Rains with crew.
John's car, while it looks like the real hemi Darts of old, started life as a green car with a slant six engine in it. "There are a couple of real, original cars in the class," John said. "Jim Pancake has one I think and so does David Raybourn. But even when they're not original, you have a lot of time and money invested in this class. The people who race these cars take a lot of pride in them." In order to set the record in any class you have to have both a good car and a good engine. "You really need both if you want to compete at this level. Gary built a wonderful car and we have a lot of power." John's hemi has a power plant from one of the premier hemi engine builders in the country. "Charlie Westcott did the engine and the fact that we set the record pretty much tells you what kind of work he does. This was the first race with this new engine which has Charlies' 'War Heads' and billet intake manifold. It's nice to have the bragging rights for a while in this class, but I know everyone else will work hard to take that record away."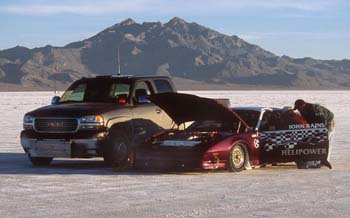 Rains prepares for run.
When he isn't racing or working on helicopter engines, John gets to spend some time with a few of his other cars. "I have a Corvette, a Dodge Viper and a Cobra with a 427 engine in it. The Corvette has a lot of creature comforts and the Viper is fast, but when it comes to curb-appeal, the Cobra has it all over them. Everywhere you go people want to see and touch the Cobra." With a collection of cars like that, each one a show piece and each one high up on the "cool-o-meter," maybe John and Mr. Potter don't have a lot in common other than the fact that they each like to go fast and each one wants to do it his way. "The Dart is a nice car to drive and I enjoy being in the community of the hemi guys. We're all ultra-competitive and we all take a lot of pride in what we do. I have to thank Gary and Charlie for giving me a good ride. When I stop and think about it it's pretty neat to be the record holder." John also said that he couldn't do any of this without the support of his wife, Sue, who "allows me to go play when I want to." He also thanks his crew at Helipower Service who take care of the business while he's away at the races.
Following his record-setting weekend in Las Vegas, John traveled to Pomona for the Winternationals and he went four rounds with his new record-holding car. Next, he'll be in Phoenix for the national event and the Division 7 race as well as traveling to Tucson for the divisional race down there. After that it's back to Las Vegas for "Mopars at the Strip" and then a trip back east to the Sportsnationals in Belle Rose, and since both of those events feature the Hemi Challenge races John is really looking forward to them. Later in the year he will also return to Bonneville where he'll drive his Trans Am for the eighteenth consecutive year. And who knows, maybe he'll run into E.J. Potter somewhere along the way and they can discuss the pros and cons of the Allison aircraft engine.




NHRA: 10 Most Recent Entries [ top ]

May 21- Second JEGS SPORTSnationals Added, to be held in mid-August in New England
May 20- DENSO Sponsors NHRA Champs' Shelter-in-Place Dachshund Race
May 14- To Our Racing Community-From Racers for Christ
May 13- The Name Game Part I
May 12- Morgan Lucas, Son of Forrest and Charlotte Lucas, Appointed President of Lucas Oil Products, Inc.
May 05- Cancellation of the 14th Annual Summit Racing Equipment NHRA Nationals
May 04- NHRA Announces Revised Plan to Restart 2020 Mello Yello Drag Racing Series
Apr 29- DSR Drivers Join Global Superstars in Fight for COVID-19 Relief
Apr 02- NHRA National Dragster will Temporarily Shift to a Free-to-All Digital Magazine
Apr 02- NHRA Announces Revised E3 Spark Plugs Pro Mod Drag Racing Series Schedule