Sun, 30 Dec 2007, 12:06 PM



Persistence Really Does Pay Off



By Bob Frey


Photo copyright 2007 Auto Imagery, Inc.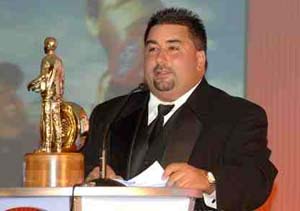 Frank Aragona Jr.
Winning a race in NHRA competition is tough. Winning a divisional title is tough. Winning a divisional title and a national title are the things that most drivers only dream about. So you can imagine that when Frank Aragona Jr. won the 2007 Lucas Oil World Championship in Competition Eliminator this year that it took a huge load off his shoulders. "We chased the points and tried for a long time to win the championship," he said. "But things just kept happening and I thought it wasn't meant to be." But in 2007, Frank and his father took a different approach to racing. "Rather than go after the points, we just wanted to race and have fun this year," he said. Well, that new approach paid off because Frank not only won the championship but he put 696 points on the board, the most of any Comp driver in recent years. It wasn't easy but it does show that persistence really does pay off.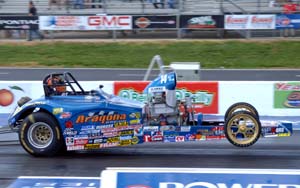 Frank Aragona Jr.
A look at his resume from this year shows that Frank won a total of six races, five on the divisional level and one national event. He also went to one other final round and he added a quarter final finish on the national level to complete his total of 696 points. The odd thing about his races is the fact that the first two, a divisional win and a national win, came at tracks that are about as far away from his home in Old Bridge, New Jersey as possible. He won the Division 7 race in Arizona and followed that up with a win at the SummitRacing.com Nationals in Las Vegas. At the Vegas event, he beat some of the top cars from the west coast to get the win. In the last three rounds alone, J.D. Zink, Ed Sigmon and Jeff Lane all fell to the invader from the east before Frank sealed the deal with a win over the best in the class, David Rampy in the finals. It was a total team victory since the car ran well and Frank drove well all weekend as a look at his reaction times will tell you. Over the course of the five rounds his worst reaction time was a .028 and that's good in anybody's book. So what's a nice boy from the east coast doing beating up on all the hitters out west? "My wife's cousin, who is also her best friend, lives out in Arizona and we decided to go visit her and hit a couple of races while we were there." The visit and the racing all went better than planned. "It's tough to win one of these (national) races, and to do it early in the season took a lot of pressure off us," Frank said. And the fact that he beat David Rampy in the final made it that much sweeter. "Let's face it, he's the best. So to be able to win a race and beat David in the finals, well, that's about as good as it gets." The win in Las Vegas came on the heels of Frank's runner-up finish at the same track a year earlier. "I guess Vegas is just a lucky track for us." Wow, getting lucky in Vegas, what a concept!!
Frank Sr.'s Vega
Frank's success this year came in the family's familiar '32 Bantam altered, a car that runs in the G/EA class. The main difference, though, between this year and some previous years, was the fact that this time Frank's car was Mopar-powered. "We ran the Subaru for years and when it was running well it was great. But to compete in this class we had to run it hard and we just hurt a lot of stuff so we knew we had to make a change." That change came when they contacted the veteran, Bill Gibbs, in Texas when they heard he had a four cylinder Mopar engine for sale. "We got the engine, plugged it in our car without any changes and it ran well. We knew right away that this was going to be a good move." When Frank says "we," he is referring to himself, his father, and his uncle Joe. Frank Aragona Sr. has been a fixture on the tracks in the northeast since back in the early 1970's. He ran a highly successful string of cars with the "Light & Lively" name on the side, mostly in Competition Eliminator, but he did start out running in Pro Stock in the formative years of that class. "Dad had a Vega that was just like the one Bill Jenkins ran," Frank said. "And then he raced Comp for a long while. Once I started driving,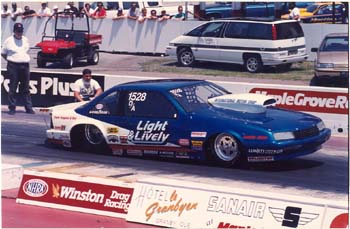 though, dad didn't want to drive again. He really enjoys making his car go fast, and since I enjoy the driving part of it a lot, it has worked out really well for us. Dad had the time of his life this year and I was so happy for him." The other part of the equation, Uncle Joe, does a lot of the engine and machine work on the family car. "He has his own shop and he does all the work on our car along with a few others, like Michelle Costa's car. He is really good at it and we couldn't do it without his help." The trio, Sr., Jr. and Uncle Joe, did their jobs so well this year that Frank put up an amazing 696 points, the most in the history of Competition Eliminator under the new points system. Even figuring in the old system (which was in effect until 1994), it' still one of the best seasons in the history of the class. "I always wanted to have a prefect season like Frank Manzo does on the divisional level," he said. "And this year I did. We won five divisional races to go with the win in Las Vegas. It was a dream year for us." This comes after a top twenty finish in 2006 and a top ten finish in 2005. Those two years were with the Mopar engine which was installed after the team's worst finish in 2004, a year when they failed to crack the top fifty in points.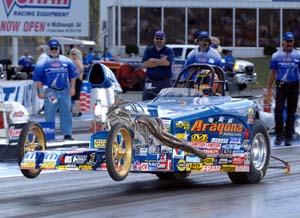 The 2007 Lucas Oil World Champion insists that he started out the year simply to have fun and enjoy the racing and not concentrate on the points. "We had gone after the points so many times before and never won it (they did finish a career best third in 2001), so we just decided to enjoy ourselves this year and not put any pressure on ourselves by running for the championship." Even after their lightning fast start out west, Frank did not look at the points in National Dragster or on NHRA.com. "When we won the Atco points race I called my friend, Don Eckel, on the way home and told him that we had won. He said 'Now are you going to look at the points?' I have to admit that at that point we did look and thought that we had a pretty good chance to win it all." A win at the D-1 race in Lebanon Valley and a runner-up finish to former world champ, Dean Carter, at the national event in Minnesota, gave the team their final total of 696 points and it was pretty much over at that point. "David Eaton still had a shot at beating us but he had to run the table at his last few races." When that didn't happen, Frank was the champion.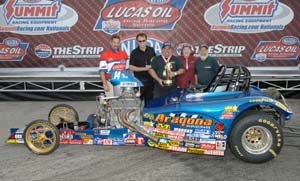 Aragona Jr. and team celebrate win.
In addition to winning the national championship, Frank also had two other big events in his life this year. He won Super Comp at the divisional race in Virginia, and he and his wife, Beatrice, added a baby boy to their family that already includes two year old daughter, Emma. "Emma is just old enough where she has started coming to the races with us and now we have Frankie, too. It'll be a year or so before he comes to the track and I'm looking forward to that." Just what the racers need, another Aragona at the drag strip. And when he talks about winning the Super Comp race, Frank is as excited as he is when he talks about winning the championship. "The guys in that class are brutal," he said. "You have to be right on your game every run. To win that race (and he had a runner-up in Super Comp, too), was really special." What a year, a championship, wins in two classes and a new baby. Looking ahead, Frank plans to go out and have fun again in 2008 and he'll add something new to his plans, a Super Stock car. "A friend of mine, Donny Sabin, and I are going to be partners in a car next year and I'm looking forward to that. It'll be a new challenge but it's one that I think will be a lot of fun."
In addition to his dad and his uncle, Frank wanted to thank his wife, Beatrice, for all of her support, as well as daughter, Emma. (Baby Frankie III was just born two weeks ago so it really hasn't sunk in with him, yet, but it will.) He also appreciates the help that he receives from a lot of folks including Phil Boccio, his business partner at his company, Emanon Electric. Phil Szukpa, another long time Division 1 Comp racer and his son, Steve, who drove a second team car for Frank this year and Frank Sr.'s best friend and fellow Comp racer, Gerry Russo also helped out. Michelle Costa and Rich Rose also run in Competition Eliminator in Division 1 and they work as a team with Frank and his dad. As Frank put it, "these are all great racers and friends who would lay down in traffic for you as we would for them." The Aragona's also had the support of some great companies like Goodyear, Fram, Autolite, Mr. Gasket, Bullet Cams, Book Carbs, Ken Keir Race Cars (who built all of the team's Comp cars), Weld Racing Wheels, Level 10 Transmissions, Holley, Innovators West, Coan Engineering and Slawko Racing Heads.




NHRA: 10 Most Recent Entries [ top ]

Mar 25- NHRA Announces Revised Schedule for Mello Yello Drag Racing Series
Mar 24- Balogh, Beard, Enriquez, Hill, Meyer and Minor Inducted to the International Drag Racing Hall of Fame
Mar 16- NHRA Postpones Season for at Least 30 Days
Mar 16- Samtech.edu NHRA Factory Stock Showdown Ladder Change and 4-wide Competition
Mar 14- GAINESVILLE - Friday Wrap Up
Mar 13- GAINESVILLE - Summary of Eliminations in Stock Eliminator
Mar 13- GAINESVILLE - Summary of Eliminations in Competition Eliminator
Mar 13- GAINESVILLE - Summary of Eliminations in Super Stock
Mar 13- GAINESVILLE - Summary of Eliminations in Super Comp
Mar 13- GAINESVILLE - Summary of Eliminations in Super Gas