Fri, 28 Dec 2007, 06:48 AM



It Was An Unbelievable Year In The Funny Car Class



By Bob Frey


Photo copyright 2007 Auto Imagery, Inc.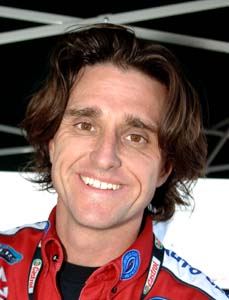 Eric Medlen
With everything that went on in the world of drag racing this year, nowhere were there more surprises, upsets and shocking developments than there were in the Funny Car class. And any discussion of the 2007 season will forever include the stunning loss of
Eric Medlen
and the season-ending crash between
John Force
and
Kenny Bernstein
. Of course, with the new Countdown format, the 2007 season will also be remembered for the first round at the
AC Delco Nationals
in
Las Vegas
, the round where three of the four contenders for the championship all lost. With that and the win by the eventual champion,
Tony Pedregon
at the Vegas race, Tony all but cemented his second championship. It was a tumultuous year in the Funny Car class, one that will go down in the record books as, possibly, the most bizarre year in the history of the class.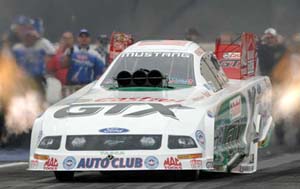 Ashley Force
The 2007 season got off to a fantastic start when
Ashley Force
made her debut at the season-opening Winternationals in
Pomona, California
. Between Ashley and her dad, John, the qualifying show alone at
Pomona
was worth the price of admission. First she's in and then she's not. Then John is in and then he's not. In the end, he qualified on his last pass to extend his consecutive qualify streak to 393 races but, at the same time, he bumped Ashley out of the show. She then ran 4.790 on her last qualifying run to make the very quick field and extend her qualifying streak to one. OK, so one isn't a streak but it was a very exciting start for Ashley and, in those 4.79 seconds, a star was born. Or at least a young driver with tremendous star power was on display for the entire drag racing world, and beyond, to see. It was as good and exciting and thrilling a qualifying session as we had seen in quite some time and it simply set the stage for what was to be a year like no other in the history of the class. To close the door on the
Pomona
race, both John and Ashley lost in the opening round while
Gary Scelzi
simply over-powered everyone en route to the win. The final round, between Gary and
Robert Hight
, was also a classic with Robert getting DQ'd for crossing the center line. Gary, meanwhile, ran 333.49 miles per hour, which is still the fourth fastest run in class history while Robert went 4.646, a run that is the second quickest in history, behind only his run at the next race in Arizona when he went 4.636...The strange thing about the opening two races was the fact that Robert made the two quickest runs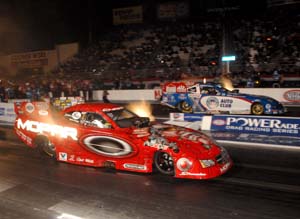 Scelzi vs. Hight
in history and didn't win either race and he didn't set the national record.
Tony Pedregon
won in
Phoenix
when he beat Robert and he also set the record with his run of 4.659.
Did you know
that, with the change in nitro percentage in recent years and with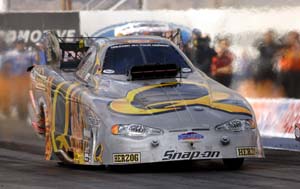 Pedregon in Phoenix
the advent of the rev-limiters on the fuel cars, Tony's 4.659 was the only nitro national record that was set this year? It was also interesting to note that, at the last race of the year, Robert Hight needed to win the race and set the national record if he wanted to beat Tony for the title, and the fact that Tony held the record made the challenge even more ironic.
The entire John Force team went through a season like no other that I can remember. The year started with such promise with Ashley's debut in California and she did everything she could to live up to all of the hype and expectations that surrounded her. Stepping up to the pro ranks after years of racing in the Top Alcohol Dragster class, her debut was the most watched arrival in the history of the class. Maybe in the history of the sport. Like every new driver in the fuel classes, especially the Funny Car class, the learning curve was steep and, at times, treacherous, but in the end, she came through it and she should be a factor for years to come. Plus, the exposure that she generated for her team, her sponsors and the sport in general, both on and off the track, is something we haven't seen since the glory days of Shirley Muldowney. The sport of drag racing has been blessed with the diversity of competitors that other forms of motorsports only dream about, and the only difference is, I think, that we sometimes take it for granted.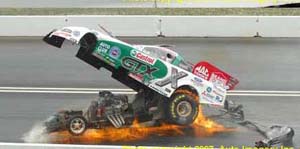 Force in Seattle.
Anyway, Ashley finished the year with a couple of wild rides, a few DNQ's, a final round and a top ten finish, and I would have to say, for any rookie in the class, that would have to be considered a good year. I also assume that she learned a lot about driving these cars....The loss of Eric Medlen in that testing accident in
Florida
really changed the entire complexion of the season. His face, his smile and his competitiveness will all be missed forever, but they will never be forgotten. Win or lose he was an exciting young man to be around and we can only hope that some good, like better race cars and better protection for the drivers, will come from his loss. It's a small consolation but it's all that we have. That and the cherished memories that all of us who came in contact with him on a regular or a semi-regular basis will always have...After sitting out a race after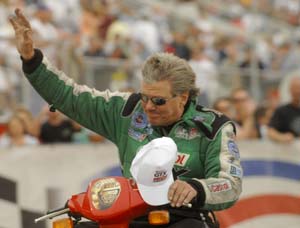 Force after failing to qualify.

Eric's death, the Team Force cars returned to action in Las Vegas where John failed to qualify, thus ending one of the most impressive streaks in the history of the sport. Since the beginning of the 1988 season, John had qualified for a staggering 395 consecutive races, a streak that may never be approached, let alone broken, in our sport. To put that streak into perspective,

did you know

that the current longest active streak in the Funny Car class stands at twenty-one and is held by

Del Worsham

? And the longest qualifying streak in the pro classes currently stands at 166 and that's held by

Angelle Sampey

.

Tony

Schumacher

has made 107 straight starts while

Greg Anderson

has qualified for 116 in a row. To further put that into perspective, if Greg were to beat John's 395 record, he would have to qualify for every race (in a twenty-four race season), from now until the sixteenth race in the year 2020. John has accomplished a lot of things in the sport but I still think that his 395 race streak is the most impressive, and that's saying a lot....After his team's return to action, and even after failing to qualify for the Las Vegas race, John continued to express the enthusiasm, the professionalism and the spirit that have made him unique in all of sports. He made the Countdown to Four but failed to make the final cut, but only because of his devastating crash in

Dallas

. Because of that accident,

Phil Burkart

got to drive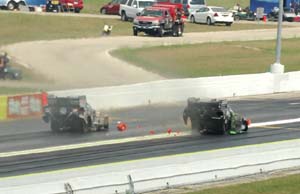 Force and Bernstein
John's car at the last two races where he managed to make it to the finals in
Pomona
. And, maybe because of that accident, Kenny Bernstein decided to step out of the driver's compartment for the final time.
Tommy Johnson
then got the call to drive for Kenny and that will be one of the big stories in 2008....Getting back to John, from what I have heard, he is working extremely hard in order to be ready to go for the start of the upcoming season, and only time will tell if he makes it or not. If determination were the only factor, he'd be ready to go today, but it's not. There are physical limitations that your body has, even John Force's body, and he's pushing himself to the limit in an effort to be ready for the 2008 season. Phil, meanwhile, is standing by with mixed emotions, and if he's honest, that's what he'll tell you. He certainly wants John to be racing this year, but let's face it, a shot to drive John's car is a dream come true for any Funny Car driver and Phil would like to be racing next year....Speaking of Phil, I heard that
Paul Smith
, who tuned Phil to a runner-up spot at the Gatornationals in 2007, is going to get his Funny Car driver's license again. Cool!!
Gary Scelzi and Don Schumacher made a lot of news in the FC class this year. Gary retired and then un-retired, if that's a word. He'll be back again to drive the Mopar / Oakley Dodge for Don but he'll do it without Mike Neff who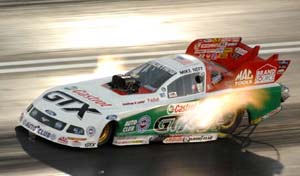 Mike Neff
left DSR to join forces with Mr. Force. Mike, one of the best crew chiefs in the class, drove one of John's team cars at the last two races of the year and he'll start out the 2008 season with a full time ride.
Austin Coil
told me that he thinks Mike will do well as a driver. "I guess all those years of watching other guys make mistakes on the track paid off for him,"
Austin
said. "I think he's going to be a great driver."
Austin
should know, shouldn't he? Of course, as I've said before, if watching other guys make mistakes paid off for Mike, think what a driver
Austin
could be. OK, so that's probably not going to happen, but you know what I mean.
Did you know
that Austin Coil once drove the famous
Chi-Town Hustler
Funny Car?
Once
being the operative word here. Let's see, if my memory serves me correctly that would make
Austin
one of the ten people who drove that legendary Funny Car, wouldn't it? Also, by my unofficial count, that would be thirteen fewer drivers than drove for
Roland Leong
. But I digress.
Austin
knows talent and if he thinks Mike will be a good driver you can be sure that Mike will be a good driver. I will go on record as saying that I think Mike will drive for a year or two and then go back to being a crew chief, and I make that statement based on two things. First, conversations that I've had with Mike and, secondly, the fact that really talented crew chiefs are extremely hard to find. As good a driver as he may eventually become, Mike will always be ranked as one of the top crew chiefs in the sport, and with that in hand, you can almost name your price and your situation in the sport right now. Wherever he is and whichever chore he is performing, Mike will always be a great asset to any team..Don't shed any tears for Gary Scelzi, though, since he will continue to be in good hands in the DSR camp. With a plethora of really good crew chiefs,
Gary
will either run under the direction of
Todd Okuhara
and
Phil Shuler
or he'll have one of them assigned to his car. What ever happens, the un-retired "Wild Thing" can be counted on for another solid season and a run at the championship.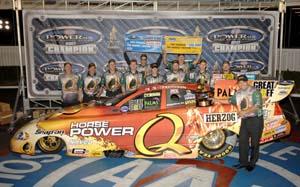 Pedregon and team.
Tony Pedregon winning the championship was almost overshadowed by all of the other events in the Funny Car class this year. As I mentioned a few weeks ago, Tony has assembled a very good, solid and now, experienced team that should contend for the championship every year. Once a team learns how to win, as Tony's team has, they can be very tough. As John Force has proven over the years, keeping your key people intact from year to year is a huge thing in this sport and that's what Tony has done with the big
"Q-Horsepower
" Chevrolet....Another one of the major stories in the FC class this year was the fact that, after sponsoring two teams for the past seven years, the folks at
Checker, Schuck's and Kragen
announced that they would pull back and only sponsor one car,
Del Worsham's
next year. It will be the twelfth consecutive year that
Del
has carried the CSK logo into battle and he will be looking to rebound from a very tough season.
Del
didn't win a race last year (he did make it to a pair of final rounds) and it's been a long while since he has visited the winner's circle. Still, as one of the top names, drivers and teams in the class, 2008 will see
Del
and his dad put all of their attention on one car,
Del
's. That means, of course, that
Jeff Arend
is looking for work as are several of the crew guys who worked on Jeff's CSK "blue car" last year....Early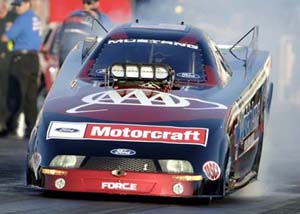 Bob Tasca in his TAFC.
reports, from what I hear, rumor has it and all of those disclaimer kind of things, have
Chris Cunningham,
who was with the blue team last year, going to work for
Bob Tasca III
as he enters the fuel ranks this year. Chris, along with
Marc Denner
, did a wonderful job during his tour of duty with
Del
's team and that would be a very good acquisition for Mr. Tasca, if indeed it's a done deal. I also hear, rumor also has it etc., that
Mike Kloeber
will be part of the Tasca Ford team, too, if and when it is announced. Mike and Chris together would make a very formidable team, two great young crew chiefs (or co-crew chiefs or whatever they would be called), with a new, young driver with a lot of family tradition behind him. The
Tasca Ford
name was synonymous with great running Fords in the early days of the Funny Car class and how cool will it be to see it back in the fuel ranks? Bob Tasca did a great job during his short stint in the alky ranks and I fully expect to see him do the same in a fuel car. And, rumor has it, from what I hear and, well, you know, there could be some really special announcements surrounding Bob's car and his entire program. Stay tuned because it could be a lot of fun with Bob, who is a good friend of both John Force and Tony Pedregon, entering the FC class in 2008. If all goes well, from what I hear, Bob and his operation will be at the Vegas and
Phoenix
test sessions in a few weeks. Let's hope all of this turns out to be true. As of right now, all of the parties are keeping quiet about it, so we'll see if it all comes to pass. I mentioned the involvement of Tasca Ford in the early days of the sport, well,
did you know
that
Bill Lawton
drove the Tasca Ford Mustang to the A/FX title at the 1965 Winternationals? Bill took the 427 overhead-cam Ford to a best of 10.88 at 129.84 miles per hour and, believe me, for 1965 that was stunning. Good luck to Bob Tasca this year if and when he makes the official announcement that he's turning pro and how his program will look.By the way, at that same '65 Winternationals
Bruce Larson
won his class driving a Ford Cobra. Gee, now if only we could get Bruce a deal for 2008.
The next few weeks should see some new announcements about deals, teams and who will be at which test sessions later this month. Obviously a lot of the attention will be on Yorba Linda, California to see how John Force is progressing. Everyone knows that if it's physically possible, John will be in Pomona for the Winternationals. As a fan, let's hope that he is because that would be the best way we could all start the 2008 season and it would be exactly what the Team Force contingent needs after the year they just experienced. Of course, it's easy for me to say that because I don't have to race against him.




NHRA: 10 Most Recent Entries [ top ]

Mar 25- NHRA Announces Revised Schedule for Mello Yello Drag Racing Series
Mar 24- Balogh, Beard, Enriquez, Hill, Meyer and Minor Inducted to the International Drag Racing Hall of Fame
Mar 16- NHRA Postpones Season for at Least 30 Days
Mar 16- Samtech.edu NHRA Factory Stock Showdown Ladder Change and 4-wide Competition
Mar 14- GAINESVILLE - Friday Wrap Up
Mar 13- GAINESVILLE - Summary of Eliminations in Stock Eliminator
Mar 13- GAINESVILLE - Summary of Eliminations in Competition Eliminator
Mar 13- GAINESVILLE - Summary of Eliminations in Super Stock
Mar 13- GAINESVILLE - Summary of Eliminations in Super Comp
Mar 13- GAINESVILLE - Summary of Eliminations in Super Gas