Wed, 26 Dec 2007, 12:52 PM



He's The Champ....Again!!



By Bob Frey


Photo copyright 2007 Auto Imagery, Inc.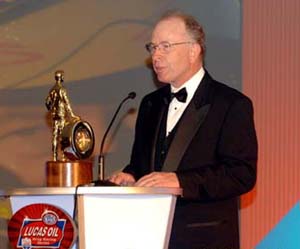 Bill Reichert
Bill Walsh. Blaine Johnson. Rick Santos. Prior to this year, in the annals of the Top Alcohol Dragster class, those were the only three drivers ever to have won the season's championship in consecutive years. Bill did it three times, winning in 1984, '85 and '86. The great Blaine Johnson, along with his brother, Alan, was the champ four years in a row from 1990 thru 1993, and, at that time there wasn't a more dominating team in the country. And, as we all know, the success of any team is finding its strengths and weaknesses. After trying his hand at driving for a while, brother Alan wisely turned the handling chores over to Blaine who did rather well behind the wheel of the family car, while Alan, for his part, became a pretty good tuner. OK, so he became a great tuner. Meanwhile, a few years after the Johnson clan stepped up to Top Fuel, Rick Santos became the benchmark in the class when he, his dad, Norm Grimes and a very talented team won the championship in five straight years from 1997 to 2001. Now, Bill Reichert gets to add his name to that very short and distinguished list since he added the 2007 Lucas Oil World Championship to the one that he won in 2006. And the way his car ran this year he would have to be considered the man to beat again in 2008. Maybe.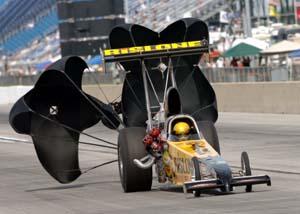 Bill Reichert
Bill Reichert wasn't perfect this year but he wasn't far from it, either. He got off to a blazing start, winning five of the first nine races that he attended and making it to the final round at seven of those events. In the end, he put up 750 points, just slightly fewer than he did last year (775) but he still won the championship by a comfortable margin over the second-place finisher, Thomas Bayer. During the course of the year he also recorded the run of the year, a staggering 5.103 in a win over Duane Shields at Houston Raceway Park. In fact, of the four runs that he made at the Houston event in eliminations, his slowest pass was an opening round 5.258, a run where he also went over 282 miles per hour. The following rounds consisted of a 5.217, the 5.103 pass against Shields and a final round 5.157 win over Spencer Massey, a run that also netted Bill a thundering top speed of 284.75 miles per hour. That run was, and still is the fastest run in the history of the Top Alcohol Dragster class. "That was, for us, the perfect race," Bill told me. "We often talked about things that we would like to accomplish, and winning a race, qualifying number one and setting both ends of the national record has always been on that list. You don't know if you'll ever do it, but you like to try."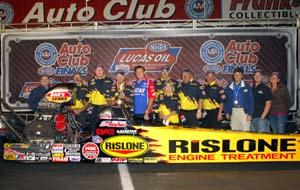 Reichert and team celebrate win.
Besides winning consecutive championships, Bill has something else in common with Rick Santos. In Rick's last championship year, 2001, his team faced some changes to the rules that necessitated a complete overhaul of their car. In Rick's case, it was weight, in Bill's case it was the percentage of nitro. "When they went from 97 to 96 percent nitro in the middle of the year we didn't know how it was going to affect the car," he said. "We went to the divisional race in Norwalk and ran well, but it was about sixty degrees there and the weather was a big factor in our performance." It took Bill a few races to figure out the new combination but, in the end, he still had the best car in the class from a performance standpoint. During the course of the year he set low elapsed time at five national events and top speed at four while recording the three fastest times in the history of the class. "It was a pretty good year," Bill said in a classic understatement. But racing in the alky dragster class wasn't always easy for Bill.
In the beginning of his dragster career, from 1992 through 1999, Bill, his wife Gloria and their son, Andy, ran one of the best supercharged cars in the class. Then, in 2000, they switched to the fuel injected, nitro car. "We just thought it would be the way to go in the future. Of course, after that first year, we weren't so sure that we made the right decision." The record shows that, at the eight national events that the team went to in 2000, they won a grand total of four rounds. And, to make matters worse, they failed to qualify at the last Division 2 points race of the year. "We went to Bristol needing to make the show to finish tenth in the division that year," Bill said. "If you're not tenth, you have to pay to get into the events and that's a big thing. Well, we didn't qualify at that race and didn't make the top ten in the division. That was a long, quiet ride home." Still, he added, he thought that they had made the right decision. "Jeff Wilson came up to me after the year and asked me what I thought and I told him that I was determined to make it work." And he did. In fact, one of the keys to Bill's success is the determination that he has, the determination to make his car the best in the class. "I knew I could do it, and I knew that if we stuck with it we could make the car work." Another thing that has been a major factor in Bill's success over the past few years is the fact that he has learned how to make the car run in the hot weather. "You can't win if you're not competitive at half the races you go to. We couldn't seem to get the car to run when it got hot outside and that was at about fifty percent of our races. Well, we worked that out and now we can be competitive at any track under any condition. My son, Andy, who doesn't come to all the races now, is a huge help with the car. We talk between every run and every round and he gives me his input as to what to do. Since he isn't at the track he doesn't get caught up in the emotion of the moment. To him, it's all black and white, he looks at the numbers and tells me what he thinks. He's such a big part of the team." And so is Bill's wife, Gloria, who is there with him at every race and enjoys the racing as much as he does.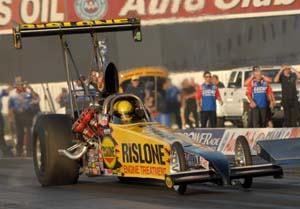 With two consecutive championships to his credit Bill Reichert may be looking at making a major change next year, a change that has nothing to do with the tune up of the car. "I am seriously looking at putting someone else in the car," he told me. "We're really close and it looks like it might happen." Bill did have Lindsey Wood drive the car last year at the Division 2 race in Georgia and he said that it was a weird experience. "I didn't know where to stand on the starting line and I just wanted to make sure I didn't get in anybody's way. It was strange." But, he admits, the timing may be right to make the change now. "You have to look at it two ways. You can make a change like this when you're at the top of your game and you have the opportunity to put someone in the championship car, or you can wait until you've fallen off a bit, but then you don't have as much to offer someone. It's not an easy decision but, right now, it looks like I'll be tuning next year and not driving." Whatever happens, the competitors in the TAD class know one thing, they'll still have to go through or around Bill Reichert if they want to win the championship next year.
Over the years Bill has had the support of some fine companies, like Bar's Leaks and their Rislone brand, Lane Automotive, All Star Performance Products and NGK. "It makes it a lot easier to have the support of these great companies and all of them have told me that they are solidly behind me no matter what I do next year," he said. "I'd like to add some more sponsors and I think I have something nice to offer them." Yeah, like a couple of national championships and the best car in the class. If I were a sponsor, that's the kind of team I would like to be on....and not racing against.




NHRA: 10 Most Recent Entries [ top ]

Mar 25- NHRA Announces Revised Schedule for Mello Yello Drag Racing Series
Mar 24- Balogh, Beard, Enriquez, Hill, Meyer and Minor Inducted to the International Drag Racing Hall of Fame
Mar 16- NHRA Postpones Season for at Least 30 Days
Mar 16- Samtech.edu NHRA Factory Stock Showdown Ladder Change and 4-wide Competition
Mar 14- GAINESVILLE - Friday Wrap Up
Mar 13- GAINESVILLE - Summary of Eliminations in Stock Eliminator
Mar 13- GAINESVILLE - Summary of Eliminations in Competition Eliminator
Mar 13- GAINESVILLE - Summary of Eliminations in Super Stock
Mar 13- GAINESVILLE - Summary of Eliminations in Super Comp
Mar 13- GAINESVILLE - Summary of Eliminations in Super Gas