Wed, 26 Dec 2007, 12:36 PM



Worsham and Tuttle Announce Alliance for '08



Courtesy of Bob Wilber


Photo copyright 2007 NHRA





ORANGE, Calif. --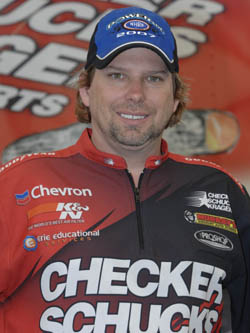 Del Worsham
Del Worsham, owner/driver/tuner of the Checker, Schuck's, Kragen Funny Car, and Dexter Tuttle, owner/tuner of the Top Fuel Dragster that will be driven by Alan Bradshaw during the 2008 NHRA POWERade season, have announced they will work together in '08, forming a racing alliance. The combined effort will feature a mutual pit area, shared resources, and combined tuning approaches, all of which are designed to provide each team significantly more information and assets as they compete in two different classes.
Worsham has owned and operated a two-car organization since 2000, with Jeff Arend most recently driving the blue version of the Checker, Schuck's, Kragen Funny Car. Although CSK Auto is moving forward into its 12th consecutive season sponsoring Worsham, the "Official Auto Parts Retailer" of the NHRA has announced it will focus its sponsor resources and backing on just Worsham's red car in '08. Tuttle, who led driver J.R. Todd to five race victories over the past two years, has named Bradshaw to drive his Top Fuel machine next season, and the team expects to attend at least 15 races, though they will continue to pursue additional sponsor funding.
"I've gotten to know Dexter very well over the last couple of years, and not only do I consider him a good friend, I consider him to be one of the best team owners and tuners in the Top Fuel class," Worsham said. "This past year, in a totally unofficial way, we found ourselves talking for hours, looking at each other's data and just talking tune-ups and racing. Once I knew our program would be becoming a one-car team, it seemed like a natural thing for us to work together, in a more official way.
"It's kind of hard to do this sort of thing with somebody who is in the same class with you, because at some point you're going to have to race each other and then you're going to have to keep some secrets. It's true that Top Fuelers and Funny Cars need to be tuned somewhat differently, but we run the same parts and we know how our tune-ups translate. Now, we'll have double the eyes, double the brains, and we'll be able to share just about everything. I think it's a great deal for all of us."
As part of the move, Tuttle's Top Fuel car will operate out of what had been the blue CSK Funny Car transporter, and the teams will set up the pit area in the same manner the full CSK pit was arranged in the past, with both transporters lined up together and the team's hospitality area placed across the back of the pit, in CSK markets.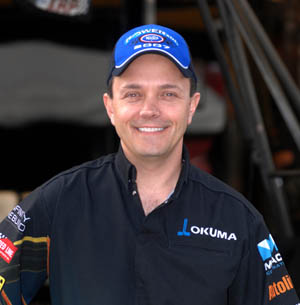 Alan Bradshaw
Tuttle reiterated his plans to take Bradshaw and his team to about 15 events in '08, while also emphasizing that those plans are subject to change.
"We're always looking and talking to potential sponsors, so that's a fluid situation," Tuttle said. "We love to race, and Alan is going to do a great job driving the car, so we'd obviously be excited to run more races if we can secure the partners we need for that. However many races we go to, this deal with Del and Chuck Worsham is a great way for our team to go racing in '08, and I think we can both help each other.
"There's probably no one, other than the Worshams, that I would have done this with. Over the past couple of years, Del and I had already built up a sort of alliance, in that we spent a lot of time together and we've both grown to have a lot of respect for each other. We spent so much time in each other's trailers this year, it was almost like we were working with each other anyway. It will just be even better now, and I think all of us are looking forward to seeing what we can accomplish on the track."
Tuttle also believes the alliance will benefit his new driver, who earned his Top Fuel license in 2005.
"Alan Bradshaw has a lot of ability, and he's definitely one of the up-and-coming drivers in the class, but what's great for him is that you couldn't pick a better guy to work with than Del Worsham. Just being part of the team, watching how Del prepares himself and goes about his business, will be a positive thing for Alan. I think this arrangement will accelerate his progress a great deal."
The combined effort will make its debut at the Carquest Winternationals, in Pomona, on February 7-10, 2008.




NHRA: 10 Most Recent Entries [ top ]

Mar 25- NHRA Announces Revised Schedule for Mello Yello Drag Racing Series
Mar 24- Balogh, Beard, Enriquez, Hill, Meyer and Minor Inducted to the International Drag Racing Hall of Fame
Mar 16- NHRA Postpones Season for at Least 30 Days
Mar 16- Samtech.edu NHRA Factory Stock Showdown Ladder Change and 4-wide Competition
Mar 14- GAINESVILLE - Friday Wrap Up
Mar 13- GAINESVILLE - Summary of Eliminations in Stock Eliminator
Mar 13- GAINESVILLE - Summary of Eliminations in Competition Eliminator
Mar 13- GAINESVILLE - Summary of Eliminations in Super Stock
Mar 13- GAINESVILLE - Summary of Eliminations in Super Comp
Mar 13- GAINESVILLE - Summary of Eliminations in Super Gas