Mon, 24 Dec 2007, 10:50 AM



One on One with Antron Brown



By Norm Froscher


Photo copyright 2007 Martin Whitney





GAINESVILLE, Fla. --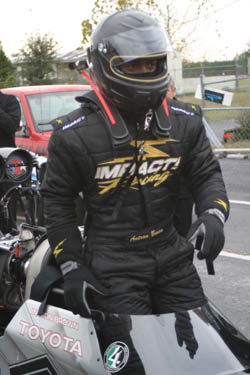 Antron Brown
Antron Brown was making passes at Gainesville Raceway last week.
Yeah, you know Brown. He's the rider of the U.S. Army Suzuki motorcycle and a veteran of 10 years on the Pro bike, right?
Just put the word formerly in front of that, because if you've been off on a cruise, Brown is now attempting to get his Top Fuel license and will campaign the David Powers Motorsports Matco Tools Top Fuel dragster in 2008.
Two wheels to four, 600 or so horsepower to 4,000 as a teammate to "Hot Rod" Fuller in the DPM stable.
We managed to catch Brown between runs, actually right after he was mixing fuel and packing his chutes to get an update question and answer session for Summit Drag Race Central.
DRC: How did the opportunity with David Powers Motorsports and the Matco Top Fueler come about? Was it about the time the Army dropped it sponsorship?
Brown: "Actually, it was a fairly unique deal. I had talked with David Powers earlier in the year. Hopefully, they were going to acquire another car or so and I talked to Lee (Beard) back and forth and maybe we could work out some sponsorship and maybe I could actually fulfill my dream of racing a Top Fuel car.
"It actually happened after David Baca was driving the Matco Tools Iron Eagle TF dragster where the position was going to be open for the '08 season. I inquired about the position different times and I got a phone call back from DPM that there was an opportunity there, but there was no guaranteed position. But right then and there we headed off to Frank Hawley's Drag Racing School before I went and did the test session with Lee Beard and the guys out in Las Vegas.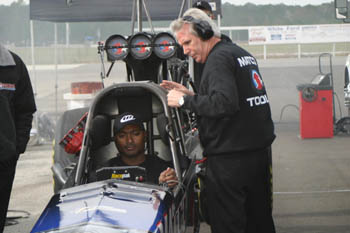 Beard and Brown
"I polished up my bumps and bruises along the way of learning how to drive a Top Alcohol Dragster. We went out to Vegas and the session there went well enough that I got the routine down and came back where I could actually work with the guys in the shop and learn a lot more of the detail of what goes on with the race car. And here we are today, everything happened and Matco was real happy with the decision because I'd worked with Matco and their distributors the last five years with DSR (Don Schumacher Racing's Pro Stock Motorcycle).
"It was like home, but before where it might have been a couch, it's now a nice king size bed. This is going to be unreal.
DRC: What precisely did your Vegas test entail?
Antron Brown: "I didn't get to make any full passes. We were just getting though the burnout procedures and getting the car launched off the starting line and everything went well. It was a way to break in so I'd know what to expect.
"We just keep going to the next step. Take a little bit at a time and learn. So I'm pretty excited being here in Gainesville to test and qualify for my license. I'm really optimistic because we have an all-star team, on which I am the weakest link."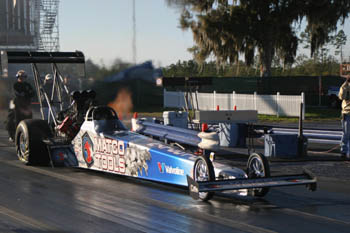 Brown launches.
DRC: What have you seen thus far as the difference between driving the Top Fuel car and riding the motorcycle?
Antron Brown: "You have to be on top of your game with both. With motorcycles you're sitting on top and you have to focus on not just getting down the race track, but holding on. With the Top Fuel car, it's a total different aspect. I don't have to worry about holding on, so it makes that part a little bit easier, but what makes the fuel deal so hard is, it accelerates a lot harder, quicker and faster, so you can be in trouble a lot quicker than with the Pro Stock Motorcycle. I'm saying that because I've been racing the motorcycle for 10 years. If somebody got on a brand new Pro Stock Motorcycle, it's probably just as hard or harder.
"You have to finesse this Top Fuel dragster with very subtle movements because you're accelerating so fast. You're doing over 270 or 280 miles an hour at half track, while on the bike we doing only 160. I don't have to worry about falling off, though, because I'm strapped in. That's the good part about this ordeal.
"I'm really happy I was able to ride the bike for 10 years before this, because it really paved the way and got my mindset open to take things as they come in and I still have a big learning process in this race car.
DRC: Have you and Lee Beard already developed any kind of chemistry?
Antron Brown: "Oh, for sure. He's my coach. Put it this way, David Powers is the team owner, Lee Beard is the coach and I'm the quarterback. That's the best terminology for this whole deal. It has trickled down. David is really good about pushing people to their limit by pumping them up, guiding 'em and giving the reinforcement they need to do this sport right.
"Lee, he is the coach who organizes all the parts and the pieces and he's the glue that puts everything together. And I'm kind of the quarterback who hangs around with the crew guys a lot, because I am no stronger than what they are. They motivate me and I motivate them and I push them and they push me back and that's the kind of deal we have.
"Lee and I have a pretty good understanding of each other from when we used to work at DSR together. We see each other in the shop, talk, go out to lunch together sometimes, so we had a good friendship from there already."
DRC: What about Rod Fuller, your teammate? Do you exchange information or thoughts?
Antron Brown: "Yeah, and if you want to look at it that aspect, we look at us as actually being one team and right now Rod Fuller is the quarterback of this WHOLE team and I'm the running back. Right now I'm taking the handoffs so I can go actually go the direction he's going in. I'm the quarterback of my team, but the whole teams in general, I would say the offensive coordinator which is Lee Beard, the defensive coordination which is Rob Flynn (Fuller's crew chief) and you got the quarterback which is Rod Fuller and I'm the running back, so put it in perspective that way, you know what I mean?
Right. Not unlike Arkansas' Darren Madden. Quarterback AND Running Back.
"Lee and Rob work well together. Where one's strength is, the other might have a weakness. They help each other out and that's what makes them a dominant force out there."
DRC: What brought you into the love of racing?
Antron Brown: "My love of racing comes from my family. It starts with my Grandpop to my uncle and dad. They were racing before I was even born. It was naturally born into me.
"My older brother, Albert -- I call him Los, for Carlos -- was six years older than me and kids his age wanted to hang out play with him, so that gave me a competitive edge in then playing with kids my age, it gave me an edge, because I'd played with people older.
"We went to the drag strip at an early age and I remember polishing the wheels of my dad's Super Gas Vega and the Super Comp Roadster and Dragster that they have now.
"I wound up racing motorcycles, because they wouldn't let me get in the cars (laughter) and I had to race something."
DRC: What does your wife Billie Jo (who is also Angelle Sampey's cousin) think of your switch to Top Fuel?
Antron Brown: "At first she was a little bit all over the place and felt kinda funny, but she finally said, 'You know what baby, you're strapped in now and I don't have to worry about you falling off a motorcycle anymore.' And I feel Top Fuel and Funny Car is at the top of our sport. I have always loved Pro Stock Motorcycle, am a huge fan of the class and I will be supportive of my cousin-in-law out there, Angelle, all day long.
"I have been a fan of Top Fuel from the days of Don Garlits, and I always loved Kenny Bernstein, John Force, all those guys. My favorite back in the day was watching Gary Ormsby. He was always smiling and he had the first closed cockpit and would you believe, Lee Beard was his crew chief. That's kind of ironic."
DRC: Do you have any goals for this first year?
Antron Brown: "Oh, for sure. I mean, I may be a rookie driver, but I'm a not a rookie racer by any means. My main focus this year is just to keep my head down and dig and work and work and go to the shop and learn about the race car and make as few rookie mistakes as possible. I'm going to make rookie mistakes, but I want to make as few as possible.
"I want to race to the best of my ability and go rounds on Sunday. Hopefully we could be in the Countdown to the Championship and have a run at it and if not, help our team as a whole win the championship, because Rod has already been there.
"I want to do the best I can each race, that's my goal for this year and hopefully we can go rounds, win a race and go from there. That's my goal."
What Lee Beard has to say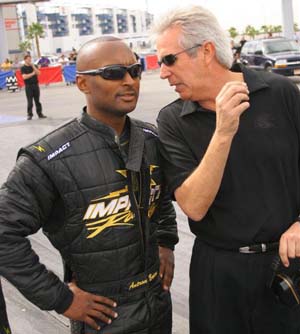 Brown and Beard
So let's also hear from veteran crew chief Lee Beard on what Brown brings to the table, er, the staging lights:
"He's doing fantastic. We got here Monday and the weather was really cold and it was kinda hard to get the car down the track. We ran it one time there and it smoked the tires and he did a great job of catching the engine and not letting it rev up too high, so that showed me he has a good feel for the car and the sound of the engine,
"Tuesday, it was still pretty cold and we shook the tires a couple of times and he shut it right off. Again, he just reassured my confidence in his ability to feel for the race car.
"We just ran a point 841 60 foot, 2.15 to the 330 and it was planned for him to shut it off right after the 330. Those are really good numbers.
"He did a great job of handling it, kept it right in the groove.
"His reaction times are very impressive. He had three runs in a row between an .048 light to an .051 light and that right there will put you up in the top two or three.
"I couldn't really say enough about Antron, how exciting it is to work with him. His personality is really second to none.
"He reminds me a lot of Helio Castroneves."
Castroneves? The Indy Car driver. How so?
"Watching Heilo on Dancing With the Stars, I realized that maybe if he wasn't the best dancer, his personality carried him. And that's something Antron brings to the team, his personality, and it's great for the sport to have guys out who have the personality.
"We have a great organization, this David Powers Motorsports. We have a motto and we lived by this last year and it's 'We're one team, running two race cars (Rod Fuller's being the other mount). That really paid off for us last year, we had both cars in the Countdown and one right to end. Our team is only about 2 1/2 years old and the only team better than us was the (Tony) Schumacher's Army car. We feel pretty good about our organization."
So Brown didn't get to make his final licensing runs, but stay tuned, he may be back in the new year.




NHRA: 10 Most Recent Entries [ top ]

May 21- Second JEGS SPORTSnationals Added, to be held in mid-August in New England
May 20- DENSO Sponsors NHRA Champs' Shelter-in-Place Dachshund Race
May 14- To Our Racing Community-From Racers for Christ
May 13- The Name Game Part I
May 12- Morgan Lucas, Son of Forrest and Charlotte Lucas, Appointed President of Lucas Oil Products, Inc.
May 05- Cancellation of the 14th Annual Summit Racing Equipment NHRA Nationals
May 04- NHRA Announces Revised Plan to Restart 2020 Mello Yello Drag Racing Series
Apr 29- DSR Drivers Join Global Superstars in Fight for COVID-19 Relief
Apr 02- NHRA National Dragster will Temporarily Shift to a Free-to-All Digital Magazine
Apr 02- NHRA Announces Revised E3 Spark Plugs Pro Mod Drag Racing Series Schedule