Thu, 20 Dec 2007, 09:26 AM



I Love Top Fuel



By Bob Frey


Photo copyright 2007 Auto Imagery, Inc., Martin Whitney & NHRA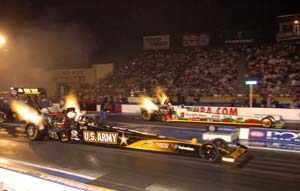 Schumacher vs. Vandergriff
It's hard to believe that the Top Fuel championship came down to the last run at the last race in two consecutive years, and it's even harder to believe that the same guy, Tony Schumacher, was involved in both races.and that he won them both. The Army team, led by Alan Johnson, has pretty much re-written the record books in the Top Fuel class over the past few years and there's no reason to believe they won't pick up right where they left off in 2008. That's good news for the fans of the team but it's bad news for the rest of the TF contingent. Of course, the other dragster teams aren't exactly standing still during the off-season so it should be a great chase for the title next year.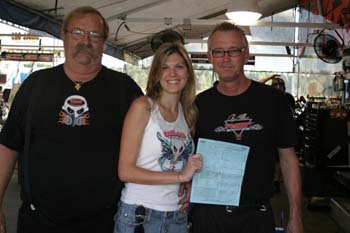 Larson, Harris and West
One of the busiest teams in the off-season seems to b the one that is owned by Evan Knoll and driven by Clay Millican. The team was in Florida last week testing their new car (and theories) as well as trying to get Jesse Harris her Top Fuel license. From all reports, the team succeeded in both phases, that is, Clay ran well and Jesse got her license. That brings up a quick question, what do Jesse Harris and Tony Schumacher have in common? Well, the answer is simple, they both began their drag racing careers by racing their street cars at local tracks and, eventually, they both drove jet cars before going into TF. Tony drove the Odyssey jet dragster for Wayne Knuth while Jesse has been driving for the veteran Al Hanna for the past few seasons. Al, for his part, used to race Funny Cars including a series of cars called the "Eastern Raider." Anyway, working with Clay and his crew, including Lance Larsen and Johnny West, Jesse did get her TF license this past week and it looks like she'll be joining the POWERade tour in 2008, or at least that's the way it looks right now. Clay made a couple of good passes including one of 4.59 at 332 miles per hour and that has to have the normally soft-spoken Mr. Millican pumped up. OK, so I lied about the soft-spoken part....Bob Vandergriff is also planning to do some testing in Florida and this may signal a new wave in the fuel classes, that is, guys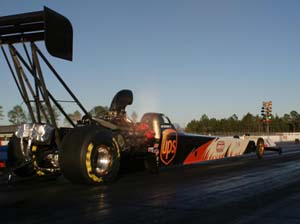 Vandergriff testing in Gainesville.
testing cars way before the official "test sessions" get underway in January in Arizona and Las Vegas. When I spoke with Bob at the PRI show in Florida two weeks ago, he did mention that he is working on adding a second car to his team but not before 2009. "I have a driver in mind who is already signed with a team for 2008 and it will take me a while to put all the financial things in place," he said. "But I would like to get everything in place as soon as I can so we can move ahead and add the second car." Bob also said that he is working with one of the top NASCAR teams in order to build a better race car. "We've got some really neat stuff going on and I can't wait for the 2008 season to start," he said. Based on what we saw from the UPS car this past season, you have to figure that Bob, crew chief Jim Dupuy and the rest of the team will be a factor right from the start next year. Did you know that, in addition to finishing fifth this year, Bob won more rounds this year than in any other year in his career? And it's only the second time in his career that he finished above the .500 mark. In 1999 he won 22 rounds and lost 20 while finishing tenth in the points and, until this year, that was the best season for the Georgia driver, at least as far as the total number of rounds won. Bob has now finished in the top ten five times in his career and he seems ready to make a real run at the championship.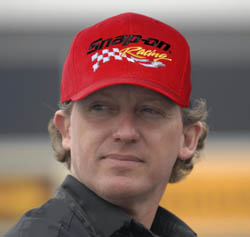 Kevin Poynter
Doug Herbert also made a big move as he gets ready for his seventeenth season of NHRA competition. Doug hired Kevin Poynter, the guy who worked with Dexter Tuttle over the last few races of the season on the car that JR Todd drove. If JR had been able to hang on and win the championship this year, or even if he had made the Countdown to 1, Kevin might have been one of the biggest stories of the year. I know that I was impressed with what he and the team did, and when I spoke with him after the Pomona race, he told me that he was "exploring several options." Kevin, who also has a valid fuel driving license, told me that he would like to drive a fuel car and that he was "keeping all of his options open." In the for-what-it's worth category, I suggested that he pursue the tuning opportunities because they offer him a wider range of possibilities, both professionally and financially. Let's face it, there are people out there who will pay to drive a car but nobody is going to pay to be able to tune a car. On the other hand, really good, young crew chiefs are hard to find and when you can make a car run like Kevin did this year you can almost name your price. OK, so that's an over simplification, but you know what I mean. Remember where you heard it first, Doug Herbert has found the guy who can help him contend for the TF championship all year long in 2008. Did you know that Doug already has ten top ten finishes to his credit and that, prior to this year, Doug's best finish came in 2005 when he also finished sixth in the points, just like he did this year? This was the fifth time that Doug won at least twenty rounds and that's not an easy accomplishment these days, especially with the competition as tough as it is in the Top Fuel class. Early in the 2008 season Doug will compete in the 500th round of his TF career and that's a bunch. Way to go Doug and good luck next year....Rod Fuller, who made a serious run for the championship this year, is busy rehabbing his knee as he looks forward to the 2008 campaign. Rod underwent surgery to repair his ACL the Friday after the last race of the season and, from all reports, he is doing very well. Rod has always been a great athlete and that should work in his favor as he begins the long and, sometimes, arduous rehabilitation program. Rod told me that he still needs to get over a few hurdles before he's one hundred percent but that he has never been more enthusiastic going into a season than he is right now. If all goes according to plan I expect to see the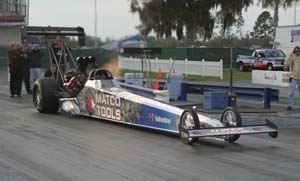 Antron Brown
Caterpillar team make the test session in Las Vegas and / or Phoenix in January. Rod's new teammate, Antron Brown, will probably be back at Gainesville testing today or tomorrow depending on the weather. Antron is another naturally gifted athlete (like Rod) and he should take to the TF car very easily. Still, as anyone will tell you, these things are a whole lot tougher to drive than you think. Larry Dixon once told me that when you drive a TF car, if everything goes well, ninety percent of it is car and ten percent is driver. But he was quick to add that everything only goes well about ten percent of the time. In the midst of Rod's rehab and Antron's testing, the folks at David Powers Motorsports have been busy moving into their new shop in the Brownsburg, Indiana area that already houses several of the other top NHRA teams. When you look at it, the David Powers team has come a long way in just a few short years and, as the 2008 season begins, Rod has to be considered one of the contenders for the championship.again. By the way, I guess you know that you've made it as a driver when you're mentioned in the same sentence as the "Bernstein's, Dixon's and Schumacher's of the world" like Rod was on NHRA.com. Did you know that Rod won forty rounds of racing this year and that's almost as many as he had won in his entire career prior to this year? Coming into the 2007 season Rod's overall career record in Top Fuel was 46-39? Even though he can't drive right now Rod can fly and I'm sure he'll fly to the Division 5 banquet this year to watch his dad get the Super Comp Division 5 championship trophy. Bob Fuller drove Rod's former car to the championship and when you beat Gary Stinnett and Jeff Chaney among others, you know you had a good year. In fact, it looks like it was a good year all around for the Fuller family.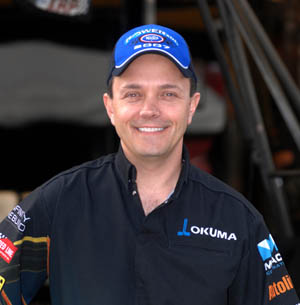 Alan Bradshaw
Since I mentioned Dexter Tuttle, he and his new driver, Alan Bradshaw, are busy getting ready for the 2008 season. Alan told me that, right now, they plan to run "ten or twelve races next year but we'll do more if some of the programs that we're working on come to fruition." Dexter has done a good job, a very good job over the past two seasons with his car and team and, even with a couple of different crew chiefs this year, or co-crew chiefs with him to be exact, his car ran very well and it was a threat to win at every event. Dexter oversees the entire operation and he has his hand in every decision that involves the car, from the sponsorship to the tuning aspects of it and he has shown that he knows what it takes to field a winning team. Let's hope that they get everything in line so that Alan and Dexter can run the entire schedule in '08. I don't know what their schedule will be like but I do know a couple of things. Dexter has a really good car and it's always a better show when his team is in the house. And I know that Alan is a very competitive driver and he would like to be able to make a serious run for the Top Fuel title. Having said that, I fully expect Dexter and Alan to get everything in line and I expect that we'll see them at a lot of races in 2008.
Brandon Bernstein
The 2007 season, with the new Countdown formula, saw Tony Schumacher win the title with thirty two round wins, and that's the fewest round wins for a champion in recent years. But, when you look at his season in general, you will see that he had a winning record against virtually every driver that he faced and that's the stuff that championships are made of. Did you know that, against the other drivers who finished in the top ten this year, Tony had a 20-9 record? And, of the eighteen drivers he faced this year Tony had a winning record against fourteen of them, while Brandon Bernstein and Bob Vandergriff were the only guys in the top ten to beat the "Sarge" more than once this past season. With the championship Tony now has five series' titles including four in a row and his five championships ties him with Joe Amato for the best in the history of the TF class. With most of his team returning next year and with Alan Johnson as the leader it would be hard to bet against Tony again in 2008, although he will get a serious test from what is shaping up to be a top quality field in 2008.
>From this fan's point of view it was a great season in the Top Fuel class and I enjoyed it as much as any season in recent memory. With most of the top teams returning and with the addition of some new teams, I can't wait until the Winternationals in Pomona in a few weeks. First we'll finish the test sessions in Florida this week and then we'll go to Las Vegas and Phoenix before kicking off the '08 campaign in California. In the meantime, let's all enjoy the holidays and then get geared up to see which team and driver will provide the biggest challenge to the Army car and Tony Schumacher as he looks to make history in 2008 with an unprecedented sixth Top Fuel championship.




NHRA: 10 Most Recent Entries [ top ]

Mar 25- NHRA Announces Revised Schedule for Mello Yello Drag Racing Series
Mar 24- Balogh, Beard, Enriquez, Hill, Meyer and Minor Inducted to the International Drag Racing Hall of Fame
Mar 16- NHRA Postpones Season for at Least 30 Days
Mar 16- Samtech.edu NHRA Factory Stock Showdown Ladder Change and 4-wide Competition
Mar 14- GAINESVILLE - Friday Wrap Up
Mar 13- GAINESVILLE - Summary of Eliminations in Stock Eliminator
Mar 13- GAINESVILLE - Summary of Eliminations in Competition Eliminator
Mar 13- GAINESVILLE - Summary of Eliminations in Super Stock
Mar 13- GAINESVILLE - Summary of Eliminations in Super Comp
Mar 13- GAINESVILLE - Summary of Eliminations in Super Gas