Tue, 18 Dec 2007, 06:08 PM



Jessie Harris Gets Her License



By Norm Froscher


Photo copyright 2007 Martin Whitney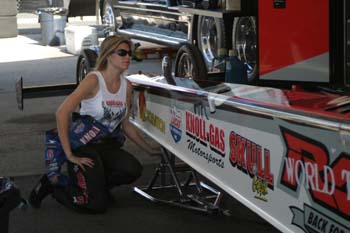 Jessie Harris
>From just the first specifications at Gainesville Raceway, one might think they're talking to Paula Murphy.
You know, attractive female, former jet car driver -- right, jet car driver -- about to strap in to go down the quarter-mile again.
But this isn't in one of those 6,000 horsepower jet cars, rather it's a 4,000 horsepower NHRA Top Fuel machine and this isn't just an exhibition, it's a run to qualify for a competitor's license, to enable the driver to enter the top of the line ranks in 2008.
We've teased you long enough.
Our subject is Jessie Harris, who spent the last four days with eventual teammate Clay Millican at the Gainesville strip to make her licensing runs. That being done, she'll be ready for sponsorship with her Evan Knoll-owned machine as a companion war wagon to Millican on the NHRA POWERade series.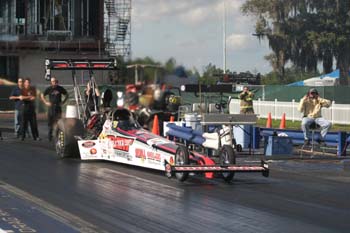 Jessie Harris
We said, attractive, yes, and talented. One well remember the name, Jessie Harris.
At age 25, she's already a veteran, albeit in the jet cars, and could also probably be a candidate for a spread in Playboy, so never mind the height and weight, which you don't ask a lady anyhow.
But how in the world did this racing involvement come about? It may be a somewhat familiar story, to a point.
"When I was six years old I met my step father and he had been a big fan of drag racing all his life. He raced at our local track, in Syracuse, New York as a hobby and I just got hooked. I was his only girl, out of four girls, who loved drag racing and he didn't have any boys," Harris says
"I just fell in love with the sight, the sound and the smell of drag racing. I traveled around with him and I started out as a crew girl with him, but then from the time I was 14 up until 19 I did a lot of the event coordinating. I met a lot of owners and operators at the different tracks.
"Before that, at eight or nine, I was actually on the crew, backing him up, standing on the start line, helping him fuel the car, which was a 1948 Fiat, blown alcohol car that runs about 180 miles an hour in the quarter mile."
But the jet cars?
"When I was 19 years old I met a friend of a friend who knew a jet car owner and they were looking for a female driver. I went and interviewed and the next thing I knew I was getting my license and I spent five years behind the wheel of a jet powered dragster."
"It was a great time. It got me a lot of seat time in a fast car. Ideally, my heart has always been in nitro. I have always wanted to drive a fuel car since I was six years old because I grew up watching it on TV.
"But I needed to take any opportunity I could get to:
"...number one, build a resume and number two, get seat time in a fast car."
Now, she has the opportunity, going from the feather touch to the sledge hammer wield, but we're getting ahead of ourselves.
"It's been quite a transition. In July of this year I actually came to this track, to Frank Hawley's Drag Racing School and got my license in his Alcohol Funny Car. That gave me something else to add to my resume.
"And then I came out and kept introducing myself to all of these nitro tuners, team owners and other drivers and somehow, some way, just keeping my name in front of everyone and I now have the opportunity of licensing in Clay's car and possibly be his teammate next year."
Harris says the very first contact with Evan Knoll was hers.
"Some time ago, I started getting out there and introducing myself to all the nitro owners and telling them of my interest in driving. Usually, they said, well just keep coming back, saying hello and keeping us informed of what you're doing."
She did.
And a visit at this year's Mac Tools Nationals at Indianapolis paid off.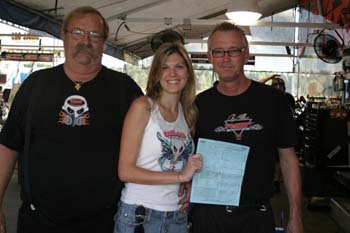 Larson, Harris and West
"I ended up meeting Evan Knoll there and we casually talked about our interest in other sports, snowmobiling (yeah, Harris IS from New York State), four wheeling and we had a great conversation, enjoyed it very much and we left it at that. He knew of my interest in driving, but we didn't talk business.
"A couple of weeks after that he called me up and said maybe we can do something. That was when the wheels started turning. I went to Richmond, Virginia and stayed after the race and on Monday I was in on my first licensing passes in Clay's car. That was just two 300-foot passes. After that, I went to Vegas, did two half-track passes, then we came here."
Harris said in addition to attempting to get her license, the teams, with her crew chief Johnny West, and Millican's team and Lance Larson, are also working on getting the cars ready for 2008. On Wednesday, she ran a 4.66 at 305 and Thursday at a like E.T. and 314 mph.
So is everything very easy to simply jump from a jet car into an equally fast Top Fuel car?
"The jets need a lot more of what I call finesse," Harris says. "When you drive it, you kind of guide it down the track. It almost feels as if you're on ice, kind of skating along down the track. It's light weight, weighs about 1,250 pounds with me and a full tank of fuel. (To compare, a TF car's minimum weight is 2,225 pounds) Therefore, any little bump in the track or any cross winds will move you around a lot.
"Whereas when I got in this car, it takes a lot of what I call manhandling it. I've been working out at the gym extra hard, because I just need to be strong in this car. When you're driving this thing, there's no room to finesse it, you really gotta wheel it, jerk on it and pull on it.
"You can't be overly aggressive, but you have to be ready to hold that steering wheel nice and hard and turn it when you need to."
Evan Knoll is primarily sponsoring the car at present, but the team may work on some other associate sponsors, while Knoll and Torco Race Fuels will be on this car, along with Clay Millican's.
What about goals? At least this first year?
"Along with Clay Millican's team, it's to go out there and do well, be competitive and bring home good results for Evan Knoll. He has a heart of gold and he has done amazing things for me. We want to make him proud, wear the Torco Race Fuels well on the side of our car. And I will continue to get some seat time and learn, race by race."
Next Frank Hawley
So we heard from Jessie Harris. What about the opinion of the instructor who saw her through his school, then observed her for licensing runs, Frank Hawley?
"Jessie has a number of attributes that I think will serve her well in our sport," Hawley says. "She first drove our TAFC earlier this year and did very well considering her lack of wheel driven experience. I signed her TAFC license on her first visit which does not normally happen.
"Her 5 years in the jet car helped more than some people might think. One area that is important is lining up the car perfectly straight. This sounds simple but takes great attention and her time in the jet helped since a thrust vehicle tends to go where it's pointed. Another consideration is that she has "seen the world" at 300 mph more times in the past five years than some of today's fuel drivers. She also has time a many smaller tracks and many runs at night. The NHRA tracks she'll be at will be better than what she has seen in the past.
"She returned and 'cross-graded' to our TAD. She is very personable and seems to love the fans and a TV camera. I want to thank Evan Knoll and Torco for giving Jessie the opportunity to license in his TF car. She is in good hands with Clay Millican, Johnny West, Lance Larson and the rest of the boys."




NHRA: 10 Most Recent Entries [ top ]

May 21- Second JEGS SPORTSnationals Added, to be held in mid-August in New England
May 20- DENSO Sponsors NHRA Champs' Shelter-in-Place Dachshund Race
May 14- To Our Racing Community-From Racers for Christ
May 13- The Name Game Part I
May 12- Morgan Lucas, Son of Forrest and Charlotte Lucas, Appointed President of Lucas Oil Products, Inc.
May 05- Cancellation of the 14th Annual Summit Racing Equipment NHRA Nationals
May 04- NHRA Announces Revised Plan to Restart 2020 Mello Yello Drag Racing Series
Apr 29- DSR Drivers Join Global Superstars in Fight for COVID-19 Relief
Apr 02- NHRA National Dragster will Temporarily Shift to a Free-to-All Digital Magazine
Apr 02- NHRA Announces Revised E3 Spark Plugs Pro Mod Drag Racing Series Schedule