Mon, 17 Dec 2007, 09:16 AM



Dave Tomchek Q&A



Courtesy of Ted Yerzyk



(Rod Fuller's Athletic Trainer)



BROWNSBURG, Ind. --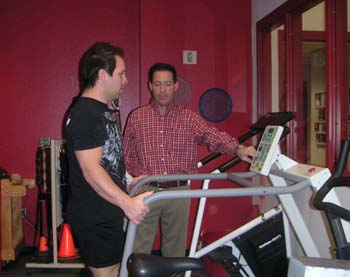 Fuller worksout with Tomchek.
Dave Tomchek, 42, is an athletic trainer for the University of Nevada Las Vegas (UNLV) men's basketball program. The seasoned athletic trainer graduated from the University of Michigan with a degree in Kinesiology. He earned his Master's degree from UNLV in athletic administration in 1990. Upon graduating, Tomchek was an athletic trainer for the Runnin' Rebels from 1990-92. He served as an athletic trainer and director of strength and conditioning for the Atlanta Braves minor league system from 1992-97. He also acted as the athletic trainer for the Michael Jordan Senior Flight School in Las Vegas the past 10 years and is the director of medical services for the NBA Summer League. In this Q&A, Rod Fuller's athletic trainer provides insight about Fuller's ACL injury and recovery process as the Top Fuel star gears up for preseason testing at Las Vegas and Phoenix in January.
Q: When did you meet Rod Fuller?
TOMCHEK: I was contacted by Jeff Motley of Las Vegas Motor Speedway in the late spring/early summer of this year. Rod (Fuller) called me and discussed medical options for his upcoming ACL surgery, comparing the differences between having it done in Las Vegas or by various other specialists in the United States.
Q: When did you first work with Rod?
TOMCHEK: It was right after the race in Reading (Pa.) when his knee locked up before the final round at the rain delay. That's when I determined that he wasn't going to make it through the season without implementing a strength and conditioning program for his knee.
Q: When you first met Fuller how serious was the knee injury?
TOMCHEK: Speaking over the phone and discussing the surgery with Dr. Prochaska, we identified that it's a very common athletic injury. Since surgery wasn't imminent we had to enhance the strength that Rod had in the knee so he could maintain his lifestyle as a drag racer. We started a weekly routine to develop strength around the knee since he was deficient due to the ACL ligament injury.
Q: Take us through Rod's knee surgery?
TOMCHEK: The surgery was common in athletics. The one good thing with Rod is that he's an athlete. He's very strong and driven to work out in the weight room. It was beneficial for his recovery that he was able to develop and maintain a high level of strength in the muscles that surround the knee. In addition to the ACL he also had medial and lateral meniscus tears. It's not uncommon, but adds to the severity of the injury.
Q: Take us through the rehab process for Fuller?
TOMCHEK: The surgery, as it stands, has been successful. The concern you have with surgery is that you have to let the body heal. Typically, for this type of surgery you're looking at a three-four month healing process. In Rod's situation, we had only two months before he had to get in the car for testing. So, we accelerated his rehab for an increased sense of urgency in range of motion, flexibility and strength.
Q: How is Rod handling the rehab process?
TOMCHEK: The one good thing about Rod is that he's athletic. He has as much will power and drive as anyone I've ever met. He never shies away from doing any exercise that we ask of him. The downside to Rod is that he knows where he has to go and we don't have the time, so he gets impatient because he wants to be better yesterday. He's gung ho and wants to do as much as he can. We have to take it slow because the body is still healing.
Injuries like these aren't common in racing, but they do happen and it's not just with drivers. The NHRA may need to step up its conditioning program like NASCAR has. They NHRA should have an athletic trainer available at the track. Rod is high profile because he's a driver, but it could happen to a crew member also. It's not a typical stick and ball sport, but these injuries can happen and need to be take care of.




NHRA: 10 Most Recent Entries [ top ]

May 21- Second JEGS SPORTSnationals Added, to be held in mid-August in New England
May 20- DENSO Sponsors NHRA Champs' Shelter-in-Place Dachshund Race
May 14- To Our Racing Community-From Racers for Christ
May 13- The Name Game Part I
May 12- Morgan Lucas, Son of Forrest and Charlotte Lucas, Appointed President of Lucas Oil Products, Inc.
May 05- Cancellation of the 14th Annual Summit Racing Equipment NHRA Nationals
May 04- NHRA Announces Revised Plan to Restart 2020 Mello Yello Drag Racing Series
Apr 29- DSR Drivers Join Global Superstars in Fight for COVID-19 Relief
Apr 02- NHRA National Dragster will Temporarily Shift to a Free-to-All Digital Magazine
Apr 02- NHRA Announces Revised E3 Spark Plugs Pro Mod Drag Racing Series Schedule