Mon, 17 Dec 2007, 08:54 AM



Vigorous Physical Therapy Paying Dividends for Force



Courtesy of Dave Densmore


Photo copyright 2007 Brandon Baker Photos





14-Time Champion On Target for Pre-Season Testing



YORBA LINDA, Calif. --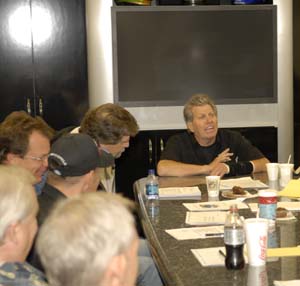 John Force holds court on a visit
his shop facility.
The lengthy physical therapy sessions he is undergoing five days each week are beginning to pay big dividends for drag racing icon John Force as he tries to recover from injuries suffered in a Sept. 23 crash at the Texas Motorplex.
That was the assessment Wednesday of physical therapist Robert Ortmayer, who has been working with Force since the 14-time NHRA Funny Car Champion returned to his California home after 27 days in a Texas hospital.
The 58-year-old Force, whose goal is to be back in a Castrol GTX High Mileage Ford Funny Car when pre-season testing begins in mid-January, was cleared Tuesday to commence light strength training with the left hand and left foot. He already had been involved in strength work on the less severely injured right foot and hand.
In the crash, the worst of his career, the 125-time tour winner suffered a compound fracture of the left ankle, a dislocation of the left wrist so bad that it required the insertion of pins and application of a hard cast, broken bones in the right foot and hand, a severe laceration of the right knee with ligament and tendon damage and mangled fingers and toes involving significant tissue loss.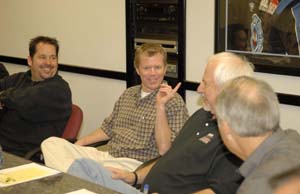 Physical Therapist Robert Ortmayer makes a point
during a meeting at John Force Racing, Inc.
Even the worst break, that to a left ankle, has healed enough to support 50 per cent of its normal load. Strength and stamina now are the primary issues for the 14-time Auto Racing All-America selection who is just eight round wins shy of becoming the first driver to win 1,000 competitive rounds on the NHRA tour.
"Attitude is everything in these types of recoveries," Ortmayer said. "John is exceptional in that area. He has done everything we've asked. It's been difficult, but he is one of the most motivated people with whom I have ever worked. Considering the severity of the accident and the injuries, his range of movement already is remarkable and he's making more progress every day."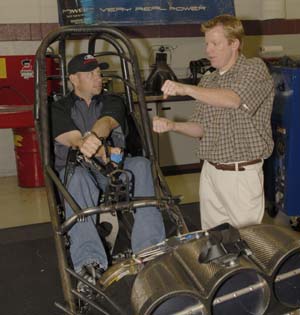 Robert Hight, in cockpit, gives physical
therapist Robert Ortmayer a quick
primer on driving a Funny Car
With an eye toward pre-season testing, Ortmayer toured the John Force Racing, Inc., shop facility Tuesday so that Force's teammate, two-time POWERade Championship runner-up Robert Hight, could orient him to the cockpit of a Funny Car and explain what occurs during a typical quarter mile run.
The owner of Yorba Linda Physical Therapy then met with the JFR crew chiefs and Ford representatives, including Ford Racing boss Dan Davis, for an update on changes to the 2008 cockpit and chassis that might present new physical challenges for the 1996 Driver of the Year.




NHRA: 10 Most Recent Entries [ top ]

May 21- Second JEGS SPORTSnationals Added, to be held in mid-August in New England
May 20- DENSO Sponsors NHRA Champs' Shelter-in-Place Dachshund Race
May 14- To Our Racing Community-From Racers for Christ
May 13- The Name Game Part I
May 12- Morgan Lucas, Son of Forrest and Charlotte Lucas, Appointed President of Lucas Oil Products, Inc.
May 05- Cancellation of the 14th Annual Summit Racing Equipment NHRA Nationals
May 04- NHRA Announces Revised Plan to Restart 2020 Mello Yello Drag Racing Series
Apr 29- DSR Drivers Join Global Superstars in Fight for COVID-19 Relief
Apr 02- NHRA National Dragster will Temporarily Shift to a Free-to-All Digital Magazine
Apr 02- NHRA Announces Revised E3 Spark Plugs Pro Mod Drag Racing Series Schedule