Mon, 17 Dec 2007, 08:06 AM



Do You See This Trophy?



By Bob Frey


Photo copyright 2007 Auto Imagery, Inc.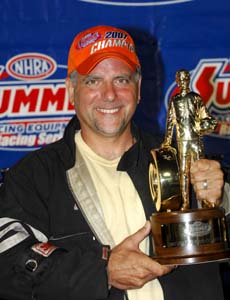 Dave Scigliuto
A lot of people talk about the power of positive thinking. A lot of people tell you that if you can dream about something you can achieve it. A lot of people take this message to young people in schools and try to inspire them. And, if kids today are anything like they were when I was a kid (many, many years ago), they probably listen to the talk and figure it's better than going to math class (or in some cases, gym class), and they take the admonitions with the proverbial grain of salt. That's why it's nice when someone like Dave Scigliuto, the 2007 Summit Racing Series Super Pro National Champion, not only gets to talk to school kids but he gets to show them that what he talks about really works when it's put into action.
Dave Scigliuto is a forty-nine year old man with a loving wife and three beautiful daughters. He runs his own financial planning business and he's been doing that for almost a quarter of a century. "My business and my hobby both require a lot of planning," he said while taking a moment off from his job. "I firmly believe that if you set goals, make plans and work hard you really can achieve anything that you set out to do." Dave obviously put that philosophy to work in Pomona where he went three rounds to win the national championship. "I didn't put it down on paper that I wanted to win the championship, but I did aim to do my best," he said. "And when you plan to do your best the results are usually pretty good." Dave's results were good in Pomona where he beat Tim Schroedl, Kevin Grubbs and, finally, Iowa's Bruce Main. "I didn't approach it like I was racing for a national championship, I just went out and raced like each round was just another round at my home track." That approach obviously worked as Dave is the 2007 national champ. On his way to the title Dave got better on the line in every round while his car, one that he says is powered by a "tow truck motor," made six runs (qualifying and eliminations) that ranged from 7.562 to a 7.578, and he was even better on race day when his three runs were 7.598, 7.586 and 7.596. "I just figure that if I do my job the car will take care of the rest. And the fact that it was for the championship really never came into play. I just look at the number on the other guy's car and figure that's what I have to beat."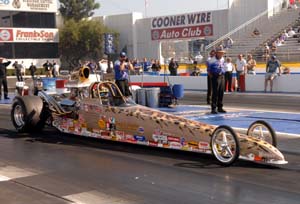 Dave Scigliuto
Dave has been drag racing for a long while and he began his career racing a classic Pontiac GTO. "I raced for a while with some eleven second cars but it was 1997 before I reached the point where I could afford to step up. I wanted to race a fast car for years and I knew that it would eventually happen. Incidentally, I made a goal to earn my Super Comp and Alcohol Funny Car licenses prior to turning 40 and did both at Frank Hawley's Drag Racing School." One of the reasons Dave didn't step up earlier was the fact that he and his wife, Kecia, were busy raising their three wonderful daughters, Nina, Samantha and Siena, and like dad, all three of the girls and mom also race. "My wife has a 1997 Mustang that she races in the Super Chevy Shows." Say what? "It has a 409 cubic inch Chevy engine and she was runner-up at one of the shows this year and her car was in the 'Super Chevy' magazine. She has also been 11th in track points 2 years in a row with her Pro car." His daughters have raced in the JR. Dragster program and two have held Super Comp licenses, and when it comes to setting goals, the Scigliuto girls certainly have done that. The oldest daughter, Nina, is finishing her master's degree in high performance engineering. The middle daughter, Samantha, was JR. Dragster Track Champion in 2002 and is in pre-medical school studying to be a plastic surgeon. The youngest daughter, Siena, twice finished number two in the points in the JR. Dragster class at Bradenton Motorsports Park. "We're very proud of our daughters," Dave said. And rightfully so, I might add.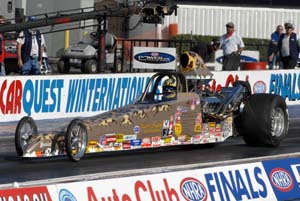 Like so many racers who have had the opportunity to go to Pomona for the national championship race, Dave said that the entire experience was "just fantastic." He, his wife and youngest daughter all drove out together and his oldest daughter flew out to join them for the weekend. "Our middle daughter had big exams on Friday and Monday so she just couldn't make it," he said. "But my eighty-year old uncle Mario was there and he stood at the thousand foot mark, leaning on his cane, and he cheered every time as I went by him on Sunday." Dave said that the girls flew back home on Monday while he and Kecia made the drive home together. "It was such a nice time for us to be able to share together and the best part wasn't necessarily that we won the championship but that my family and friends got to share the moment with us. It really was a magical time."
Getting back to his motivational talks, Dave said that he often gets to talk to school children in and around his home in Florida. "I tell them to set goals and set their mind on achieving them. If you focus on your goals they will be achieved." He added that it was nice to be able to take the trophy that he won in Pomona back to the schools and point to it and say to the kids, "Do you see this trophy?" He can then tell them about setting his own goals and making them a reality. "When I talk at the schools I can honestly say that about eighty percent of the students are paying attention and are interested in what I have to say. I don't preach, I just tell them that they can achieve their goals, but only if they have set goals for themselves." Dave set goals years ago, to be able to race a Super Pro car, to win rounds and win races and it's easy to see that he has achieved those goals. "I have raced a few NHRA and IHRA national events and I'd like to do more of that. It's just that, with the work and the girls, I have to keep my priorities in order so I didn't travel and race as much." But now, as any financial planner knows, with his gold card in place it should make it a little easier, or at least a little more affordable, for Dave to go to more races next year. "If everything goes well we'll make maybe six or seven national events next year."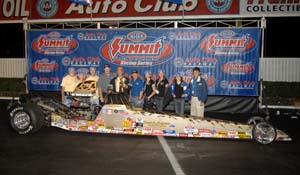 Scigliuto and crew celebrate win.
As a guy who plans everything in advance, Dave had a great game plan going into Pomona. "I knew that this wasn't one of those big money, five day races where everyone was going to be killer on the tree and at the stripe every round. Nobody knew that track any better than I did. I adjusted for the sun light, the clouds, for the type of car I was running and it all worked out." He did say that his plan was to "be conservative and don't give it away." With that in mind, he carefully watched each opponent in order to know how they approached the race. "In the first round I thought my opponent dialed too low. He had gone 11.70, 11.80 and 11.90 in time runs and he dialed 11.73 so I felt confident I could get around him." He did and that brought up Kevin Grubbs in round two. "In that round I planned to go by him at about a thousand feet and then ease up at the stripe. But as good as my plan was my instincts took over and I aggressively over tightened-up . My plan was to keep a safe .01 lead, instead I think I won by about eight inches or something like that, and I could easily have given the stripe back." But he didn't and that set up the final round against Bruce Main. "He had a Firebird with one of those long noses. My wife went over, checked the car out and she marked the spot where I thought I should be at the finish line." Again his plan worked well as he passed Main right about the spot where he had planned, right about where his uncle Mario was standing. "Each round he heard me rapping on the throttle he screamed out "he's got em,'" Dave said. He did and he won the national championship.
Some people have used the expression "I'd rather be lucky than good," but in fact, if you talk to Dave, he'll tell you that it's always better to be properly prepared than to be lucky or good. "In fact, our family believes that 'Luck is what happens when preparation meets opportunity.' Just like I tell the kids, if you set a goal, make a plan and stick to it good things will happen." Good things, like winning a national championship. "The whole experience was great and it was really nice that my family got to share it with me." Of course, being able to go back to the schools and show the kids the trophy didn't hurt either.
Dave would like to offer a special thanks to the folks who helped him out this year, including Summit Racing Equipment, Eric Worthy for building the national championship chassis, Frank Hawley, Ohio Crankshaft, TCI, Brodix, Trans Specialties, Crower, Strange, BTE, Ron's Fuel Injection, Enderle, Hoosier, Circle, Shogun, Jesel, T & D, ATI, Moroso, MSD, Comp Cams, ARP, Aeroquip, Stef's, Moser, CSR, Valvoline, Edelbrock, NGK, Simpson, Manley, K&R, K&N and World Products.




NHRA: 10 Most Recent Entries [ top ]

Mar 25- NHRA Announces Revised Schedule for Mello Yello Drag Racing Series
Mar 24- Balogh, Beard, Enriquez, Hill, Meyer and Minor Inducted to the International Drag Racing Hall of Fame
Mar 16- NHRA Postpones Season for at Least 30 Days
Mar 16- Samtech.edu NHRA Factory Stock Showdown Ladder Change and 4-wide Competition
Mar 14- GAINESVILLE - Friday Wrap Up
Mar 13- GAINESVILLE - Summary of Eliminations in Stock Eliminator
Mar 13- GAINESVILLE - Summary of Eliminations in Competition Eliminator
Mar 13- GAINESVILLE - Summary of Eliminations in Super Stock
Mar 13- GAINESVILLE - Summary of Eliminations in Super Comp
Mar 13- GAINESVILLE - Summary of Eliminations in Super Gas