Sat, 15 Dec 2007, 10:08 AM



Mike Goyda's Stuff...



By Bob Frey



| | |
| --- | --- |
| | |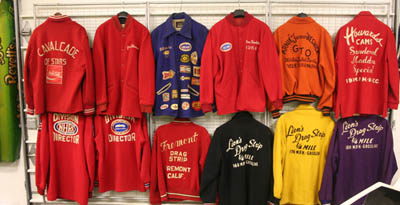 I received several e-mails about my Christmas gift column and most of them revolved around my line about Mike Goya, you know, the guy that I said has "everything for the hard-to-shop-for drag racing fan on your list." The e-mails asked me exactly what kind of stuff Mike has. Well, in an effort to help you out, and because a picture is worth a thousand words, I called Mike and asked him to send me a couple pictures of some of the items that he has, many of which are for sale. As he always does, Mike responded right away and he provided me with three shots, each one of them showing some of his most prized possessions. The first one shows some of the most sought after and hard to find racing jackets in Mike's collection. Now the ones that are shown here may not all be for sale, like the yellow Lion's Drag Strip 170 mile per hour jacket, and the purple one right next to it. After all, Mike does have top keep a few of these things for himself, but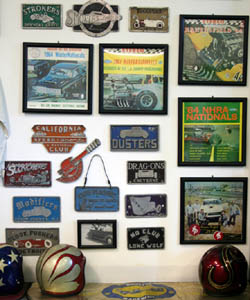 he does have a great collection of jackets that you just won't find anywhere else. The next picture features some plaques from some of the very early car clubs along with a great collection of record albums. If you look closely at the bottom right of the picture, you'll see the "Holy Grail" of racing albums. Called "Hayden Proffitt presents Jim Head and his Del Ray's, it includes a great shot of the Hayden's legendary Mercury Comet sitting on the side of Lions Drag Strip. Believe me, you can get this album for anyone on your list with extreme confidence that it's not something they already have. They want it, but very few have it. And the third picture features posters from some of the early drag races, like the Indy Nationals at Detroit Dragway or the one that was held in Oklahoma City.
If you are truly searching for a great gift item for that special drag racing fan in your life, check out Mike's web site at
http://www.goyda.com
, or call him, because as I mentioned in my article earlier this week, Mike's phone number is also available on his web site. So check it out, and even if you don't buy anything, you'll see a lot of cool drag racing stuff.




NHRA: 10 Most Recent Entries [ top ]

Mar 25- NHRA Announces Revised Schedule for Mello Yello Drag Racing Series
Mar 24- Balogh, Beard, Enriquez, Hill, Meyer and Minor Inducted to the International Drag Racing Hall of Fame
Mar 16- NHRA Postpones Season for at Least 30 Days
Mar 16- Samtech.edu NHRA Factory Stock Showdown Ladder Change and 4-wide Competition
Mar 14- GAINESVILLE - Friday Wrap Up
Mar 13- GAINESVILLE - Summary of Eliminations in Stock Eliminator
Mar 13- GAINESVILLE - Summary of Eliminations in Competition Eliminator
Mar 13- GAINESVILLE - Summary of Eliminations in Super Stock
Mar 13- GAINESVILLE - Summary of Eliminations in Super Comp
Mar 13- GAINESVILLE - Summary of Eliminations in Super Gas