Sat, 15 Dec 2007, 10:00 AM



Joey Sosenka...



By Bob Frey



SAN Antonio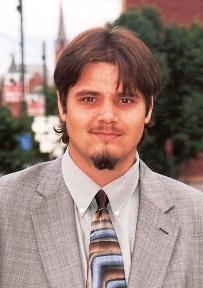 Joey Sosenka
I just received an e-mail from the Sosenka family telling me that their son, Joey, passed away this past Sunday. Joey died from a grand mal seizure and his untimely death comes at the young age of 23.
Joey was a drag racing fan for all of his young life and he worked on the crew of the "Mr. Magoo" Top Fuel team that his dad, Don, and mom, Lana, raced for years. The Sosenka's were familiar figures on the NHRA trail for a number of years, racing when they could on the limited budget that they had. But like drag racing fans of all ages, they loved the sport and thoroughly enjoyed participating in it when they could. Their semi-final round appearance in Atlanta in 2002 was the stuff that drag racing legends are made of. At that race Don qualified the car in the 15th spot and went out and beat Tony Schumacher in round one and John Smith in round two before losing to Doug Herbert in the semi-finals. The television shots of Don and his family working and sweating over the car between rounds won them followers all across the country and let everyone know that the proverbial "little guy" still had a place in the sport.
Over the years, whenever they came to the races, I tried to get a few minutes to talk with Don and Lana. They are great folks, the kind of people who make this a better sport and the world a better place. And, despite the fact that Lana was suffering from Dystonia, a debilitating muscular disease, she always had a smile on her face and she made you forget any troubles that you may have. We would often talk about her physical problems and what she was doing to try to make more people aware of the rare disease, but most of the time the discussion would go back to racing and she would usually tell me how excited they were that Don was racing and that Joey was going to get his Top Fuel license.
Services for Joey were held Friday in San Antonio. The family asked that, in lieu of flowers, donations can be made to the San Antonio Independent Living, 1028 S. Alamo Street, San Antonio, TX 78210 or to DRAW (The Drag Racing Association of Women), 4 Hance Drive, Charleston, Illinois 61920.
Our thoughts and prayers go out to Don and Lana and the entire Sosenka family.




NHRA: 10 Most Recent Entries [ top ]

May 21- Second JEGS SPORTSnationals Added, to be held in mid-August in New England
May 20- DENSO Sponsors NHRA Champs' Shelter-in-Place Dachshund Race
May 14- To Our Racing Community-From Racers for Christ
May 13- The Name Game Part I
May 12- Morgan Lucas, Son of Forrest and Charlotte Lucas, Appointed President of Lucas Oil Products, Inc.
May 05- Cancellation of the 14th Annual Summit Racing Equipment NHRA Nationals
May 04- NHRA Announces Revised Plan to Restart 2020 Mello Yello Drag Racing Series
Apr 29- DSR Drivers Join Global Superstars in Fight for COVID-19 Relief
Apr 02- NHRA National Dragster will Temporarily Shift to a Free-to-All Digital Magazine
Apr 02- NHRA Announces Revised E3 Spark Plugs Pro Mod Drag Racing Series Schedule