Mon, 10 Dec 2007, 12:46 PM



Major Track Resurfacing Project



MORRISON, Colo. --
The 2007 season continues to be a year of major racing infrastructure projects at Bandimere Speedway, with no slow-down in sight.
Once the final car went down the track for the 2007 season, a major track re-surfacing project began. Beyond the existing concrete surface extending to the 660' mark, the remaining asphalt to the finish line at 1320', plus an additional 60' past the finish line has been removed. Over 4,100 feet of under-track drainage and 30,000 feet of rebar have been laid in preparation for over 900 yards of concrete to finish the surface. Once complete, it will be one of two all-concrete tracks hosting an NHRA POWERade event, the other being the Dallas Motorplex.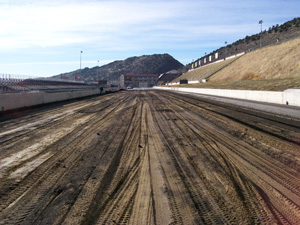 V.P. of Facility Operations, Larry Cripse, is heading up the pro! ject, and is looking forward to the benefits of an all-concrete surface. In addition to a longer life-expectancy, and quicker drying times in the event of rain, concrete tracks allow for a wider variety of chemicals to be used in track preparation and oil-down clean-up. Also, utilizing the latest in 3D laser screed technology, the surface can be poured with no heavy trucks on track, while having a higher level of quality control of the final surface.
Additional planned off-season upgrades to the track surface will include cutting out approximately 80 feet of track in each lane at the starting line and pouring fresh concrete pads. Meanwhile, Crispe is evaluating and researching methods of installing an under-ground liquid cooling-system to be placed under the news pads. The hope would be to help control excessive track temperatures during hot summer months, lending itself to a more consistent t! rack surface. Additionally, 25 new MUSCO track lighting ! fixtures will be added to the east side of the track, following the 132 MUSCO track light fixtures installed in 2006.
In early 2007, four other major projects were completed after the record snows melted away and before the smell of race fuels filled the air.
A new fiber-optic timing system was installed; including a new fiber-optic / L.E.D. "Christmas" tree (starting light system). Over 2.5 miles of fiber optic line was installed from each timer on the track to the control tower and to the time slip booths. Also, repaving projects in the spring and summer laid new asphalt in key areas such as the staging lanes, nitro pit area, return road, and corporate hospitality / east pit area. The installation of the new TicketReturn ticketing system, including servers, terminals, and wireless connection points for scanners and ticket printers was co! mpleted. An additional 6000 feet of fiber optic line was installed for the TicketReturn system. Finally, a new 12' x 24' fuel and parts store was provided by Tuff Shed and Sunoco Race Fuels to accommodate the growing inventory of racers at-track parts, fluids, and fuels.
Bandimere Speedway is proudly celebrating 50 years of drag racing during the 2008 season. "Thunder Mountain" is home to the Mopar Mile-High NHRA Nationals, as well as 125 additional events each season. The track is located on the west side of Denver, four miles south of I-70 at C-470 and Morrison Road. For more information, please call the On-Track Performance 24-Hour Information Hotline at 303-697-4870 or log on to http://www.bandimere.com.




NHRA: 10 Most Recent Entries [ top ]

May 21- Second JEGS SPORTSnationals Added, to be held in mid-August in New England
May 20- DENSO Sponsors NHRA Champs' Shelter-in-Place Dachshund Race
May 14- To Our Racing Community-From Racers for Christ
May 13- The Name Game Part I
May 12- Morgan Lucas, Son of Forrest and Charlotte Lucas, Appointed President of Lucas Oil Products, Inc.
May 05- Cancellation of the 14th Annual Summit Racing Equipment NHRA Nationals
May 04- NHRA Announces Revised Plan to Restart 2020 Mello Yello Drag Racing Series
Apr 29- DSR Drivers Join Global Superstars in Fight for COVID-19 Relief
Apr 02- NHRA National Dragster will Temporarily Shift to a Free-to-All Digital Magazine
Apr 02- NHRA Announces Revised E3 Spark Plugs Pro Mod Drag Racing Series Schedule