Mon, 10 Dec 2007, 11:18 AM



Hey Dad, Can We Buy The Pink Car?



By Bob Frey


Photo copyright 2007 Auto Imagery, Inc.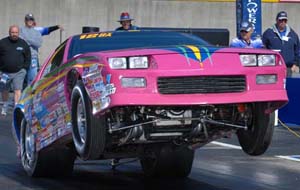 Iacono's Super Stocker
Michael Iacono is the 2007 Lucas Oil Stock Eliminator World Champion. And while he earned the number one spot with his really cool 1969 Mustang, he originally earned a national reputation as the driver of his wheelstanding 1987 Camaro. "My dad and I were looking for a new race car a few years ago and he saw this car that was advertised in National Dragster. "Obviously it was a black and white picture because we wouldn't have driven to Pennsylvania to see a pink car, believe me." But Michael and his dad did make the trek to the Reading area and when they got to the address where the car was they saw a beautiful house with a really nice garage. "The guy opened the door to the garage and we saw the car, under a cover, up on blocks. He had the garage heated and very well kept and I was all excited until he pulled the cover off and I saw that the car was pink. There I was, standing with my dad in all my manhood, staring at this pink car. The guy asked me if we wanted to have him start it up and I figured, well, we've come this far, might as well. And as soon as he started it up and I heard that Super Stock engine come to life I just turned to my dad and said, 'Can we buy the pink car.' And so we did." Michael has been running, winning and doing huge wheelstands with the pink car ever since. "I love watching the television show from the All Star race," Michael said. "They had an in-car camera and the shots of the wheelstands were so cool. I still watch it a couple of times a day." He got a lot of coverage at that race because he went rounds, three of them, to win the All Star Super Stock title in Chicago in the pink car and that helped the Division 1 All Star team win the overall team championship.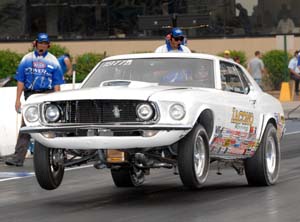 Michael Iacono
As fun to watch as the pink car is, Michael had his best racing year ever in the Stock class this past season. "I had a good year last year when I finished second in Super Stock, but I was about a hundred points behind Peter Biondo for the championship, so even though I finished as the runner-up I wasn't really in it." He was in it this year, but he still had to go through or around Peter to win the title. "He's so good, and when I beat him in Atlanta at the national event it was huge, because if you beat him you've beaten the best." The two faced off again in the final round at Maple Grove, not far from where Michael bought the pink car. "I was runner-up at the Grove and then I went to the final round at Cecil County (where he again faced Peter). All of a sudden I added two "94" point races to my total and I went from a top fifty car to a contender." It was right about then that he realized that nobody was running away with the points in Stock Eliminator and it dawned on him that he might have a chance to win the whole deal. "I had never won a year end championship in anything and when I finally clinched the Stock Eliminator title it was so cool. I'm still excited."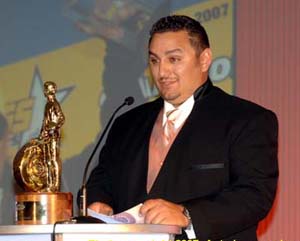 Michael Iacono
Michael's journey to a championship didn't begin with the pink car. "My dad bought a car when I was a senior in high school and he called to tell me about it. He said it was a Comet and I said, 'A what?' He told me it looked like a Maverick and that was my first, real race car." The car had a 302 cubic inch engine and ran in the high fifteen second bracket but it was enough to hook Michael on drag racing. "I knew right then that I wanted to race and make a living out of it." But before he could embark on his racing career, with either the Comet or the pink car, Michael had to go to school and get a degree, and he did, in fact, he got two of them. "I went to Syracuse and got an engineering degree and then I decided to go back and get my masters degree." When he found out that he could get his masters' program paid for, Michael persuaded his dad to us the money that he saved to buy the pink car. "To this day I haven't used my degree, and, if my life goes forward as planned, I never will." Those future plans include obtaining some sponsorship or financial backing and going racing. "I will attend some trade shows, like the PRI show in Florida, and see if I can generate some interest in myself and my car and then we'll see what happens after that." Michael should say that he's looking for sponsorship for his cars, because he has three of them. "I have had the Super Stock car for a few years and the Mustang for a couple of years now and I also have a Comp car." When talking about the Comp ride he said that, in its original form, the Comp car wasn't much quicker than the Super Stock car. "It ran about the same, but then we lightened it up and added another carburetor and all of a sudden it went from running 9.30's to running 8.70's, and believe me, that was quite a difference." The main difference, he said, was that you had to point the Comp car in the "right direction. The wheelstands in the pink car are fun but it was always under control, and with the Comp car, it was a handful and you had to stay on top of it every run. I really like it and I plan to run it at the races this year where they don't have both Stock and Super Stock classes."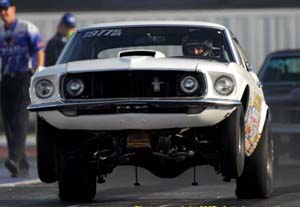 Even though he has two degrees and a national championship, Michael is still not content. "I opened a repair shop this week," he said. "It's called Iacono Auto Works and I plan to do any automotive work, including some performance work, but racing will always be my first choice." Michael has been racing in the Super Stock class since about 2000 and, in addition to his second place finish last year, he also has an eleventh and a fourteenth place finish to his credit. "It really all started clicking some time last year and I've had a lot of confidence since then. I haven't done anything different so maybe it's just a case of getting more comfortable." Whatever it is, every time he goes to the races now Michael is a threat to win in both classes, and next year, he'll try to do the same in Competition Eliminator. "I had a really good year and I never thought I would win my first championship in Stock. I also didn't think that 643 points would win it, but it did." Michael's total may have been one of the lowest in the last fifteen years, but it's all relative, and in the end, he had more points than anyone and that's all that matters.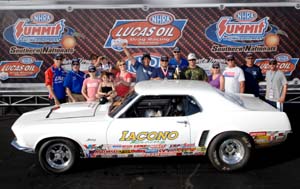 Iacono and team celebrate win.
Over the past few years there has been a new breed of sportsmen racer to arrive on the scene and that's the racer who wants to make a living from competing in the sportsman classes. Dan Fletcher, Peter Biondo, the Richardson brothers, David Rampy and a host of others are all vying for divisional and national honors and they're doing it in two classes most of the time. Well, you can now add the name of Michael Iacono to that list and he'll go into 2008 with a new championship trophy, a new Comp car and a new business. Of course he'll also have the same pink car in Super Stock as well as his 1969 Mustang in Stock Eliminator. 2007 was very good but the thirty year old hopes that 2008 is even better.




NHRA: 10 Most Recent Entries [ top ]

Mar 25- NHRA Announces Revised Schedule for Mello Yello Drag Racing Series
Mar 24- Balogh, Beard, Enriquez, Hill, Meyer and Minor Inducted to the International Drag Racing Hall of Fame
Mar 16- NHRA Postpones Season for at Least 30 Days
Mar 16- Samtech.edu NHRA Factory Stock Showdown Ladder Change and 4-wide Competition
Mar 14- GAINESVILLE - Friday Wrap Up
Mar 13- GAINESVILLE - Summary of Eliminations in Stock Eliminator
Mar 13- GAINESVILLE - Summary of Eliminations in Competition Eliminator
Mar 13- GAINESVILLE - Summary of Eliminations in Super Stock
Mar 13- GAINESVILLE - Summary of Eliminations in Super Comp
Mar 13- GAINESVILLE - Summary of Eliminations in Super Gas