Fri, 7 Dec 2007, 11:02 AM



This One Was Really Sweet



By Bob Frey


Photo copyright 2007 Auto Imagery, Inc.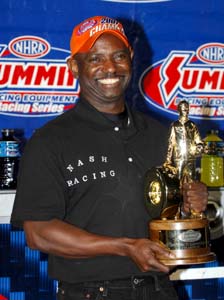 Micheal Nash
Participating in the Summit Racing Equipment Racing Series is something that thousands of racers do at local tracks across the country every week. The program is contested at virtually every track in the country and, even though the formats can vary from one track and one division to another, the simple fact is that some of the best racers in the sport compete in the Summit series. After racing at their local tracks during the year, racers earn the right to go to the division finals in an effort to win the division championship and, in the process, earn the right to go to Pomona, California in November and race for a national championship. When you consider the huge number of racers who are active on a local basis, you realize that the odds of making it to Pomona are slim, but that's one of the things that makes racing in the series so attractive. To be crowned a track or division champion and go to Pomona is the ultimate goal for most local racers, a goal that only a precious few ever realize. With that as a background you can imagine how impressive it is when a racer not only qualifies for the Summit finals twice, but also wins the championship twice. And to make the accomplishment even more impressive, he did it in consecutive years. Well, that's the story of Micheal Nash, the soft-spoken motorcycle rider from Texarkana, Texas who added a 2007 championship to the one he won a year earlier. "I have to say, that as exciting and thrilling as winning the first championship was, winning this one was really sweet," Micheal said. It should be, because nobody has gone back-to-back in the history of the series. Nobody, that is, until Michael came along. Once you have won a Summit Series title just making it back to the big show is a real challenge, but Micheal approached the 2007 season just like he did the previous year and he finished with the same results. "Everything was pretty much the same this year," he said. "About the only difference was that last year the bike had a 4000 number on it and this year it had a 1." And guess what? It will have a 1 on it again next year.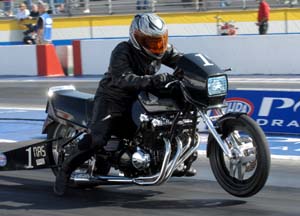 Micheal Nash
Micheal has always taken a great deal of pride in his reaction times and he says that's one of the reasons why he has been so successful. "I always go up there trying to put a high double-zero reaction time on the board," he said. A quick look at the Division 4 Summit Series finals will show that Micheal was excellent on the line at that event. In order to win he had to go six rounds, and over the course of those six passes his worst reaction time was a .020 and he also had three double-zero lights on the way to the championship. "I find I can relax a little more when I aim for a high "00" light or a low teen," he said. "Sure, that puts a lot of pressure on you to go green but that's the way I race. You may foul every now and then but I think that's better than being late. At least it works for me." A quick check of Micheal's year finds that he made over two hundred runs in competition and he only had one red light all year. Ironically, the green light that he had in round one at Pomona was his first green light after a couple of red lights during the time trials. Even so, it was a very uncharacteristic .062 reaction time that he had in that round one encounter with Division 6 champion Mark Canty. "I was set up too tight and when I saw the tree I knew I could foul so I just squeezed it a little harder and got that light. It was just a little 'blip-up' on my part. Like I always say, any time you win a race like this, or any race for that matter, you have to have things fall your way every now and then. I may not be the best racer out there, but I know how I want to run my bike and my race and I guess it works out pretty well." I guess it does, and despite his protests, Micheal is one of the best racers out there, and if you don't believe me, just look at the results.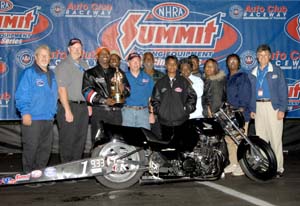 Nash and team celebrate win.
Going into eliminations on Sunday in Pomona Micheal's approach to racing, especially his starting line routine, wasn't going quite as planned this year. "The green light I got in the first round was the first green light I had all weekend," he said. Apparently, even with one championship and the experience of being part of the "big show" already under his belt, Micheal admits to being a little pumped up going into the race. "I knew I had to make some adjustments going into eliminations and I did and it worked." His reaction time in round one was a .062, not good by Micheal's standards, but when your opponent fouls, it takes a lot of the pressure off you. He stepped up to a .015 against Hagadorn and then he put a .008 on the board in the final round. "When you win one of these, or any bracket race for that matter, it's not always all your doing. Like I said, things have to fall your way." And when he won, Micheal, in his typical low-key fashion, didn't jump up and down and go crazy on the bike. "When I saw my win light come on I just said 'good' to myself. I didn't slap the tank or anything like that. That's just the way I am." Micheal also admits to being the same when he loses. "Nobody likes to lose, and I never go up to the line thinking about anything other than winning. But when I do lose I go over to the other guy and congratulate them and then we often spend some time sitting, talking racing and laughing. There are a lot of really good racers out there and I'm just happy to be able to compete with them. I enjoy the other racers and the entire race scene. I just shoot for the best and whatever happens happens. I always figure that if I do what I should do I'll win."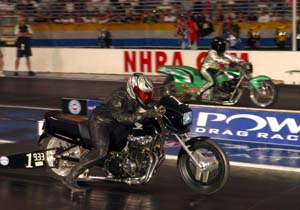 Nash vs. Jesse Moyar
Now that he's back home Micheal says that he would like to race a few more times before the end of the year. "It's getting pretty cold down here so I don't know if we'll race again before the end of the year. But here in Division 4 we start the season pretty early (February 15, 2008) and it's nice to be able to run before that. Micheal says that he thinks the key to success in the motorcycle class, or any bracket class, is to be able to practice and to have good equipment. "My bike is very consistent and that's a big thing. If I can keep my sixty-foot times in around the 1.3 range and if I cut decent lights I know I'll have a chance to win the race. I made a lot of runs this year and that always helps you get better." With back-to-back championships already under his belt, I don't know how much better Micheal can get. "I'll just go out next year and run the way I always have. Racing for me is fun and that's the way I want to keep it."
In addition to the support he gets from his wife, Ramona, Micheal would also like too thank some friends and family who helped him out this year. "Michael Holmes, Curtis and Audrey Smith and Curtis Nash were all big helps," he said. "Albert and Dorothy Hudson, Earl Holmes Jr. and Shane Eperjesi also pitched in. We had a lot of friends and family in Pomona and that made winning even nicer." On the sponsor front, Micheal is quick to thank his employer of almost nineteen years, the Cooper Tire & Rubber Company. "They make Mickey Thompson Tires and that's what I use on my bike, and I use them because they're the best, not just because I work for them. They give me the consistency and the durability I need to compete." MRE and MPS are two of his other sponsors and he adds," nobody who races could do it without the people and the sponsors who support them and I'm very lucky to have some of the best riding with me." Like he did last year, Micheal also wanted to thank Ken and Molly Hall from Red River Raceway for their support and for their continued support of the motorcycle class. He also thanked his fellow racers in both Division 4 and Division 5. "I race with some very good racers and I'm just glad to be a part of the group." He's not only part of the group, but he's the only one with a pair of Summit Racing series championships.




NHRA: 10 Most Recent Entries [ top ]

Mar 25- NHRA Announces Revised Schedule for Mello Yello Drag Racing Series
Mar 24- Balogh, Beard, Enriquez, Hill, Meyer and Minor Inducted to the International Drag Racing Hall of Fame
Mar 16- NHRA Postpones Season for at Least 30 Days
Mar 16- Samtech.edu NHRA Factory Stock Showdown Ladder Change and 4-wide Competition
Mar 14- GAINESVILLE - Friday Wrap Up
Mar 13- GAINESVILLE - Summary of Eliminations in Stock Eliminator
Mar 13- GAINESVILLE - Summary of Eliminations in Competition Eliminator
Mar 13- GAINESVILLE - Summary of Eliminations in Super Stock
Mar 13- GAINESVILLE - Summary of Eliminations in Super Comp
Mar 13- GAINESVILLE - Summary of Eliminations in Super Gas