Tue, 4 Dec 2007, 10:08 PM



A Championship Rounds Out A Great Season



By Bob Frey


Photo copyright 2007 Auto Imagery, Inc.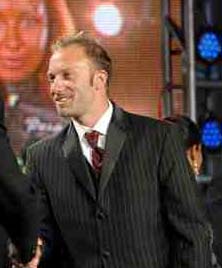 Matt Smith
Much like the Pro Stock car class, if you asked everyone at the beginning of the year who you thought would win the Pro Stock Motorcycle championship,
Matt Smith
probably wouldn't have been the top vote getter. At least I don't think he would have been.
Andrew Hines, Angelle Sampey, Antron Brown
and a few others would all have received votes and maybe Matt would have been listed in the famous "others receiving consideration" category. But when the 2007 season was over, Matt was the champion and he richly deserved it.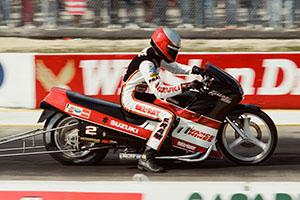 Terry Vance
More than any other professional class, the Pro Stock Motorcycle class offers something for everyone, including great veteran riders and talented newcomers all with a wide variety of backgrounds. Men and women, young and old,
Harley-Davidsons, Buells
and
Suzukis
all help provide the fans with some of the best racing on the NHRA
POWERade
tour and 2007 was no exception. Even the new Countdown format cooperated by ensuring that the battle for the championship would go right down to the final round at the final race of the year. Of course several other things had to happen to make that possible but it was a lot of fun to watch, at least for those of us who had no emotional attachment to any of the teams that were in contention.
Did you know
that this was the closest Pro Stock Motorcycle championship battle since the 1988 season? That year,
Terry Vance
came into
Pomona
needing to win the race and set the national record in order to pass
Dave Schultz
for the title. Terry won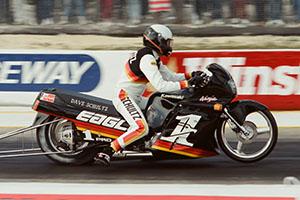 Dave Schultz
the race, but his 8.02 in the final round was just a bit short of the 7.98 national record and the great one, Mr. Schultz, won the second of his six national championships. Of course last year's battle was also very exciting when Andrew Hines came into the last race of the 2006 season slightly more than one round ahead of Antron Brown. Andrew fouled out in round one which meant that Antron could win championship if he won two rounds. Unfortunately for "AB" he lost in round two and Andrew hung on to win the title. With that as a background, am I the only one who found it a little ironic that it was Antron who beat Andrew this year in
Pomona
to end his title hopes? OK, so in the interest of fair reporting Andrew fouled out but the end result is the same, Antron won and that helped Matt win the championship.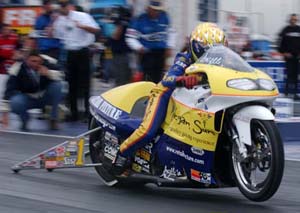 Angelle Sampey
The numbers that Matt Smith put up this year were very impressive. He won thirty-seven rounds in his sixteen races and that's more than either
Tony Schumacher
or
Tony Pedregon
won in winning the championship in their twenty-three race schedule. To further put that number in perspective,
did you know
that Matt's total was more than any Pro Stock Motorcycle champ since
Angelle Sampey
won forty rounds in 2002? In Andrew's three year run to the championship he won thirty-one rounds in his best season and twenty-five and twenty-eight in his other two years as champ. Matt also went to nine final rounds this year and that's even better than Angelle's stellar '02 campaign when she went 6-2 in her eight final round appearances.
Did you know
that the last time a Pro Stock Motorcycle rider went to nine or more final rounds was back in 1998 when
Matt Hines
went an amazing 10-1 in his eleven final rounds? One more thing to show how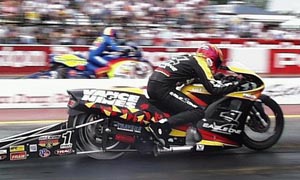 Matt Hines vs. Schultz
good Matt was this year is to take into consideration the fact that, coming into 2007, Matt's career total was 30-39, which means that he won more rounds this year than he had in his entire career prior to 2007. Now that's a really good year and it raises Matt above the .500 mark for his career and there aren't a lot of motorcycle riders who can say that.
Did you know
that, of the top fifteen points earners this year in the Pro Stock Motorcycle class, only six of them have career records that are above the .500 mark? And, in the interest of fair reporting again, I should add that two of the top fifteen,
Peggy Llewellyn
and
Eddie Krawiec
, are right at the .500 level, but my point is that the class is so tough that it's an accomplishment just to have won more rounds than you have lost in your career. In addition to having a good bike, Matt also rode well this year.
Did you know
that Matt was first off the line in twenty-two of the thirty-eight rounds that he was involved in that had green light starts? He also had three holeshot wins to go with only one holeshot loss during the year and that was another reason why he ended up on the "plus side" in almost every statistical category this year. Getting a green light start in the bike class is, as we all know, always a plus and sometimes it's even an art form.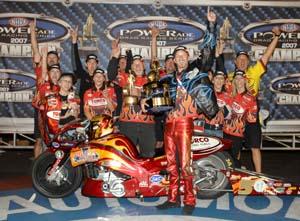 Smith and team celebrate win.
One thing that really should be mentioned when talking abut the new champion is the fact that Matt left a very good team and went out on his own this year and that takes guts. If you don't believe me, just ask Tony Pedregon. After riding for and with
George Bryce
for a little more than a year, Matt took his talents and ambitions as he moved on and started his own team. "We wanted to take a different approach to running the bikes and that really necessitated doing it on our own," he said. "We decided to run the bike like a Pro Stock car, and by that I mean we wanted to bring some car technology to our bike program. It seemed to work and it just changed the way we went about doing some things." Matt also was able to make the move to his own team because he has the support of his partner,
Mark Stockseth
. "Mark has been such a vital part of our team," Matt said. "He owns the bike and he has been partners with my dad on his car for a couple of years. He's a remarkable guy and I couldn't have made the move without him." Matt is also quick to credit
Evan Knoll
and the folks at
Torco
for their help and support. "Evan has been so good to us and we have already come to an agreement with him for next year. In fact, Evan will own a second bike that we will race and
Angie
(
McBride
) will be the rider for the entire season. That should help us with data acquisition and make us even more competitive."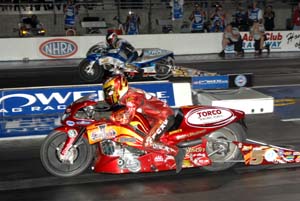 Smith vs. Ellis
After his semi-final loss at
Las Vegas
, Matt said that he went into
Pomona
with one goal, win the race. "We stayed and tested on Monday after the Vegas race," he said. "We had a really good motor that only made one run at the race, but I told dad that I thought it was the best piece we had. So we made a few runs with it on Monday and went 7.01, 7.02 and 7.01 so we knew it was good."
When you figure that nobody went 7.01 at the race in Vegas, Matt's confidence appeared to be well placed. "When we went to
Pomona
I knew we had a good bike, but Andrew was so far out in front that we just wanted to focus on winning the race. When he went out (in round two) it gave us a shot at the title and we took advantage of it." Matt said that he approached the all important winner-takes-all final round just like he did every other final round during the year. "I told myself that the worst I can do is finish runner-up so I just went up there and raced like I did all year long." The end result was a round win, a race win and a championship for the guy whose best previous finish was fifth place. With a really good bike and a rider who was as good as any in the class this year, it's no surprise that Matt ended up with the championship. >From early in the year he had a very good bike, and from the
Atlanta
race on he also had the help of one of the great engine builders and innovators in the sport,
Sonny Leonard.
"We had Sonny working on the heads and that made a big difference this year. He's a genius." To say thanks for the help, both Matt and his dad, Rickie, will be at the PRI Show in
Florida
this week and you'll be able to catch them at Sonny's booth. Stop by and say hi and congratulate the new champion.
Even though Matt had a career year this year and even though he won the championship, he still has some unfinished business as he heads into next year. "One of the things that I wasn't able to do this year," he said, "was beat Andrew (Hines). We raced six times and he beat me all six times. I've got to try to do better against him next year." On the other side of the coin, Matt raced Peggy and
Chip Ellis
a total of ten times this year and he never lost to either of them. So, when you balance it out, he went 10-6 against the top three teams in the class this year and that will usually result in a winning season if not a championship one.
Like most of the teams, riders and owners in the class, Matt is very bullish on the future of the motorcycle class and he knows of a couple of new teams that will be on tour in 2008. "We lost Antron (Brown) to the Top Fuel class, but he'll still be racing, just not with us, and I know that Chip and Peggy will get rides. Overall I like what I see and I'm glad to be part of this class right now. He also likes where the
tech folks have set the weight breaks in the class right now. "If you look at the stats in
National Dragster
you'll see that, in the elapsed time category, there is a Suzuki, a Harley-Davidson and a Buell in that order at the top. In the speed department it's a couple of Suzuki's at the top with a Harley and a Buell right behind them. If you look at it that way you have to think that things are pretty even."
In order to celebrate his championship Matt and his dad had a little open house this past weekend at their shop in North Carolina. "We had about a hundred and twenty people over and we cranked the bike up for them," he said. "A lot of them had never heard the bike run before so that was fun and they all had a great time." Matt also had a great time in 2007 and he hopes to repeat next year. "I'd like to be able to follow this up with another good year. We'll have the team and the financing needed to compete so we'll see how we do. I have a new bike being built and I hope to debut it at Gainesville. I know this, now that I've won a championship, it feels so good that I want to do it again." Based on what we saw this year Matt may actually go into the 2008 season as the favorite, and that's saying a lot based on the quality and quantity of the motorcycles in the class.




NHRA: 10 Most Recent Entries [ top ]

Mar 25- NHRA Announces Revised Schedule for Mello Yello Drag Racing Series
Mar 24- Balogh, Beard, Enriquez, Hill, Meyer and Minor Inducted to the International Drag Racing Hall of Fame
Mar 16- NHRA Postpones Season for at Least 30 Days
Mar 16- Samtech.edu NHRA Factory Stock Showdown Ladder Change and 4-wide Competition
Mar 14- GAINESVILLE - Friday Wrap Up
Mar 13- GAINESVILLE - Summary of Eliminations in Stock Eliminator
Mar 13- GAINESVILLE - Summary of Eliminations in Competition Eliminator
Mar 13- GAINESVILLE - Summary of Eliminations in Super Stock
Mar 13- GAINESVILLE - Summary of Eliminations in Super Comp
Mar 13- GAINESVILLE - Summary of Eliminations in Super Gas