Tue, 4 Dec 2007, 08:54 PM



Kenny Bernstein Names Tommy Johnson Jr. to Drive Monster Energy/Lucas Oil Funny Car in



Courtesy of Susie Arnold


Photo copyright 2007 Auto Imagery, Inc.





2008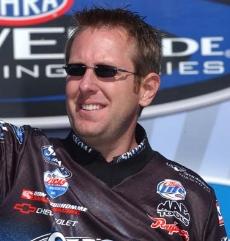 Tommy Johnson Jr.
Six-time NHRA champion and motorsports icon Kenny Bernstein today made a surprise announcement that he is stepping out of the cockpit of the Monster Energy/Lucas Oil Funny Car effective immediately and has hired well-known Funny Car shoe Tommy Johnson, Jr. as his successor.
"I was only contemplating driving one more year," explained Bernstein, "but when Tommy became available at the end of the '07 season, we started to give the situation a lot of thought. We've been fortunate to win six championships, 69 races, and we have some milestone performance marks, chief among them, becoming the first to crack the 300 miles-per-hour barrier.
"I guess we can always look to win one more race or one more championship, but in reality, I've had a great career and many talented crew members who have helped mold my success through the years. For me at this stage of my life, the right decision is to step away from the cockpit.
"We chose Tommy because he is a quality driver, likeable person, and he understands the corporate nature of our business. He also has ties to Lucas Oil and Mac Tools which certainly fit right into our sponsor alignment."
"I'm thrilled to have the opportunity to be on the track next year, especially with the caliber of Funny Car team Kenny fields with Monster Energy/Lucas Oil, " said Johnson, Jr. "Kenny runs a professional operation and is an icon of our sport. It's an honor to be named as his successor and the first full-time driver he's named outside the family.
"We do have a bit of a history, though, "continued Johnson, Jr. "I did some pre-season testing for him in 2000 when he was recuperating from shoulder surgery. Kenny and I have been friends for a number of years.
"I am definitely excited about the season to come, but I want to thank Don Prudhomme for the opportunities he gave me the past seven years."
"We're excited to welcome Tommy to our team," said Bernstein. "And I want to also thank Don (Prudhomme) for working with us to release Tommy to drive for KBR.
"We know with Tommy on board, we won't miss a beat. We plan to do a lot of testing in January at Phoenix, and we'll be ready to attack the '08 season with a virtually seasoned team.
"Jimmy Walsh and Danny DeGennaro will continue to lead the tune-up team for the Monster Energy/Lucas Oil Funny Car, and I will continue to travel to the races and oversee not only our Monster Energy/Lucas Oil Funny Car operation, but also the Budweiser/Lucas Oil Top Fuel team. We have multiple seasons left on sponsorship contracts with both teams."
With 9 professional career victories, Johnson, Jr. has won events in both Top Fuel and Funny Car. He scored his first professional victory in Seattle in 1993, and his most recent victory at Englishtown, N.J. last season.
Bernstein's combination of professionalism, commitment and competitiveness has made him a motorsports icon. He holds the unique distinction of being the first and only race team owner to have collected wins in each of America's three major motorsports series: NHRA drag racing, NASCAR and CART. As a driver, Bernstein became the first to win NHRA championships in both Funny Car
(1985-1988) and Top Fuel (1996, 2001). He was nominated for the American Auto Racing Writers and Broadcasters Association Newsmaker of the Half-Century award and was voted in the top 10 on NHRA's 50 Greatest Drivers list. He has been inducted into the Texas Motorsports Hall of Fame and the Don Garlits International Drag Racing Hall of Fame.
"We've enjoyed a lot of accolades in our career," summarized Bernstein. "Now it's time for me to take a step back, continue to guide Brandon's career, and be there to help and support Tommy.
"It's been a good ride and we owe a debt of gratitude to numerous people who have contributed to our success through the years. Perhaps I can repay that debt and contribute to the success of others."
Follow the Kenny Bernstein owned Budweiser/Lucas Oil Top Fuel team with driver Brandon Bernstein and the Monster Energy/Lucas Oil Funny Car team with driver Tommy Johnson, Jr. at www.kennybernstein.com




NHRA: 10 Most Recent Entries [ top ]

Mar 25- NHRA Announces Revised Schedule for Mello Yello Drag Racing Series
Mar 24- Balogh, Beard, Enriquez, Hill, Meyer and Minor Inducted to the International Drag Racing Hall of Fame
Mar 16- NHRA Postpones Season for at Least 30 Days
Mar 16- Samtech.edu NHRA Factory Stock Showdown Ladder Change and 4-wide Competition
Mar 14- GAINESVILLE - Friday Wrap Up
Mar 13- GAINESVILLE - Summary of Eliminations in Stock Eliminator
Mar 13- GAINESVILLE - Summary of Eliminations in Competition Eliminator
Mar 13- GAINESVILLE - Summary of Eliminations in Super Stock
Mar 13- GAINESVILLE - Summary of Eliminations in Super Comp
Mar 13- GAINESVILLE - Summary of Eliminations in Super Gas