Thu, 29 Nov 2007, 10:14 AM



We Had Wally Buckled In



By Bob Frey


Photo copyright 2007 Auto Imagery, Inc. & Robert Grice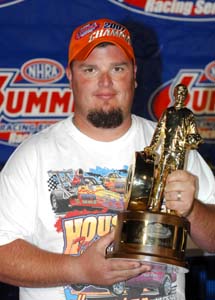 Dennis Clark
Sixteen hundred miles is a long way to drive to get to a drag race. It can be even longer on the return trip, especially if you're coming home empty handed. Fortunately for Dennis Clark and his family, the ride back from Pomona seemed to go a lot quicker because of a special passenger they had. "It took us a long while to drive out there," Dennis said. "We left Pasadena, Texas and got to El Paso and thought, hey, we're almost there." Of course they weren't almost there but that's what they told themselves. "After the race we knew we had the same, long ride home, but every time we got a little tired or drowsy we just turned around and looked at the trophy in the back seat. We had 'Wally' (the name for the NHRA national event trophy) all buckled in and every time we looked at it we just smiled, and all of a sudden, the trip didn't seem so bad." I guess that's what winning the Summit Racing E/T Series national championship can do for you. And Dennis Clark, who had never been to California before, came west, won the trophy and proudly drove home with it. "I was very fortunate to have two of my very good friends, Jason Patterson and David Stone to ride with me. I know it sounds like something you just say, but believe me, I couldn't have done it without them."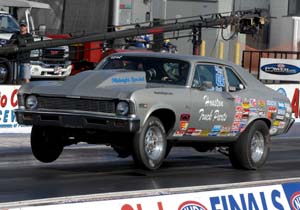 Dennis Clark
Dennis Clark is twenty-eight years old, married to Penny and together they have a wonderful, very talented daughter, Ashlie. "She doesn't drag race but she does play softball and I'll tell you this, she's really good at it." You can excuse Dennis if he sounds like your typical, proud father, but he has reason to be because his daughter is a fast-pitch softball pitcher and she can, as the phrase goes, really bring it. "I was catching for her a while back and I missed the ball, it hit me in the leg and put me on crutches for a while." Like I said, he has reason to be proud. And Ashlie has reason to be proud of her dad, too, because he did what very few people have done, he won the Summit national title. "I have to tell you that I was absolutely intimidated by the whole experience," Dennis said. "When you come out of the staging lanes and make that left turn into the water box and you see that track and those stands for the first time it truly is awe inspiring." Dennis admits to being so over whelmed by the experience that he said that, after his first time trail run, he had his friend and driving partner, David Stone, "stand directly in front of the car so that all I could see was him. I had to focus on David or I would have been totally intimidated and, I'm sure I would have lost the race." That's the kind of focus that athletes talk about when they know what has to be done in order to win, and Dennis did exactly what he had to do and he won.
Dennis Clark's trip to a national championship is a little unusual by today's standards. Most of the folks who make it to Pomona have been racing for a long time, but not Dennis. "I really started about four years ago," he said. "It all started with a tune and test session at our local track and the next thing you know I was hooked." After making a few, modest adjustments to his car, Dennis returned for a real race and promptly went four rounds into the eliminations. This year, representing Houston Raceway Park, he finished tenth in the points at the track and that earned him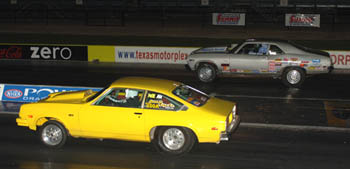 Bob Auld vs. Clark in D-4 final.
a spot in the division finals in Dallas. When he went eight rounds in Dallas and won the Division 4 title, all he had left to do was pack his bags and head west. "My dad really got me started in drag racing," he said. "He used to race in Super Gas and Super Street and he took me to the track for that tune and test session. He passed away about two years ago but I know he was watching me and watching over me in Pomona."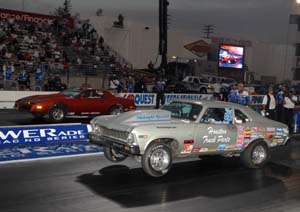 Clark vs. Andrew Bracuto in Pomona final.
In addition to admitting to being awed by Pomona, Dennis also said that there was one other thing that really impressed him. "Even though the ride out there was long, from the minute we turned into the gate at the track we felt like we were home. Everyone was so nice and helpful. The folks at Summit couldn't have been nicer and every racer there was more than willing to help you out if you needed something. That's one of the great things about this sport, while everyone wants to beat you they are also more than willing to help you." Another thing that helped was having a former champion there, another racer from Division 4. "Micheal Nash had won the race before, and even though I never met him before Pomona, he really helped me relax. When I went up for the driver introductions he told me what was going to happen and not to worry about anything. That was really nice of him." Of course Micheal must have taken his own advice since he went out and won the race for the second consecutive year.
The car that Dennis drives is a 1969 Chevrolet Nova and it still has some of the original parts in it. "It still has a ten-bolt rear end in it and it's kind of like you cross your fingers every time you leave the starting line. But we've had some great sixty-foot times and it keeps working, although I know I'll have to upgrade it sooner or later." It has a 383 cubic inch small-block Chevy engine and a Coan racing transmission. Tommy Costales, of Houston Engines, built the engine for Dennis who has nothing but high praise for his engine builder. "Tommy's the best, and when we had a few motor problems he took great care of us and he had us back on the track quickly and with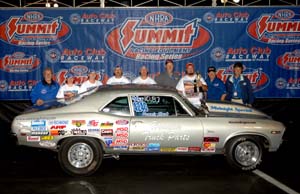 Clark and team celebrate win.
a better bullet than we had before. That's what I mean about people helping you out. He's a big part of out success this year." Another reason for his success may be winning the close races, like the final round in Pomona. He went from a 10.89 dial in the first round to a 10.88 in round two and a 10.87 in the finals. When his opponent in the last round, Andrew Bracuto from Division 1, ran right on his dial-in of 10.60, it looked like it might be a long trip back to Texas, a long empty handed trip. But Dennis was better on the line, his .027 reaction time compared to Andrew's .064, and when he ran 10.91 the end result was a race that was decided by .0007 seconds. "We joked that there should be a 'Motel 6 Who Got The Light Award' for the Summit cars," Dennis said. "We did the calculations and found out that we took the win by about an inch and a half. I feel very fortunate to have done what not many racers get to do, and that is win a final round at Pomona."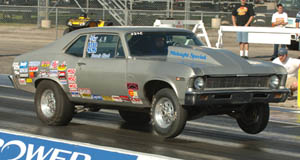 Dennis has one more race for the season before calling it quits for 2007. "They have one final race at Houston Raceway Park and I wasn't going to go but I heard that everyone is gunning for me now. I guess if you can't be the champ the next best thing is to beat the champ." Well, regardless of the outcome of that race, Dennis is the champ and will be until Pomona next year. I'm sure that every time he thinks of that race, he'll remember the ride, his friends and seeing "Wally" buckled in the back seat and he'll just smile.
Dennis would like to thank Brian Gallagher at Houston Truck Parts, Tommy Costales at Houston Engine Shop and his friends and driving partners, Jason Patterson and David Stone. He would also like to thank his wife, Penny and daughter, Ashlie for all of their help and support.




NHRA: 10 Most Recent Entries [ top ]

Apr 23- HOUSTON - Sunday Video
Apr 22- HOUSTON - Sunday Pro Mod Wrap Up