Tue, 27 Nov 2007, 04:26 PM



NHRA Top Fueler Dave Grubnic Excited about 2008 Season



Courtesy of Todd Myers


Photo copyright 2007 NHRA





Despite Loss of Primary Backer



YPSILANTI, Mich. --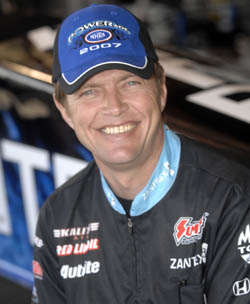 Dave Grubnic
Native Australian and Top Fuel driver Dave Grubnic is anxious to get back out on the track for the 2008 NHRA POWERade Drag Racing Series that begins in Pomona, Calif., in early February. However when his quest for the 2008 POWERade Top Fuel title commences it will be without last season's primary sponsor Zantrex-3.
Despite the unexpected setback, Grubnic and his team will continue to compete out of drag racing legend Connie Kalitta's multi-car racing operation Kalitta Motorsports, based in Ypsilanti, Mich.
"First off, I want to thank everyone at Zantrex-3 for everything that they did to support our team both on the track and off," Grubnic, a 45-year old resident of Ennis, Mont., said. "Certainly, this is a disappointing turn of events, but we're not going to let this hold us back from going back out there to race as hard as we can for the 2008 championship.
"This in no way changes our commitment to competing at the highest level possible with Grubnic's car, or any of our other cars for that matter," Rachel Brunner, Kalitta Motorsports Team Manager said. "Kalitta Motorsports is dedicated to giving our fans and sponsors what they expect and deserve from a world-class racing operation, and we are very excited about the opportunities our team has next season."
Until a new primary sponsor is secured, Grubnic's 8,000-horsepower, 330-mph dragster will compete as the Kalitta Motorsports Top Fuel dragster entry. Both driver and race car are scheduled to compete at all 24 NHRA POWERade Drag Racing Series next season.
Grubnic finished the 2007 NHRA POWERade Drag Racing Series in 11th place in Top Fuel championship points.
In early 2004, Grubnic was hired to drive for Kalitta Motorsports. In the fall of 2004, he won the lucrative and coveted Budweiser Shootout in Las Vegas, becoming only the fourth driver in the special event's history to win its $100,000 prize in his first attempt. Grubnic picked up an emotional first NHRA national event win in May, 2005 in Topeka, Kans., to become the first non-native North American to win a Top Fuel trophy. He has one other event victory to date, the 2006 running of the famed Gatornationals in Gainesville, Fla.




NHRA: 10 Most Recent Entries [ top ]

Apr 24- CHARLOTTE 1 - Fact Sheet
Apr 24- Kalitta Motorsports Welcomes NASCAR Stars to the SealMaster Track Walk in Charlotte
Apr 24- zMAX Dragway Celebrates 10th Anniversary
Apr 24- CHARLOTTE 1 - NGK Spark Plugs NHRA Four-Wide Nationals Brings 40,000 Horsepower Thrill Show to zMAX Dragway
Apr 23- HOUSTON - Lucas Oil Drag Racing Series Wrap Up The NHRA Lucas Oil Drag Racing Series Wrap Up
Apr 23- CHARLOTTE 1 - J.R. Todd Aiming for Two Four-Wide Racing Wins in 2018
Apr 23- Mid America Dragway Joins NHRA Member Track Network
Apr 23- HOUSTON - Special Awards
Apr 23- HOUSTON - Sunday Video
Apr 22- HOUSTON - Sunday Pro Mod Wrap Up