Tue, 27 Nov 2007, 04:06 PM



Herbert Makes Changes



Courtesy of Lisa Powers



With Plans to be Strong Contender for 2008 NHRA POWERade Championship



LINCOLNTON, N.C. --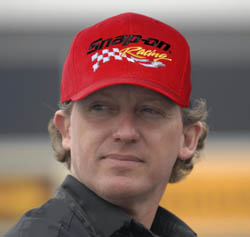 Kevin Poynter
Doug Herbert, owner and driver for the Snap-on Tools Top Fuel team, announced changes today within his organization.
Effective immediately, Kevin Poynter will serve as crew chief of the Snap-on Tools Top Fuel dragster, and Keith Stewart will join the team as co-crew chief.
"I can't begin to explain how excited I am about having Kevin and Keith come on board," said Herbert. "Jim Brissette has been with me since 1991 and tuned us to a pretty good season last year with the huge win in Reading to make the final eight and several other final rounds, but these guys bring something different to the table. I am completely confident that Kevin and Keith will help take us to the next level and beyond, and Brissette will still be around as a consultant to help out if we need him. We are looking to the future with this change."
Poynter, who currently resides in Mission Viejo, Calif., with his wife Terri and daughter Sonja, will be transplanting to North Carolina to work full time with the Snap-on team. He most recently served as crew chief for J.R. Todd's Top Fuel dragster, and has worked for several other top tier teams in the past, including John Force Racing and David Baca.
"It's motivating to get to work with Keith again," said Poynter. "I feel confident that we will have a program to make a run for the World Championship, a common goal held by everyone on this team.
"Teamwork, confidence and ability all lead to success. Herbert and I think alike in a lot of ways, and that's just one of them. He has been around for a long time and deserves a real, true shot at the championship. Keith and I are here to help him do just that."
Stewart, a N.C. native, lives in Smithfield with his wife, Carol, and daughters Savannah and Brooke. He most recently worked on the Scott Kalitta funny car and has also worked for other notables such as Darrell Gwynn and with Poynter on David Baca's Top Fueler.
"I'm excited about coming here for several reasons," said Stewart. "One of them is to build a team that will have a good shot to run for the championship, and another is because Doug has all the resources available to field a championship caliber car. Not to mention that I couldn't pass up the opportunity to be based out of my home state and work with Kevin again."
Poynter and Stewart will be based out of the race shop in Lincolnton, N.C. as they make their plans to push for the 2008 NHRA POWERade Championship.
"I'm more excited than ever about next season," said Herbert. "I like the way these guys think, and can't wait to make our first statement during testing. We plan on letting everyone know that the Snap-on team means business when it comes to the 2008 POWERade Top Fuel championship."




NHRA: 10 Most Recent Entries [ top ]

Apr 23- HOUSTON - Lucas Oil Drag Racing Series Wrap Up The NHRA Lucas Oil Drag Racing Series Wrap Up
Apr 23- CHARLOTTE 1 - J.R. Todd Aiming for Two Four-Wide Racing Wins in 2018
Apr 23- Mid America Dragway Joins NHRA Member Track Network
Apr 23- HOUSTON - Special Awards
Apr 23- HOUSTON - Sunday Video
Apr 22- HOUSTON - Sunday Pro Mod Wrap Up