Tue, 27 Nov 2007, 11:02 AM



He's the Best....Again



By Bob Frey


Photo copyright 2007 Auto Imagery, Inc. and John Bisci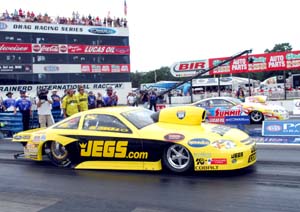 Coughlin vs. Anderson
It's hard to say that a guy who had already won three season championships, two of them in the professional classes, was a surprise winner this year, but that's what I think the general consensus was when
Jeg Coughlin
won the Pro Stock Championship. Not that Jeg didn't have a good car, because he did. Not because he isn't a good driver, because he is. And certainly not because he doesn't have the backing of a good team, because he does. But when you had the two
Summit Racing
cars, including the current and former world champs,
Greg Anderson
and
Jason Line
, and when you had the hottest guy in the class coming into the final two races,
David Connolly,
also running for the championship, Jeggie wasn't given a lot of consideration down the stretch. But when he ran off seven round wins out of a possible eight at the last two races, Jeggie added the 2007
POWERade
championship to the ones he won in Pro Stock in 2000 and 2002 and that's on top of the Super Gas crown that he won back in 1992.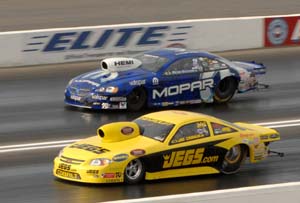 Coughlin vs. Stevens
For most of the season, Greg Anderson appeared like he would be regaining his spot at the top of the pack in Pro Stock. From the moment he won the Winternationals to the time he ran off a 138 point race in
Gainesville
, Greg looked primed and ready to go, just like he was in his three championship seasons. Jeggie, meanwhile, didn't exactly struggle out of the gate although he was in ninth place after his first round loss in
Phoenix
and he was only seventh after the Gatornationals. He really began to hit his stride in
Houston
where he went to the semi-finals and he followed that up with a runner-up spot in
Las Vegas
. The fact that he lost to Greg in Vegas just reinforced, in a lot of minds, the fact that he had a good car, just not the best. Well, with the new Countdown format, Jeggie hung around all year long and he made the cut to eight and then to four and the rest, as they say, is history. He went to the final round at the second
Las Vegas
race, where he again lost to Greg, but then he was just about letter perfect in
Pomona
. Coupled with Greg's first round loss, Jeggie took advantage to beat
Larry Morgan
in the first round in order to give himself a shot at the championship. That shot came in the next round where he faced
Richie Stevens
in a race that Jeg had to win
,
and when he turned on the win light it was all over. We had a new format, a new team but the same results, Jeg Coughlin was the POWERade champion.again.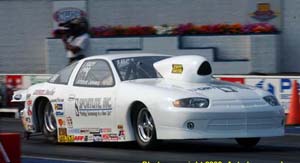 Steve Johns
Even though a lot, if not most of the attention in the Pro Stock class centered around Greg and Dave Connolly for most of the year, everyone who follows the class knew that Jeg had to be in the mix simply because of the pedigrees that surround him. Those pedigrees included his blood lines as well as those of the team that he was driving for, the team that is owned by
Victor Cagnazzi
. Victor decided to start his Pro Stock operation in 2001, right after he heard about the end of the Pro Stock Truck class in which he was competing at the time. "When we heard that the truck class was going away, we began thinking about stepping up right away," Victor said. "We entered into discussions with Bill Jenkins about building our engines and those talks went on until the end of the year." Once Victor and Bill came to an agreement, and now that the new team knew where their power was coming from, the next chore was to get a driver, and the logical choice was Steve Johns. Steve had worked for Bill Jenkins for years and he had driven in both the truck class and in Competition Eliminator, where he was the world champ in 1992. With that impressive background, Steve became the first team driver for Victor's new operation. "I knew it would be rough, but I didn't think that we would struggle as much as we did in the beginning," Victor said. "We went to Brainerd in 2003 and we failed to qualify for that race and we also missed the cut at the next seven races we attended." After that, at the
Las Vegas
race in 2004, Steve qualified number eight and he never missed another field after that. To further boost the team's optimism Steve qualified number one at
Topeka
and
Seattle
and he went to the final round in
St. Louis
where he lost to Greg Anderson. "In the end it turned out to be a good year,"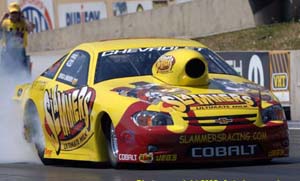 Erica Enders
Victor said. Steve finished eighth in the points that year and it looked like the "Team Cagnazzi" operation was here to stay. While they were competing in '04 Victor made another tough decision, this time choosing to bring his engine program "in-house" beginning in 2005. "It wasn't an easy call, but if you want to be competitive in this class you really have to do the engines yourself." With that decision it was also decided to take Steve off the road so he and the rest of the team could concentrate on building engines for their new driver,
Erica Enders
. "I thought that we'd be competitive right out of the box," Victor said. "But we really were behind the curve right from the start." The team struggled for the first part of the '05 season before starting to hit stride around the middle of the year. "We started qualifying regularly about the time we began the "western swing" and we did pretty well after that."
In 2006 the team also started providing engines for Dave Connolly and then, at the end of the year, they announced that a second car would be added for 2007 with Jeg Coughlin driving, and we all know how that worked out.
Coughlin vs. Connolly
Even though they went through some growing pains for the first few years, for most of this year the Pro Stock class looked like it would be a battle between the two
Summit
cars and the two "yellow cars," as Victor's tandem of Jeg and Dave were often referred. A lot of the success of Victor's team can be traced to the entire organization that he has put together. In addition to building his own engines, and now leasing some of them to other drivers, Victor also decided to hire a chassis guy,
Todd Bevis
, to work in-house to build the cars and he has assembled some of the most talented people in the sport to work on his cars, both at the shop and on the road. Among them are some familiar names as well as some that are only known in the inner circles of Victor's shop. Even though they may remain anonymous to most of us, Victor is quick to point out that this national championship truly is a real team effort. "We think we've got the best group of people in the business working on our cars." I guess he does, after all, his one driver won the championship and his other finished third in the points after winning five consecutive races down the stretch this year and that's very impressive. A big "tip of the cap" goes to the guys "back at the shop" as well as others who fly in to work on the cars at the races. They are often referred to in interviews when Jeg or Dave win races, but they are hardly ever mentioned by name, and every driver, especially the really good ones like Victor's two guys, will tell you that they can't win races by themselves. Included in the group of people who make the "yellow cars" run so well are two whom I've already mentioned, Steve Johns and Todd Bevis,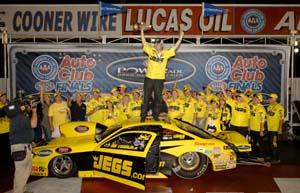 Coughlin and team celebrate win.
while others include
Rich Saulino, David Byers, Brian Claas
and
Steve Cultrera.
Steve, another former Comp racer like Steve, has a long trek to the races since he almost always has to make a couple of stops when leaving from his home in
Maine
.
Also on the team are
Bryce Gandy, Dan Pikarsky, Braun Smith, Keith Graham, Dewey Reel, Mike Furick, Darrell Delack
and
Shane Tucker. Joe Hornick
is one of the top engine guys in the sport and he is joined by
Mike Smothers, Kevin Wideman, Craig Campton
and
Kenny
and
Danny Burke
. The crew chiefs on the cars include
Roy Simmons
and
Tommy
and
John Utt
. It's a big team and a very impressive one and they have produced big results in a relatively short period of time. And, as there is with every good man, there is a good woman in Victor's life and that's his wife, Brita, who can be seen on or near the starting line at every race.
Pro Stock has become so competitive that every little edge you can get can be huge, and that's why the combination of power from Victor's shop to the driving ability of Jeg Coughlin proved to be the best in the class in 2007.
As we all know, Jeg and his teammate, Dave Connolly, have well earned reputations for being really good on the starting line and that's another reason why they are so competitive on the track.
Did you know
that Jeg had fifty four rounds of racing this year that involved green light starts (fifty five if you include one that included identical reaction times) and he was first off the line in thirty two of those rounds? And when it counted, like at the last two races of the season, he had seven rounds that featured green light starts and he was first off the line six times. Now that, coupled with a very good car and a very good team are the things that championships are made of.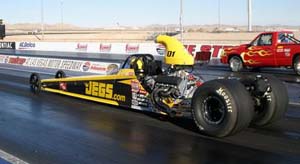 Coughlin at Las Vegas Bracket Nationals
As we head into the off-season (what there is of it), Jeg is still racing, in fact, he competed this past weekend at the Strip at Las Vegas Motor Speedway in their annual Thanksgiving weekend bracket bash and he will, undoubtedly, race again before the 2008 season begins in an effort to stay sharp and improve his skills. He often works on the practice tree at home as he strives for perfection on the starting line, and he does all of this while still spending time at his real job, which is working at the Jeg's operation. With his third Pro Stock title Jeg joins Bob Glidden (10), Warren Johnson (6), Lee Shepherd (4), Darrell Alderman (3) and Greg Anderson (3) with the most Pro Stock national championships and that's not a bad list to be on, is it?
And at the age of thirty seven you have to figure that Jeg isn't done yet.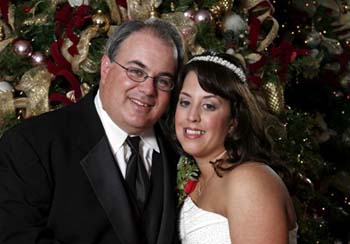 Kevin and Jill McKenna
One final note this week,
did you know
that the social event of the season was held this past week in
New Jersey
?
Jill Caliendo
and
Kevin McKenna
, who both work for the National Hot Rod Association, were married in front of a group of their family and friends that looked like a "Who's-Who" of the drag racing world. The bride looked beautiful and Kevin was dashing, even when he was on the dance floor. It was a wonderful ceremony, and the reception, which was held at the beautiful Breakers on the Ocean in
Spring
Lake
, was spectacular. Good luck to the newlyweds and, hurry back, the new season is right around the corner.




NHRA: 10 Most Recent Entries [ top ]

Mar 18- GAINESVILLE - Pro Mod Sunday Wrap Up
Mar 18- GAINESVILLE - Sunday Wrap Up
Mar 18- GAINESVILLE - Pro Mod Championship Points
Mar 18- GAINESVILLE - Bonus Points
Mar 18- GAINESVILLE - Championship Points
Mar 18- GAINESVILLE - Mickey Thompson Top Fuel Harley Series Championship Points
Mar 18- GAINESVILLE - Bonus Points
Mar 18- GAINESVILLE - Summary of Eliminations in Top Fuel
Mar 18- GAINESVILLE - Summary of Eliminations in Funny Car
Mar 18- GAINESVILLE - Summary of Eliminations in Pro Stock