Tue, 27 Nov 2007, 10:42 AM



Rod Fuller Post-2007 Q&A



Courtesy of Ted Yerzyk


Photo copyright 2007 Auto Imagery, Inc. & NHRA





BROWNSBURG, Ind. --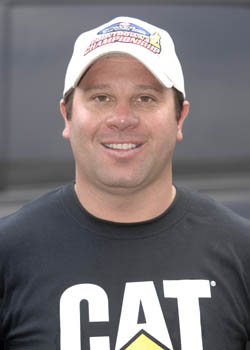 Rod Fuller
For Rod Fuller, his second full season behind the wheel of his David Powers-owned Top Fuel dragster was indeed a coming out party of sorts for the former Super Comp star; a season of personal-bests for the Las Vegas racer that came up one round shy of a dream season. The 2007 NHRA season could be summed up as a roller coaster ride for Fuller and his Caterpillar team. From a lack of funding to piloting the "great white," Fuller signed a major sponsor, Caterpillar, and captured a career-best three wins in a career-high six final round appearances. The longtime Arkansas resident also carded four poles, clocked the quickest (4.464 seconds) and fastest runs (331.61 mph) of his brief professional career, and earned the most lucrative weekend payout of the year with his win in the $100,000 Technicoat Shootout and double-up win at the fall Las Vegas race. If one was to title Fuller's 2007 season, it may go something like "The Little Engine that Could Almost Did." Just two weeks after undergoing major reconstructive knee surgery, Fuller is on a training mission to be healthy for 2008. In this Q&A, the popular racer takes fans through his 2007 season.
Q: You had major knee surgery less than two weeks ago, how are you feeling?
FULLER: It feels pretty good. I have very high expectations, so I expect to heal quickly. I get frustrated when I can't walk or do everyday things that I'm used to doing. My athletic trainer, Dave Tomchek, says you have to give the body time to heal. They have to slow me down from doing too much. They say my progress is very good. We did a lot of training and preparation before surgery and it's paying off. I've lost 11 pounds, but this isn't the way you want to drop weight. I'm ready to be healthy and get back in the gym.
Q: Now that the season has been over for a few weeks, what are you thoughts on your 2007 season?
FULLER: Some mild depression, honestly. Not that we lost the championship, but it's hard when the season ends. Your life changes for a few months. Everyone likes to take it easy, but I love racing. If it wasn't for the knee surgery, I'd be bracket racing in Florida and Las Vegas and that would help take my mind off of Pomona. I do feel very blessed with the season we had. My biggest career goal is to make a name for myself in drag racing and the 2007 season helped with that. We had a great year and accomplished a lot. We don't have anything to hang our heads about.
Fuller doubles-up
Q: What was your biggest accomplishment of 2007?
FULLER: I'd say, one, keeping our team together. David Powers and Tim Buckley had the foresight to keep us going and believed in us. That led to us signing CAT. Not only do we have a sponsor, but I really feel we have the biggest sponsor in the sport. We're really excited about the future and growing our relationship with CAT. We're going to the Caterpillar headquarters in Peoria (Ill.) next month and I'm really looking forward to that. We're going to put the dragster up against a D9. That will be a cool photo.
Q: What was your highlight moment of the season?
FULLER: It has to be the double-up at Vegas. Like I always tell people, for me, winning Vegas is bigger than Indy. In modern day drag racing, Indy isn't as big for me. Vegas has the Shootout and a great track. Plus, the buildup for the Countdown to 1 was huge. It was like no other race I had competed in. And to double-up in my hometown really still gives me chills. I had this great vision for a big celebration and to party and celebrate the win at a cool nightclub and by the time we got done with dinner at Del Friscos, I had to turn the radio on and roll the windows down in my car to stay awake. We were really drained from the weekend.
Q: Do you have the satisfaction of knowing you'd have won the championship a year ago?
FULLER: Of course. To know that we would have won it for some 50-plus years is cool. We know we're a championship-caliber team. I know and everyone in drag racing knows we were a great team. I think we surprised a lot of people this year. It's a nice feeling.
Q: Does losing the championship in the last round of the year motivate you for next season?
FULLER: I don't think so. I don't really think I can be any more motivated. I put so much into racing and trying to be the best. It doesn't leave a bad taste in my mouth or make me hungrier, but it teaches our team that in this format, you have to peak at the right time. The Army team tested at the end of the year and that benefited them. They had no parts failures at the last two races. We lost an engine at (Las) Vegas and at Pomona. We had some setbacks during those final two events and still were just 20 points from winning it all.
Q: Do you still support the Countdown to the Championship?
FULLER: Yes, definitely. I don't like the two-race shootout to name a champion. I don't like that it's not a full representation of the season. We run at so many different tracks and in different conditions. Running at Pomona and Vegas is nothing like what we experience at Denver or during the hot summer months at places like Englishtown. I've never seen so much awareness and excitement about our sport, so The Countdown delivered in that respect. Overall, I like it, but it needs a few changes.
Q: What would you change about it?
FULLER: I would have at least six races to determine the winner. The Countdown to 8, 4 and 1 is too much. I think it was too confusing to the fans. I also don't like how it segregated the rest of the teams. If you finish in the top 10, that's still a good accomplishment and should be rewarded monetarily. Also, they shouldn't take our oil down freebies away. That would be a shame if the winner was determined on an oil down penalty. It also would be neat if the Countdown guys were in the same bracket racing against each other. When we raced (Tony) Schumacher in the first round at Dallas, it was like the title was on the line. That would be awesome if we had that drama during the entire Countdown.
Q: The majority of your team is returning next season, including crew chief Rob Flynn. Does that excite you about the 2008 NHRA season?
FULLER: It will be my first year to have a returning crew because in the other seasons, I've had a lot of turnover. To have the familiarity and a comfort level allows us to pick up where we left off and we have a championship crew. I'm glad we don't have to figure out a new crew and people because we'll have the 90-percent (nitro) rule to deal with. Crew guys have little quirks and tendencies and I know my group and they already know me. That puts you at ease. I trust the equipment they give me and that's important.
Q: Besides rehab, what else do you have planned this off season?
FULLER: I really can't plan anything until my knee heals. Dave says it's critical to get back in shape. I can't travel until December. I'm going to Peoria (Ill.) for a few days and to the new shop in Brownsburg (Ind.). I'd like to go on a vacation, but I think it'll be a Vegas winter for me. It would be nice to have the time to travel, but my number one focus is getting my knee back in shape so I'm fit for the 2008 season.




NHRA: 10 Most Recent Entries [ top ]

Apr 23- Mid America Dragway Joins NHRA Member Track Network
Apr 23- HOUSTON - Special Awards
Apr 23- HOUSTON - Sunday Video
Apr 22- HOUSTON - Sunday Pro Mod Wrap Up