Thu, 22 Nov 2007, 12:12 PM



GM Racing/NHRA Drivers Return Following Memorable Three-Day Visit with U.S. Troops in Germany



Courtesy of GM Racing



Full Schedule of Events Included Stops at Ramstein Landstuhl Spangdahlem Baumholder Sembach Vogelweh



RAMSTEIN AB, Germany --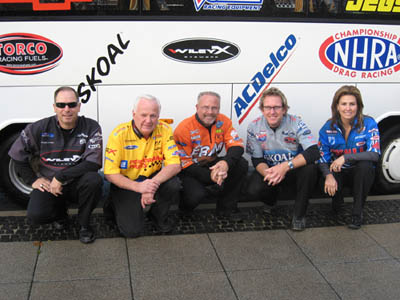 Yates, Johnson, McClenathan
Johnson Jr. and Troxel
A group of goodwill ambassadors from the NHRA have just completed a three-day USO-sponsored tour of U.S. Military installations in Germany, including the Kaiserslautern Military Community, Landstuhl Regional Medical Center, Spangdahlem Air Base and the U.S. Army Garrison at Baumholder. It was the third consecutive post-season visit for the drivers, and the brief but memorable time spent with the troops and their families provided an opportunity to make some new friends and see some familiar faces.
Six-time NHRA Pro Stock champion Warren Johnson, two-time NHRA Pro Stock champion Jim Yates, Funny Car driver Tommy Johnson Jr., and Top Fuel drivers Cory McClenathan and Melanie Troxel represented the sport of drag racing during the 72-hour troop-morale mission to Germany. As in the two previous post-season trips, the Army Special Forces Association, Randall Shughart Chapter 64, based in Carlisle, Pa. served as the vanguard for this year's visit and the 435th Services Squadron at Ramstein AB hosted the group during its stay in Germany. The drivers met race fans at five different military installations and at over 15 different locations during their stay. They also distributed over 1,500 goody bags which included racing caps, tee-shirts, racing decals and other items, signed an even greater number of autographs and brought smiles of appreciation to the faces of everyone they met.
"Every year, the drivers come home with an even greater appreciation of what our troops do and for the support personnel that make it happen every day," said Fred Simmonds, GM marketing manager, drag racing. "It is remarkable to see the commitment of our armed forces toward achieving their mission and the sacrifices they make. NHRA fans can also be proud of this group of drivers and the outstanding effort they put forth on this trip.
"I want to thank Chapter 64 of the Army Special Forces Association for asking us to join them again this year in 'Operation: Support Our Wounded.' Also, I can't say enough positive things about our GM Racing/NHRA drivers, as well as the excellent group at the USO and the 435th Services Squadron at Ramstein Air Base. Donna Burrill and Mike Spears were gracious in their hospitality, and they both work non-stop in getting the job done in supporting our troops overseas."
"It's really an honor for me to be able to contribute a little bit of moral support for our troops in Germany," said Warren Johnson. "The whole group enjoyed the visit, but at the same time, it's a responsibility and a privilege to be able to do this, something all of us take very seriously, and I hope we can continue this program for years to come."
The five drivers converged at Detroit Metro Airport on Saturday, Nov. 10 where they boarded Northwest Flight 52 for the eight-hour journey to Frankfurt-Main International. They were met there early Sunday morning and escorted to Ramstein AB by SFC (Ret) Wayne Reed and Maj (Ret) Dieter Protsch of the Army Special Forces Association. The group's tour bus, driven by Wayne McCray, was adorned with racing decals representing all of the drivers' sponsors. After arriving at Ramstein, the group enjoyed lunch on base at Woodlawn Golf Course, one of the finest 18-hole courses in Germany, and then it was off to the Ramstein BX for a two-hour long, non-stop autograph session where they met over 500 service personnel and their families. The final stop on Sunday was at J.R. Rockers, and following more autographs and pictures, the drivers' group retired for the evening.
A full schedule on Monday started with an early morning autograph session at the USO facility at the Ramstein AB passenger terminal, a location the drivers visited during their first trip to Germany in 2005. Following their stop there, they were shuttled over to Landstuhl Regional Medical Center where they were greeted by COL Brian Lein. COL Lein escorted the group on a tour of the hospital that included the intensive care unit at Landstuhl where the drivers visited with wounded U.S. troops, and signed autographs and distributed goody bags to hospital personnel and staff. While still on the grounds at LRMC, the drivers paid a visit to the Medical Transient Detachment. This team provides medical treatment for sick or wounded soldiers before they travel to the United States or return to their combat units.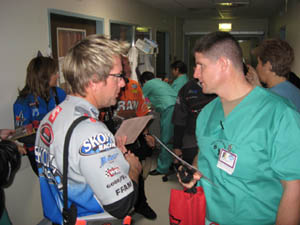 After departing Landstuhl and a 75-minute bus ride on the Autobahn through Southwestern Germany, the drivers group spent the afternoon greeting fans and military personnel at the U.S. Army Garrison at Baumholder, which is the home of the 1st Armored Division's 2nd Brigade and Division Artillery. After leaving Baumholder, the drivers spent two hours signing autographs at the Vogelweh Main Exchange before making their final appearance of the day at the Contingency Aeromedical Staging Facility (CASF) at Ramstein. This CASF group of medical personnel greet every wounded person coming in from downrange and also prepare wounded troops for further transport to the United States.
"Every time we come to Germany to visit the troops, you can't help but be extremely impressed by the professionalism and commitment of these men and women," Yates said. "We look forward to this opportunity, to let them know how much we appreciate the sacrifices they make for us everyday. They're away from their families, away from their homes, and this gives us a chance to let them know how much we appreciate what they're doing. This is one of the best things we do all year."
"This is the opportunity of a lifetime, to visit Ramstein Air Base and Landstuhl Hospital, and to give our troops a big thank you for what they are doing," Tommy Johnson said. "It means a lot to me to be able to come over here and do this, and every visit we've made during the last three years has been a truly enjoyable and memorable experience for all of us."
On Tuesday morning, the drivers' group returned to Spangdahlem Air Base (where they first visited in 2006) which is the home of the 52nd Fighter Wing, and signed autographs for over 500 airmen and their families. The drivers also took part in an impromptu game of bowling at the Eifel Bowling Center (with Jim Yates coming out on top with a respectable high score of 186) in the heart of Spangdahlem AB, and then each driver took advantage of an opportunity to climb into an A-10 simulator for some exciting real-time, in-flight instruction.
"Flying the A-10 was quite an experience," said Yates after climbing out of the simulator. "It really gives you a better appreciation of what it takes to fly an aircraft like the A-10, and the good thing is, regardless of how hard you land, you can get up out of the cockpit and walk away. With a little more time to get used to the controls, I'm pretty sure you could get up to speed pretty quickly, but the graphics and the feel of actually flying an A-10 were extremely realistic."
Tuesday afternoon the group made their way over to the 21st Operational Weather Squadron in Sembach, Germany, a site they first visited in 2005. The USAFE Weather Squadron is comprised mostly of 18- and 19-year-old airmen who forecast the weather from the East Coast of the United States, across the Atlantic, through Europe and on to the East coast of Russia, covering 91 countries including U.S. interests in Asia and Africa. One minute this highly motivated group is forecasting the weather for a space shuttle shot from the Kennedy Space Center, and the next they're sending data on winds aloft to a Special Operations task force jumping into Afghanistan.
"This is the kind of technology that I enjoy," said Tommy Johnson after visiting the Weather Squadron. "The amount of sophistication of the satellites and the equipment in place all over the world, and how everything is brought together to forecast the weather, it really is remarkable to see."
"This is a trip that shows you up close what is really going on and all of the hard work that it takes to make it happen," McClenathan said. "Each year we see new people taking on the same difficult responsibility of keeping us free and you can't thank everyone enough for all they do."
Following their visit at Sembach, the drivers made one final stop at the 435th SVS Auto Skills Center, the group that supplies transportation and logistics support for the contingent during their stay in Germany. After photos and autographs, the drivers were treated to an authentic German dinner at the Spinnradel, Kaiserslautern's oldest restaurant and housed in a building originally constructed in 1509.
On Wednesday morning at 10 a.m. it was wheels-up from Frankfurt-Main on Northwest flight 51. The nine-and-a-half hour flight back to the United States marked the conclusion of another remarkable and memorable three days with U.S. troops and their families.
"It's so easy, back in the States, to get caught up in day-to-day activities," Troxel said. "This helps to keep things in perspective, to realize the sacrifices these men and women are making and what all they're giving up. It's an honor to be a part of this program and to be able to give a little bit back. I hope they enjoyed our visit as much as we enjoyed being there."
Jim Yates on A-10 Simulator at Spangdahlem Air Base
http://www.youtube.com/watch?v=7NahJMduGeI




NHRA: 10 Most Recent Entries [ top ]

Apr 20- HOUSTON - Top Fuel Qualifying Notes, Session #2
Apr 20- HOUSTON - Pro Stock Qualifying, Session #2 Order
Apr 20- HOUSTON - Funny Car Qualifying, Session #2 Order
Apr 20- HOUSTON - Pro Modified Qualifying, Session #2 Order
Apr 20- HOUSTON - Funny Car Qualifying Notes, Session #2
Apr 20- HOUSTON - Pro Stock Qualifying Notes, Session #2
Apr 20- HOUSTON - Pro Modified Qualifying Notes, Session #2
Apr 20- HOUSTON - Top Fuel Qualifying, Session #1 Order
Apr 20- HOUSTON - Top Fuel Harley Qualifying, Session #2 Order
Apr 20- HOUSTON - Funny Car Qualifying, Session #1 Order