Wed, 21 Nov 2007, 01:28 AM



Now He's A Two-Time Champion



By Bob Frey


Photo copyright 2007 Auto Imagery, Inc.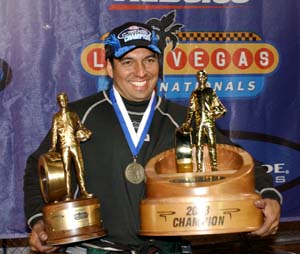 Pedregon celebrates 2003 championship.
The internet message boards were buzzing a few years ago when
Tony Pedregon
, who had just won the 2003
POWERade
Funny Car championship, announced that he was leaving
John Force's
team to form his own Funny Car team in 2004. Very few people thought that it was a good move and most people questioned the sanity of leaving the best team in the sport to go out on your own. Tony probably could have stayed with John for years but he made the decision to go out on his own and, in retrospect, it was a good move. Of course there had to be times when even Tony questioned the decision, but now that he's won his second championship I'm sure there are no more second thoughts.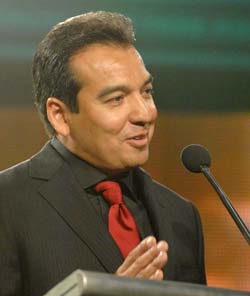 Pedregon in 2007
Tony Pedregon raced for Team Force from 1996 thru 2003 when he won the championship. Over the course of that time he finished in the top ten every year and he finished second in the points four times. In one of those years, 2002, the championship came down to a one-run, winner-takes all battle with his boss, John Force, at the last race of the year. When John beat Tony in the semi-finals he secured his twelfth title while the desire to strike out on his own began to burn even more in Tony. Then, when Tony won the championship a year later, he made the bold move, one of the most talked about moves in drag racing history. Tony said that the reason he left then was because he always wanted to have his own team, and after winning a championship, it seemed like the right time. Plus, and the folks at
Quaker
State
had agreed to be his primary sponsor. "It was just the right time," he said back in 2003. "And
Quaker
State
was the right company with the right offer and the right length of the agreement. It just all made sense to do it at that time." Well, at least it made sense to him if not to many other people in the drag racing community. I can honestly say that, right from the beginning, I thought this was a good move for Tony and I said so in my story back on
November 25, 2003
when I wrote, "Tony Pedregon is a bright, articulate young man who has a lot to offer a sponsor and I, for one, applaud his decision." I also mentioned how important it was for Tony to go out on his own and build equity in a program of his own and it sure looks like he's done just that. We all face tough decisions in the course of our lives and Tony did four years ago. Looking back he has to believe that he made the right decision and it's been one of the great success stories in our sport since then.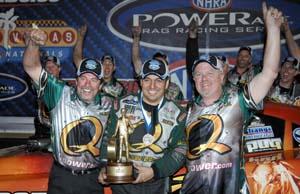 Kurt Elliott, Pedregon and Dickie Venables
Besides trying to get a sponsor, when Tony decided to make the move one of the other things he needed was a crew chief and he selected
Dickie Venables
to fill that spot. Tony and Dickie had worked together for four years on the
Castrol Syntec
team and both came from the same basic backgrounds, that is, they both grew up admiring their fathers. Tony, and his brothers
Frank
and
Cruz
, were the sons of
Frank Pedregon
, also known as "Flamin' Frank" because of the fire that used to come from the tires of his car as it went down the track. I'd like to point out that even today nobody knows exactly how Frank did that, not even the Pedregon boys, but it sure has been the subject of a lot of bench racing over the years. Tony was only five years old when his dad quit racing but he says he remembers three things about his early days at the track. "I remember the smell of nitro, the smell of the burnouts and the old roller starters that they had for the fuel cars. You would hear the rollers start spinning and then hear the cars cackle and come to life. I'll never forget those three things".. Dickie, meanwhile, grew up watching his dad, Dick Sr., race Top Fuel cars back in the late 1960's and the early 1970's, so both men owe a lot to their father's and the legacy they left for them. As I've often said, and as anyone who has watched the successful teams in our sport over the years knows, the key to any team is keeping the key people together, and keeping the nucleus of the team in tact. That's been the key to John Force's success as well as Tony Schumacher's, and now, Tony Pedregon's. Along with Dickie,
Kurt Elliott
has been a part of the team from the beginning and I guess he and Dickie kind of work like
Austin Coil
and
Bernie Fedderly
do on John's team, and that is they both bring special talents to the team and, together, they perform like a well oiled machine. This year they performed like the best team and that's why Tony is now a two-time champ. "They both brought the knowledge and experience of being on a championship team and that's a great starting point for any team," Tony said. "Any team owner knows that the chemistry on a team is so important. When you're together as long as we are on the road it's not always easy to get along and Dickie and Kurt work so well together and that's important for everyone on the crew."
There is another team member who has been with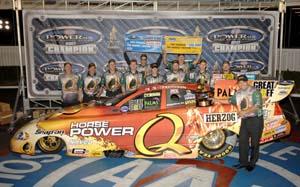 Team Pedregon
Tony from the beginning and that's
Chris Spall
. Chris worked with the NHRA Division 1 team before joining Tony and he had also spent some time with
Joe Amato's
team before joining Tony's crew. In addition to those three, this year the team included
Tyler Troxel, Warren Webber, Thomas Livingston, Chris Hegge
and
Derrick Parker. Cory Christensen,
who, along with his brother, Kevin, runs the
Sioux City Truck and Trailer
operation, also comes in every weekend to work on the team
.
"Not only is getting good people always a challenge, but so is keeping them. Once word gets out that you have a really good worker all the other teams want him." When he won his first title in 2003, Tony was quick to thank his team. During his acceptance speech he said, "This is for the team. We won this as a team." And then, holding the championship trophy up high he added, "But the team will have to come to my house to see this." Even this year, as the championship car owner, he said that the bonuses have already been paid out and he'll probably have to wait to get his championship jacket, and then he added, "But I still have the trophy." Actually, he has two of them.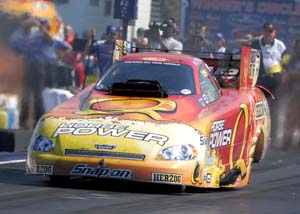 Tony Pedregon
When I spoke with him I asked Tony if he has ever had any second thoughts about going out on his own. I know I mentioned that there probably weren't any now, but what about in the beginning? "The first two years were pretty scary," he admitted. "I knew these things were expensive, but until the bills started coming in, you don't really appreciate how expensive. I have to admit that there was a time or two that first year when I thought to myself, 'What did I do?' But I haven't had any of those thoughts lately. Actually, to run one of these teams the right way, you really don't have any time to think about things like that. Between races, sponsors, budgets, personnel and things like that most of your time is pretty much accounted for." He added that, as a car and a team owner, you have to constantly remind yourself about what you have learned, take the positives, forget the negatives and move forward, "When I began I knew that I wanted to compete with people like Force and the Schumacher cars and that takes a lot. Sometimes I look back and am humbled that we can even be mentioned with those teams."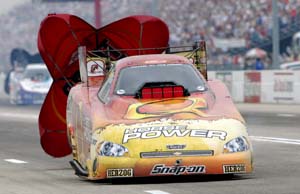 Tony's 2007 season included five final rounds and four wins, but none were more important than his win at
Las Vegas
. "I couldn't believe that all the other guys (the contenders) lost in the first round. I kept saying to myself that we had a great opportunity and we needed to take advantage of it." As the rounds went by he kept thinking, "If only we could go into
Pomona
with a two round lead. And then a three round lead." And when he won the race and took a ninety-one point lead into the last race of the year he liked his chances at winning the championship but he didn't take anything for granted. "There are good teams out there and nothing is guaranteed. Even when we clinched the title it didn't really sink in that we had won it until later," he said. "After the banquet I went to make a personal appearance for Larry Miner and then I went to see my mom who lives in
Palm Springs
. And when I got back home the next week, as I got off the plane it really hit me that we were the champs, and then I got right back into work mode and began working on next year. You enjoy it for a little while but then you realize that you still have more work to do. You can't stand still in this business, on or off the track."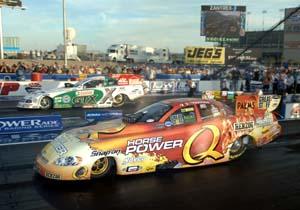 Pedrtegon vs. A. Force
In his career Tony has competed in almost three hundred national events, including a few in Top Fuel at the beginning of his career. He has been to sixty-two final rounds, which is second best in the history of the class (to John Force's 200).
His
Las Vegas
win moved him past
Don Prudhomme
into second place on the all-time Funny Car win list and he is in the top six spots in every statistical category in the history of the class, and he can only add to those totals in the future. So the question is, what lies ahead for Tony. "We're always looking to add new marketing partners to our team, after all, this in an expensive sport. We have a lot to do with the cars and the chassis components during the off-season. There are things you have to get approved and certified and all of that takes time and Dickie and Kurt are working on that now. I'll continue to work on new and existing programs to make our team stronger and that will take up a lot of my time." In addition to the normal off-season jobs, Tony and his wife and children will be moving from the
Detroit
area to
Indianapolis
. "That's where everything is, the shop, the office, the team and I need to be there. Andrea's family is from this area (
Detroit
) and they're going to move down with us so that will make it easier for her and the kids." Between all the moves, Tony will try to find a place for that second trophy, and if history is any indication, he better make sure there's room for more.




NHRA: 10 Most Recent Entries [ top ]

Mar 22- LAS VEGAS 1 - Defending Funny Car Winner Tommy Johnson Jr. Excited for Four-Wide Racing
Mar 22- NHRA Northwest Nationals Tickets on Sale Now
Mar 21- LAS VEGAS 1 - Fact Sheet
Mar 21- LAS VEGAS 1 - Event Preview
Mar 20- Strong Stable of Contending Pro Stock Racers Vie for Final Starting Position for K&N Horsepower Challenge
Mar 20- GAINESVILLE - Special Awards
Mar 20- GAINESVILLE - Lucas Oil Drag Racing Series Wrap Up
Mar 19- GAINESVILLE - Sunday Video
Mar 18- GAINESVILLE - Pro Mod Sunday Wrap Up
Mar 18- GAINESVILLE - Sunday Wrap Up