Fri, 16 Nov 2007, 07:40 AM



You Just Have To Try To



By Bob Frey


Photo copyright 2007 Auto Imagery, Inc.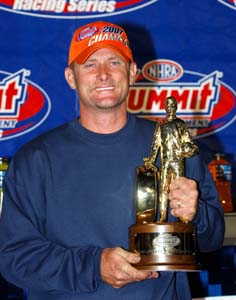 Greg Dreher
The thought of running at Pomona, in front of a huge crowd, is usually a very intimidating thought for most drivers. When the Summit Racing E/T Series championship is held at Auto Club Raceway at Pomona every year, drivers from all over the country converge on the famous track in an effort to win the national championship. For most of them it's the first time they have run at an NHRA national event in front of thousands of fans, and for some, it's also the first time they have ever been to a national event track, other than as a spectator, so, as you can imagine, the intimidation factor can be huge. But for Greg Dreher, this year's Summit Racing sportsman champ, the experience wasn't quite as daunting as it may have been for the other six racers in the category and that could be traced to two things. First, Greg has grown up around drag strips so he is no stranger to the crowds, the history of the famous Pomona track and all the hoopla that surrounds the national championship event. Second, and maybe more important, is the fact that Greg has not only been here before but he has won the event before. "I came here in 2001 and won the Sportsman title that year," Greg said. In fact, he not only won the race but he did it in the same car that he raced this year. The main difference between the two years is the fact that in 2001 the car belonged to his fiancee, Erin Warwick. This year, the car belonged to his wife, Erin, who was there with the couple's eleven month old son, Cooper. "I bought the car for her after she graduated from Cal State Nothridge and it's been very good to us," Greg said. I guess it has, after all, there aren't many cars, or drivers for that matter, who can say that they have won the Summit E/T championship twice.
Dad's 'California Colt'
Greg Dreher is a second-generation racer and he follows in his dad's footsteps when it comes to his car of choice. "Dad runs the Mustang. It's a really neat car and because he runs Fords I've become a Ford guy. Isn't that the way that usually works out?" Apparently it is, especially in the Dreher family. Besides the influence of his dad, Greg also has been inspired by another blue oval fan, Gary Williams. "Gary actually called a few years ago and told dad that he'd like us to have the Mustang (the Colt). He said 'I can't sell it to you but I'd like to give it to you.' You can't turn down a deal like that, can you?" Another thing that Greg couldn't turn down was the help that Gary offered when he first started racing. "He gave me a lot of pointers about things like how to stage, when to deep stage, how to run both ends of the track. He was a big help." Greg put that advice to work when he first started racing in the high school class and in various brackets at his home track of Los Angeles County Raceway. And along with his dad, a retired fireman who now works on a lot of the best running Fords in the Division 7 area, Greg honed his skills to the point where he is now one of the best of the bunch in Southern California. "Hey, I'm no Dan Fletcher or anything like that but I don't do too badly." That's a major understatement for the thirty-one year old who is already a two-time Summit Racing Series champion.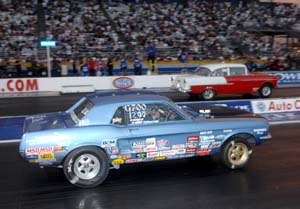 Dreher vs. Lewandowski
Coming into Pomona this year Greg knew a few things about the event. He knew that he wouldn't be intimidated by all the surroundings at the track and all the excitement of running for another championship. He also knew that all of the competitors would be bringing their "A-games" with them to Pomona. "The whole experience was just surreal, I mean, there are so many guys in each division and across the country who are trying to get here, so just being a part of it is an honor. Let's face it, all of the guys are good or they wouldn't be here," he said. "They all can drive and they're all good on the tree, so I figured the best way to beat them was to simply 'out-car' them." Now I have to admit that I have never heard that phrase before but when Greg explained it, it made a lot of sense. "You just need a car that can repeat, run the number and be consistent." Ironically, that car wasn't the one that Greg competed with to get to Pomona. "I had been running my '73 Comet and that's what I used to win the Race of Champions in Division 7 this year. But we broke the rear end in the car and had to go with a back-up and that was the Mustang. But it's not just a pooch street car, it's pretty good and we've won a lot of races with it." Before going to Pomona Greg took the Mustang, or should I say he borrowed the Mustang from Erin, and went to Fontana where he made a handful of passes to get it dialed in. For Greg, the win at the Division 7 finals was his fifth division title, including a pair of high school titles, two in the sportsman class and another in the Pro class. "I've been very fortunate and I have a lot of people to thank," Greg said. One of the people that he wanted to thank wasn't in attendance at Pomona, at least not physically. "Ed Conrad had been a good friend and mentor to me," Greg said. "Ed died of a heart attack a few weeks ago at Irwindale and I really miss him. He taught me a lot about racing, like how to have fun doing it and how to be a good loser. He always told me that you're not going to win all the time so go out and enjoy yourself, appreciate the wins, have fun and learn to accept defeat gracefully. He meant so much to me."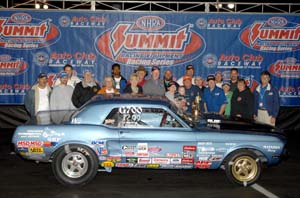 Dreher and team celebrate win.
With a couple of national championships already under his belt, Greg has his sights set on some new goals in 2008. "I am planning to go back and race in Super Gas or Super Comp next year. I have been very lucky to race with and drive for some great folks, like Larry Scarth, Ed and a few others and I think I'm prepared to go race with those guys. I've probably driven about ten or eleven cars already so I think I'm ready to move up. My big goal is to win a Super Gas race and that's what I'll focus on next year." With mentors like Ed Conrad and his dad, Greg should have no problems making the transition to the '90' categories. "I really enjoy racing, and winning at Pomona this year was special because my wife and son were there along with my sister, my nephew and my niece. To be able to share the win with them was really neat." It was especially nice because Greg admits to almost not getting past the second round. "You know how people come up and tell you that you're going to have a single, that the other guy might not show up? Well, that's what I was told going into the second round, and as much as I would like to say that was the reason why I had such a poor reaction time ( a .108 light) the truth of the matter is that I just messed up. No excuses and I was lucky to get away with it." That honesty must be one of the things that Ed Conrad taught him. And even though he may have had that one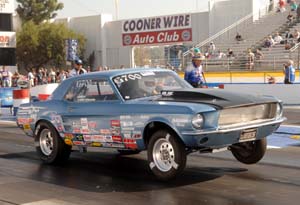 little miscue on the line, Greg was still the last man standing, again, when he beat Tim Lewandowski in the final round. "I went over to him before the final round, shook his hand and said 'Let's have fun.' I would have been happy with the runner-up, but I was lucky enough to win it all and that's great." Lucky may not be the real word, but the final round sure was close, about five inches according to the stats on DragRaceCentral.com.
With the loss of his good friend and mentor, and with his home track, LACR closing this year, the 2008 season will take on a completely new look for Greg, but he'll approach it the same way as he has in the past. Bring a good attitude to the track, enjoy the racing, savor the wins and learn to accept the losses. Of course his approach will still be the same, he'll just try to "out-car" them again in the new year. And based on his past success, there's no reason to believe that he won't do exactly that.




NHRA: 10 Most Recent Entries [ top ]

Apr 18- Haney Headed for NHRA Pro Mod with Summit Racing on His Side
Apr 18- HOUSTON - Richie Crampton Enjoying Early-Season Success Heading to 31st Annual NHRA SpringNationals
Apr 18- 2018 Mustang Cobra Jet Celebrates 50th Anniversary of Racing Legend with Quickest
Apr 18- New Ford Mustang Funny Car Scheduled to Debut In 2019 NHRA Mello Yello Season Opener
Apr 16- HOUSTON - Fact Sheet
Apr 16- HOUSTON - After Early-Season Mishap Funny Car's Jonnie Lindberg Looks to Get On Track