Mon, 12 Nov 2007, 11:44 AM



Krawiec Signs Two-Year Contract Extension with Screamin' Eagle/Vance & Hines Motorsports



Courtesy of Gabrielle Stevenson


Photo copyright 2007 NHRA





Screamin' Eagle Harley-Davidson Rider Ready to Make 2008 Even Better



MILWAUKEE --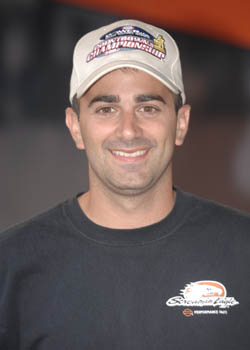 Eddie Krawiec
Eddie Krawiec will continue to be part of the Screamin' Eagle/Vance & Hines Motorsports for the next two seasons - and the New Jersey resident couldn't be happier.
Krawiec joined the team in February - just in time for the March season opener in Gainesville, Fla. Krawiec earned a trip to the semifinals in that first race with the team. Krawiec went on to finish in seventh place in the 2007 NHRA POWERade Pro Stock Motorcycle standings, making two final round appearances this season.
"Eddie was a great addition to the team this year," Harley-Davidson Racing Manager Anne Paluso said. "He had great riding capability before he joined the team and they just improved each race. He was a great asset to the Screamin' Eagle team and we're excited about him staying with the program for the next two seasons."
Krawiec set many goals before the season began, including making the first cut of the new Countdown to the Championship points system. The top eight riders were allowed to compete in the championship chase after the first 11 of 16 events and Krawiec and teammate Andrew Hines were both part of that first group.
"I am so excited about this contract extension because I think we did some great things this season in my first full season of professional racing and yet I still feel that better times are coming in the future," Krawiec said. "Not having to worry about having a great sponsor and team is also a huge benefit for me. I can start focusing on the future now and prepare for the 2008 season."
Krawiec has been working at Old Bridge Township Raceway Park since 1999 and is a lifelong resident of Englishtown, N.J. That will change this offseason.
"I'm going to move to Indianapolis to work with the team full-time in the shop," Krawiec said. "That should be great because I've been the only one on the team who has flown into each race and I think it's going to just help everyone by working in the shop. It's going to be a great way to prepare for next season. If I had my way, we would take a month off and get going with the 2008 season."
Paluso said moving to work in the shop is just one example of Krawiec's dedication to the team.
"Eddie will be working alongside Andrew and the crew every day, working with the motorcycles," Paluso said. "Given the new points system and the stresses of being the new guy on the team, Eddie did a wonderful job this year and I think his accomplishments say a lot about his talent and the team working with him. It's going to get even better with the shop time and a full offseason before the next season."




NHRA: 10 Most Recent Entries [ top ]

Mar 18- GAINESVILLE - Summary of Eliminations in Super Stock
Mar 18- GAINESVILLE - Summary of Eliminations in Stock Eliminator
Mar 18- GAINESVILLE - Summary of Eliminations in Factory Stock Showdown
Mar 18- GAINESVILLE - Summary of Eliminations in Super Comp
Mar 18- GAINESVILLE - Summary of Eliminations in Super Gas
Mar 18- GAINESVILLE - Summary of Eliminations in Top Sportsman presented by RacingRVs.com
Mar 18- GAINESVILLE - Summary of Eliminations in Top Dragster presented by RacingRVs.com
Mar 18- GAINESVILLE - Pro Modified Final, Round 4 Eliminations
Mar 18- GAINESVILLE - Factory Stock Showdown Final, Round 4 Eliminations
Mar 18- GAINESVILLE - Top Fuel Final, Round 4 Eliminations