Wed, 7 Nov 2007, 11:32 PM



It Was Fun



By Bob Frey


Photo copyright 2007 Auto Imagery, Inc.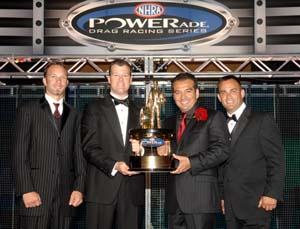 Smith, Coughlin, Pedregon, and Schumacher
The 43
rd
running of the
Auto Club of Southern California Finals
was a lot of fun. Of course, I'm sure that if you asked
Rod Fuller, Greg Anderson
or
Andrew Hines
they may disagree.
Did you know
that
Tony Pedregon
was the only driver who came into
Pomona
ranked number one who left with the championship?
Tony Schumacher
came in to Pomona in fourth place,
Jeg Coughlin
was second and
Matt Smith
was third, but all of them performed flawlessly on Sunday, all of them won the race, all of them set low elapsed time of the event in the final round and all of them earned their
POWERade
championships. The winners were honored Monday night in a gala affair in downtown
Los Angeles
and now they have about three months to enjoy their championships before putting them on the line when we return to
Pomona
the first week in February. And for Rod, Greg and Andrew, they have that same amount of time to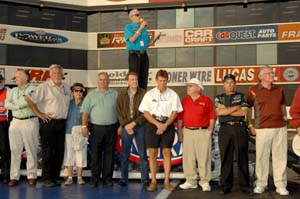 The Top Ten
think about what might have been....One great part of the weekend was the very moving tribute to
Wally Parks
that was held after the semi-final round. With
Dave McClelland
emceeing the tribute, and doing his usual great job, dozens of vintage cars from all eras were lined up on the side of the track, each one representing a different time or class in the history of the sport. In addition to the cars, the top ten drivers of all time were on hand and that made it even more special. The fans thoroughly enjoyed it and they cheered wildly for the legendary cars and drivers who participated and I know that Wally would have loved it, too. It really was something special. Congratulations to everyone who put it together and to Dave for handling it so well and with such class.
It's a good thing that the Hollywood writers are on strike because nobody would have believed the scenario in Top Fuel. Coming into Pomona I firmly believe that everyone thought that Rod Fuller and the Caterpillar team would hold on to win the championship, and those who didn't probably didn't think that Tony Schumacher was the one who would come from behind to win it, just like he did last year. I know I didn't. Now don't get me wrong, the Army car certainly had the credentials to go the distance, but those pesky round one losses this year loomed large and I thought that might be their undoing. When the qualifying was over and Tony was paired with Alan Bradshaw and the Bill Miller Engineering car in round one I really thought they might be in trouble. Did you know that, coming into Pomona, Alan and Tony had met three times in round one when Tony was number one and Alan was sixteenth? And did you know that Alan had won two of those previous three meetings? Undaunted, Tony and Alan Johnson and the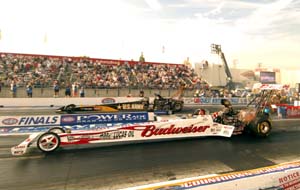 Bernstein vs. Schumacher
rest of the Army team went out and ran 4.508 to get the win and keep their title hopes alive. They were alive because, in the last pair of the round, Rod lost to
Bob Vandergriff
and he had all the POWERade points he would get for the year, 3,167.
Tony then ran low elapsed time of round two, a solid 4.501 in his win over
Morgan Lucas
to set up the monster match up of the weekend, a semi-final encounter with
Brandon Bernstein.
That race featured as much pressure as any driver could have, win and
Brandon
would be the champion, lose and Tony still had a chance.
Did you know
that Brandon and Tony were 2-2 against each other this year coming into that run? Well, Tony won the race and advanced to the final to face the
UPS / Toys for Tots
car of Bob Vandergriff and the rest, as they say, is history. Tony beat Bob, won the race, set low elapsed time on the run and won the championship.
Did you know
that this is Tony's fifth Top Fuel title and that ties him with the great
Joe Amato
as the best in Top Fuel? He also becomes the first TF driver to win four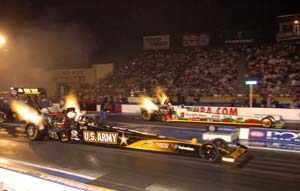 Schumacher vs. Vandergriff
consecutive championships. In the process of winning the race, Tony also set a mark for winning the "finals" a record four years in a row in Top Fuel and he moved into a tie for third place on the all-time dragster list with 70 final round appearances. Joe Amato leads the way with 99 final round appearances, Larry Dixon has 77 and
Kenny Bernstein
also has 70. Tony also won from the number one spot which, as we all know, hasn't been that easy in the Top Fuel class in recent years.
Did you know
that the last driver to win from the top spot in Top Fuel besides Tony was Larry Dixon and he did it in 2005? Amazing.....Bob Vandergriff gave it a good shot and he,
Jim Dupuy
and the team have a lot to be proud of this year. His fifth place finish is his best ever and, from what I hear, the entire team will be back next year and that gives him a good running start at winning a race and contending for the championship in 2008. Tony's win in the final ran his record to 4-0 vs. Bob in final runs, but as good as that is,
did you know
that it's not Tony's best final round mark? He has faced
David Grubnic
five times and never lost to him, while on the other side of things, Tony ran
Gary Scelzi
six times in finals and never beat him....The last race of the season was everything you could have wanted in a race and, in the end, the Army team established themselves, or maybe re-established themselves, as one of the great dragster teams of all time. And answer me this, if you have to win one run to win the championship wouldn't you like to have Alan Johnson tuning your car?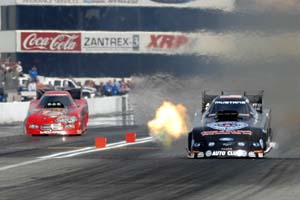 Scelzi vs. Hight
The Funny Car class seemed like a foregone conclusion coming into the weekend but I guess nobody told that to Tony Pedregon. The leader by 91 points coming in, Tony struggled in qualifying, ending up 16
th
, his lowest start since
Gainesville
in 2006.
Did you know
that this was the fifth time that Tony had qualified #16 and that he has never won a round from that starting spot, and he didn't this weekend, either? Tony's loss opened a small window for Robert Hight and
Gary Scelzi
who could now win the championship by winning the race and setting the national record. When they faced each other in round one, and when Robert won, the championship race was down to Tony and Robert. Of course to set the record he would need to have some cooler weather set in, which it didn't, and when he failed to go quick enough to even establish a back up run for the record in the semi-finals it was all over and Tony was the champ. Besides the weather, you have to remember that Robert's car was probably close to one hundred pounds heavier than it was at the start of the year when he made that sensational 4.646 run at
Pomona
, so the odds weren't it his favor. He did go on to win the race, setting low elapsed time in the final round when he beat
Phil Burkart
who was driving for
John Force
for the second consecutive event.
Did you know
that Robert became the 26
th
different Funny Car winner in the forty-three year history of the final race on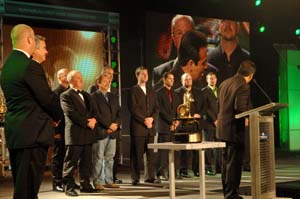 Pedregon and crew at awards ceremony.
the NHRA schedule?...Tony Pedregon is now a two-time Funny Car champion joining John Force, Kenny Bernstein,
Don Prudhomme
and
Raymond Beadle
with multiple championships. At the award's ceremony on Monday night Tony brought his entire team up on stage and that was a nice gesture. With
Dickie Venables
and
Kurt Elliott
leading the way, Tony has assembled a very good team that can only get better. Like I mentioned with Bob Vandergriff, it's very important to keep your key people in place if you want to build a winning team and Tony has done just that and the
Q Horsepower Chevrolet
should be a factor again next year....
Ashley Force
won the Rookie of the Year award, much to the surprise of exactly nobody. She did a good job this year, made a very nice acceptance speech and then joined her dad, or he joined her on stage as part of the POWERade top ten. Nice job, Ashley.....With
Melanie Troxel
coming into the Funny Car class next year it will be interesting to see which one gets their name in the record books as the first woman ever to win a race in the Funny Car class....At the start of the year I mentioned how competitive the Funny Car class would be and it proved to be the case throughout the entire year.
Did you know
that the spread from Jeff Arend's number one qualifying time of 4.781 to Tony's sixteenth time of 4.842 made this the closest field in the history of the Funny Car class? Not the quickest, but the closest. Like I said, it's tough out there.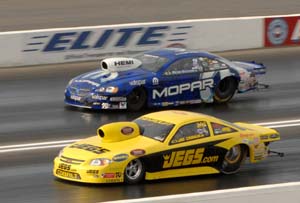 Coughlin vs. Stevens
It's not often that a driver wins the championship after not leading the points once during the year but that's the case for Jeg Coughlin in Pro Stock. When Greg Anderson lost in round one it opened the door for Jeggie to win the title and he took advantage of the situation. Jeg beat
Larry Morgan
in round one and then he had to beat
Richie Stevens
in round two to win the championship and that's exactly what he did. He then beat
Mike Edwards
in the semis and
Justin Humphreys
in the final round, where he set low elapsed time of the meet. Jeg's car, which runs out of
Victor Cagnazzi's
shop, was good all year long but it was especially tough down the stretch, and of course, Jeg can really drive. When he needed it he had a .014 reaction time in round one and a .015 in round two and that's the stuff that champions are made of. This was Jeg's fourth championship overall, three of them coming in Pro Stock and that puts him in a very select group of drivers.
Did you know
that Jeg becomes just the 20
th
driver in the history of the sport to win four or more season championships?....Greg and Dave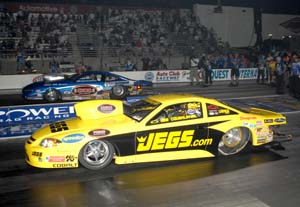 Coughlin vs. Humphreys
Connolly certainly had good cars this year with each of them winning eight races. That means that two drivers won sixteen of the twenty-three races this year and yet neither one of them won the championship...Justin
Humphreys got everyone's attention this year and he should be a factor in the championship chase next season. Even though he didn't win this year he did make a final round and that's a major accomplishment for a rookie in Pro Stock, or for anyone in Pro Stock for that matter.
Did you know
that in the thirty-four year history of the class Justin became only the 88
th
driver to make it to a final round? And of that total twenty-three of them finished their careers with an 0-1 record. I don't expect that this will be the last final round for Justin and I hope that he returns with
Richard Maskin
and
Bob Glidden
because they will win some races. That's some, as in plural....Dave Connolly's red light in the first round may have been one of the most surprising occurrences of the weekend.
Did you know
that this was only Dave's second red light of the year?...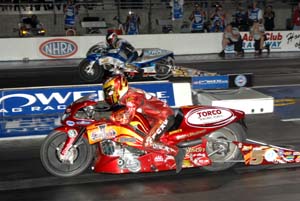 Smith vs. Ellis
The Pro Stock Motorcycle class provided as much drama as any class at
Pomona
with three riders still alive for the championship going into the second round. Andrew Hines, who upped his lead to 41 points, or more than two rounds after qualifying, basically needed to win his round two match in order to secure his fourth title, that is barring a national record run and that wasn't going to happen in
Pomona
. With all of his experience and with three championships already, the last thing you expected to see was Andrew make a mistake, but that's exactly what happened. For what ever reason, his bike rolled out of the beams and he fouled out and he had all the points he was going to get for the year. Now Matt Smith and
Chip Ellis
both had at shot at the championship but they had to win the race to do it. To make matters worse for Andrew, his teammate,
Eddie Krawiec
had a .203 reaction time in his race with Chip which enabled the
Drag Specialties Buell
to sail into the semi-finals where things would get even stranger. The two Army bikes, ridden by
Angelle Sampey
and
Antron Brown
both were scheduled to meet Chip and Matt, but Angelle's bike broke and Antron fouled out and that set up a one run, winner-takes-all scenario in the final round between Matt and Chip.
Did you know
that this was only the second time in history that two drivers faced in other in the final round at
Pomona
with the winner getting the championship? The other time was 1990 when Joe Amato faced
Gary Ormsby
for the TF crown. In the final round Matt not only won the race but he recorded low elapsed time, just like all the other winners did on Sunday, and he won his first POWERade championship. With all of the great champions in the history of the class,
did you know
that Matt is just the seventh rider to win a Pro Stock Motorcycle crown? Of that small group only
Geno Scali
and
John Mafaro
won the championship just one time in their career while all the others won multiple titles. Let's see what group Matt eventually falls in to.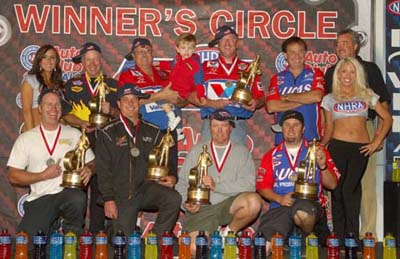 Standing: Bill Reichert, Jay Payne and Dan Fletcher
Kneeling: Steve Parsons, Tom Mettler, Jody Lang and Shawn Langdon
Bill Reichert
and
Shawn Langdon
cemented their championship seasons with wins in
Pomona
. Bill joined only
Rick Santos
and
Al DaPozzo
as drivers who won the "Finals" in three consecutive years in Top Alcohol Dragster....
Jay Payne
won the TAFC title over
Von Smith
and this gave him seventeen wins in the funny car class to go with his sixteen wins in the alcohol dragster class...
Tom Mettler
won his second race of the season when he beat
Dean Carter
in the Competition Eliminator final round while
Dan Fletcher
added his name to the list of drivers with fifty wins when he beat the 2007 Stock Eliminator World Champion,
Michael Iacono
in the Super Stock final.
Did you know
that Dan became just the twelfth driver to reach the fifty win plateau?...
Jody Lang
beat his brother,
Toby
to take the Stock title while the 2007 Lucas Oil champ Shawn Langdon closed the year with a win over
Gary Stinnett
. The final sportsman title went to
Steve Parsons
who beat
Randy Balough
for the Super Gas crown.




NHRA: 10 Most Recent Entries [ top ]

Mar 20- Strong Stable of Contending Pro Stock Racers Vie for Final Starting Position for K&N Horsepower Challenge
Mar 20- GAINESVILLE - Special Awards
Mar 20- GAINESVILLE - Lucas Oil Drag Racing Series Wrap Up
Mar 19- GAINESVILLE - Sunday Video
Mar 18- GAINESVILLE - Pro Mod Sunday Wrap Up
Mar 18- GAINESVILLE - Sunday Wrap Up
Mar 18- GAINESVILLE - Pro Mod Championship Points
Mar 18- GAINESVILLE - Bonus Points
Mar 18- GAINESVILLE - Championship Points
Mar 18- GAINESVILLE - Mickey Thompson Top Fuel Harley Series Championship Points