Tue, 6 Nov 2007, 11:58 AM



Schumacher, Pedregon, Coughlin and Smith Crowned NHRA POWERade Series World Champions



Courtesy of NHRA Communications


Photo copyright 2007 Auto Imagery, Inc.





Ashley Force Named Auto Club Road to the Future Winner during NHRA Awards Ceremony in Los Angeles



LOS ANGELES --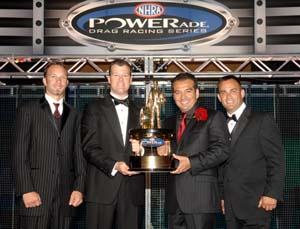 POWERade Champions
Tony Schumacher, who became the first Top Fuel driver in NHRA history to win four consecutive POWERade Series world championship crowns by racing to victory at Sunday's season finale in Pomona, Calif., headlined the four world-championship winning drivers crowned Monday evening during the 2007 NHRA POWERade Drag Racing Series awards ceremony at the Westin Bonaventure Hotel in downtown Los Angeles.
Three other NHRA POWERade Series world champions - Tony Pedregon, Jeg Coughlin and Matt Smith -- also were presented checks and trophies for their achievements during the 2007 POWERade Countdown to the Championship, NHRA's first championship playoffs.
The evening featured two very moving tributes. The first to NHRA founder Wally Parks, who died Sept. 28 at age 94, after a lifetime dedicated to growing and nurturing NHRA to position it as a worldwide leader in motorsports; and the other to Funny Car driver Eric Medlen, who died March 23 from injuries received in a testing crash at Gainesville Raceway four days earlier. Medlen, 33, a team driver for John Force Racing, was one of the bright young stars in the NHRA POWERade Series.
Schumacher received a check for $500,000 from NHRA and POWERade, which also included a $100,000 Countdown bonus. It was Schumacher's fourth consecutive crown and his fifth overall, tying him with Joe Amato for most in the category. Schumacher drove his Alan Johnson-tuned U.S. Army dragster to six victories during the season, including a dramatic must-win performance at the Auto Club NHRA Finals, to steal the title away from "Hot Rod" Fuller at the last moment.
Pedregon earned his second series crown and first as a team owner by outlasting Robert Hight, Gary Scelzi and Ron Capps in the Countdown to 1. Pedregon raced to a victory in Las Vegas and then held on to win the championship despite losing in the first round at Pomona. Pedregon, who drove his Q Horsepower Chevy Impala SS to four victories in five final rounds during the season and set the national elapsed time record at Phoenix, earned $500,000 from NHRA and POWERade for the title, which included a $100,000 Countdown bonus.
Coughlin took his third Pro Stock world championship with a come-from-behind effort, driving his Jegs.com Chevy Cobalt to the win at the season finale and posting a runner-up effort at Las Vegas for a 7-1 eliminations record during the two-race Countdown to 1. The Delaware, Ohio driver was presented a $250,000 check from NHRA and POWERade, which included a $50,000 Countdown bonus. Coughlin won four times in eight final round appearances during the season.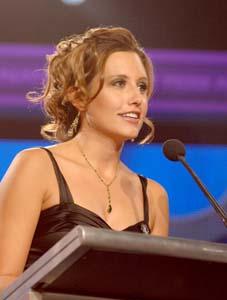 Ashley Force
Smith earned his first NHRA POWERade Series world championship in Pro Stock Motorcycle by winning the Auto Club Finals in a winner-take-all final round against Chip Ellis, who finished second in the series standings, six points back. Smith rode his Torco Race Fuels Buell to four victories during the season in nine final round appearances to take home the $75,000 payday from NHRA and POWERade, which includes a $25,000 Countdown bonus.
Funny Car driver Ashley Force won the $20,000 Automobile Club of Southern California Road to the Future Award, which recognizes NHRA's rookie of the year. A distinguished panel of auto racing journalists selected Force, who two weeks ago in Las Vegas became the first female driver in NHRA history to advance to a final round in Funny Car. The 24-year-old second generation racer is only the 10th woman to compete in the 7,000 horsepower category. Other nominees included Justin Humphreys, Craig Hankinson and Matt Scranton in Pro Stock and Barry Henson in Pro Stock Motorcycle.
NHRA Full Throttle Pit Crew Challenge season awards, recognizing the most consistently quick teams during qualifying throughout the year, were presented to Schumacher's U.S. Army Top Fuel team ($25,000) led by crew chief Johnson; Jack Beckman's Mail Terminal Services Funny Car team ($25,000) led by Phil Shuler; Greg Anderson's Summit Racing Pro Stock team ($15,000) led by Rob Downing; and Ellis' Drag Specialties S&S Buell Pro Stock Motorcycle team ($5,000) led by Ken Johnson and George Bryce.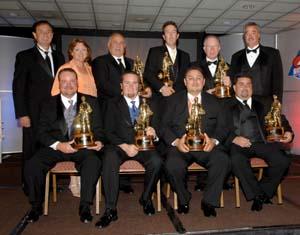 Lucas Oil Champions
Chevrolet won the NHRA Manufacturers Cup for the 16th time, an NHRA record. NHRA Pro Owner's Cups were presented to Don Schumacher (Top Fuel); Tony Pedregon (Funny Car); and Victor Cagnazzi (Pro Stock).
The future stars of the sport, drivers in seven categories in the NHRA Lucas Oil Drag Racing Series, also were recognized as 2007 world champions: Bill Reichert (Top Alcohol Dragster); Frank Manzo (Top Alcohol Funny Car); Frank Aragona Jr. (Competition Eliminator); Darren Smith (Super Stock); Michael Iacono (Stock Eliminator); Shawn Langdon (Super Comp) and Sherman Adcock Jr. (Super Gas).




NHRA: 10 Most Recent Entries [ top ]

Apr 18- Haney Headed for NHRA Pro Mod with Summit Racing on His Side
Apr 18- HOUSTON - Richie Crampton Enjoying Early-Season Success Heading to 31st Annual NHRA SpringNationals
Apr 18- 2018 Mustang Cobra Jet Celebrates 50th Anniversary of Racing Legend with Quickest
Apr 18- New Ford Mustang Funny Car Scheduled to Debut In 2019 NHRA Mello Yello Season Opener
Apr 16- HOUSTON - Fact Sheet
Apr 16- HOUSTON - After Early-Season Mishap Funny Car's Jonnie Lindberg Looks to Get On Track