Sun, 4 Nov 2007, 11:10 PM



Schumacher, Pedregon, Coughlin and Smith Win NHRA POWERade Series World Championship



Courtesy of NHRA Communications


Photo copyright 2007 Auto Imagery, Inc.





POMONA, Calif. --
Crowns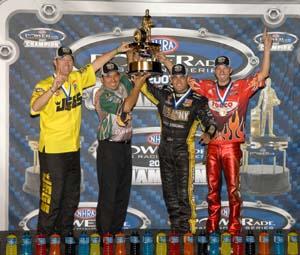 Coughlin, Pedregon, Schumacher, and Smith
Tony Schumacher and Matt Smith needed wins in the final round of Sunday's 43rd annual Auto Club of Southern California NHRA Finals to clinch Countdown to the Championship titles in the POWERade Drag Racing Series. New Funny Car champion Tony Pedregon sweated it out until the semifinals before securing his second crown, while Jeg Coughlin wrapped up his third Pro Stock title in the quarterfinals.
For the second year in a row, Schumacher waited until the final pass of the season to steal the title away, this time from "Hot Rod" Fuller. He defeated Bob Vandergriff with the quickest pass of the race, a 4.486 at 328.30 mph. Robert Hight beat fill-in teammate Phil Burkart in the Funny Car final when Burkart's car lost traction 200 feet out.
In Pro Stock, Coughlin punctuated his title with his 38th career win, this one over first-time finalist Justin Humphreys. Smith beat fellow Buell rider Chip Ellis in the Pro Stock Motorcycle final.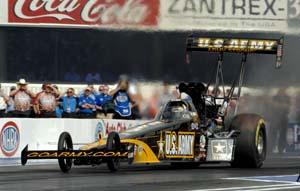 Tony Schumacher
Schumacher becomes the first Top Fuel racer to win four championships in a row with his second Cinderella finish in as many years. Entering this weekend in fourth place and needing help on many fronts, Schumacher danced his way through to the final in his U.S. Army dragster and blistered Vandergriff's UPS dragster 4.486 to 4.681 to win his fifth POWERade championship by just 19 points.
"After the second round it was like deja vu," Schumacher said. "My knees started shaking and I had that feeling like maybe we could do it again. The guys on this team are unbelievable when the pressure is on. They showed it again today."
Temporary teammates Hight and Burkart had little to race for in the final besides bragging rights and an event trophy as the Funny Car title had already been decided one round earlier when Hight couldn't run quick enough to set a national record, depriving him of a chance at the 20 bonus points he would have needed to pass Pedregon.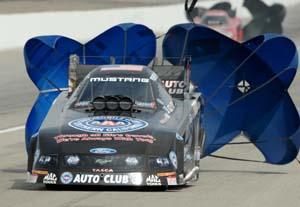 Robert Hight
Hight still shined in the final with the best pass of the weekend, a 4.731 at 326.71 mph in his Auto Club Ford Mustang.
"We pushed as hard as we could in the semifinals to try and at least get the back-up for a record but we broke a couple of lifters and it was a handful just to keep it off the wall," Hight said. "It would have been close but it didn't happen. If we had won the championship it wouldn't have made this a great year. Winning the race didn't make it a great year. We lost our teammate [Eric Medlen] this year and nothing will make up for that. We all miss him like you can't believe. I'm gonna go home and have a little ice cream, and like Eric always said, that is sure to make you happy."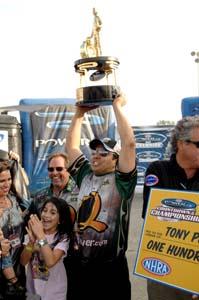 Tony Pedregon
Pedregon was relieved and emotional after finally securing the championship in his Q Horsepower Chevy Impala.
"This is racing, and we want to win races, but we have to remember we're putting on a show, and I think the NHRA did a great job with this Countdown," Pedregon said. "The biggest difference between this year and 2003 when I won a title with John Force Racing was the amount of media coverage. The stress is through the roof but in the end, I think we have a better product now. I had people doubting my sanity when I left John but I wanted to race with my brother and I wanted to see if I could do it on my own. I know how difficult it is to race a team like that. I know what they have over there. And to be able to beat them is special. Winning our first race on my own was huge. To win this championship, I can't describe it."
Jeg Coughlin
Two rounds after clinching his third NHRA title, Coughlin won his 38th national event by barely catching and passing Humphreys. The former NHRA Sport Compact champion was ahead of Coughlin at every timer except the finish line, but Coughlin's Jegs.com Cobalt had just enough steam to win with a 6.638 at 207.98 mph to Humphrey's 6.662 at 207.27 mph in his Knoll Gas & Energy Pontiac GTO.
"This goes back to last week in Las Vegas when I woke up on Sunday morning and said to myself that if I was gonna win the championship it was time to get after it," Coughlin said. "No matter what car I had under me, I needed to get it done. We made it to the final but lost to Greg and came in here almost two rounds behind him. I had to have that talk with myself again and I don't know if I was buying it this time.
"It was amazing to see how it came out in Round 1 with Greg Anderson and Dave Connolly, two of the best in the business, both losing like that. We knew we needed some help and we got it right away. Then I just dug down deep and got that second round win and clinched it. It's a phenomenal feeling."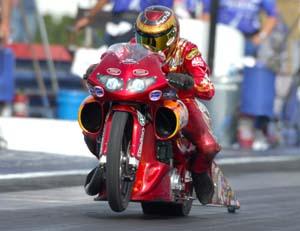 Matt Smith
The Pro Stock Motorcycle championship came down to the final round and Smith was superb under the intense pressure, rocketing off the starting line on his Torco Race Fuels Buell and never looking back, defeating Ellis's S&S Buell with a 6.944 at 191.191.08 mph to Ellis' 6.957 at 192.17 mph.
"I don't know if words can describe this feeling," Smith said. "I've had some big races before but nothing like this. My goodness, it was all or nothing there.
"This is pretty special, especially with my dad here helping us. We felt like we had such a great bike all year and we had times where we just couldn't punch it through when we probably should have won some races, but we never gave up and just kept fighting."
The championship was put up for grabs after leader Andrew Hines rolled the lights in the quarterfinals and red-lighted. Had Hines won that round, he would have clinched his fourth straight title. Instead, he was relegated to second place.




NHRA: 10 Most Recent Entries [ top ]

Apr 20- HOUSTON - Erica Enders Hopes Turnaround Comes at Hometown Track for NHRA SpringNationals
Apr 19- HOUSTON - Friday Schedule
Apr 19- Tige Boats Named Presenting Sponsor of E3 Spark Plugs NHRA Pro Mod Drag Racing Series Portion of NHRA SpringNationals
Apr 19- HOUSTON - Previous Success, Early Win has Funny Car's Courtney Force Excited
Apr 18- Haney Headed for NHRA Pro Mod with Summit Racing on His Side
Apr 18- HOUSTON - Richie Crampton Enjoying Early-Season Success Heading to 31st Annual NHRA SpringNationals
Apr 18- 2018 Mustang Cobra Jet Celebrates 50th Anniversary of Racing Legend with Quickest
Apr 18- New Ford Mustang Funny Car Scheduled to Debut In 2019 NHRA Mello Yello Season Opener
Apr 16- HOUSTON - Fact Sheet
Apr 16- HOUSTON - After Early-Season Mishap Funny Car's Jonnie Lindberg Looks to Get On Track