Sat, 3 Nov 2007, 06:50 PM



Antron Brown Named Driver of Matco Tools Iron Eagle Dragster



Courtesy of Ted Yerzyk



POMONA, Calif. (Nov. 3, 2007) -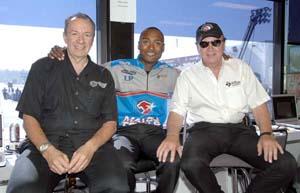 John Torok, Antron Brown and David Powers
After 10 seasons as one of the elite Pro Stock Motorcycle competitors on the NHRA circuit, 16-time NHRA winner Antron Brown will move to NHRA's premier category, Top Fuel, to pilot the Matco Tools Iron Eagle Top Fuel dragster in 2008, team owner David Powers announced today.
"I'm very excited to have this opportunity to be part of the David Powers Motorsports team with Lee Beard and Rob Flynn," Brown said. "Also, to be teammates with Hot Rod Fuller is awesome. It makes me speechless, which is a first for me, to have this opportunity to represent Matco Tools, their distributors, and all of DPM. I've been associated with Matco for the past few years while at DSR (Don Schumacher Racing) and attending the annual Matco Tools Expo and I'm looking forward to expanding that relationship. Everyone in their organization has a passion for the business and winning, from President Tom Willis to the 1500 franchisees selling the Matco product. I couldn't think of a better organization to make this transition with and for them to believe in me and give me this shot as a rookie driver is awesome."
A two-time NHRA championship runner-up (2001, '06), Brown raced to 16 wins in 145 career Pro Stock Motorcycle events. A native of Chesterfield, N.J., Brown also earned 11 career pole awards in the two-wheel category and has not missed the cut for an NHRA race since his rookie season in 1998.
"We learned with the Iron Eagle Club hospitality how to improve the business-to-business relationship for Matco and it's distributors and guests," Powers said. "During the past year, we've expanded the motorsports opportunity for Matco and have learned new ways that we could expand in the future."
"It is obvious that he also has to have the capabilities and to that point you can look at his skillful execution in the Pro Stock Motorcycle. Antron has the commitment and dedication to be one of the best. Frank Hawley, the master of teaching drivers, would tell you that Antron is one of the most focused and committed pros he's had the pleasure of working with. We also know that Antron will fit in well with all the other David Powers Motorsports professionals and will become, in a short period of time, a very successful Top Fuel driver in the Matco Tools dragster."
A two-time winner of the prestigious U.S. Nationals in Indianapolis (2002, '04), Brown has ridden the U.S. Army Suzuki for Don Schumacher Racing for more than three seasons. Last July, he joined the esteemed Mickey Thompson 6-Second Pro Stock Bike Club with a 6.981-seconds pass in Sonoma, Calif. He earned his first career NHRA victory at Texas Motorplex near Dallas in 1999. Brown, 31, currently resides in Pittsboro, Ind. with his wife Billie Jo and their two children.
"Antron has been apart of the Matco Tools Family and knows our Company and Distributors very well," said Ernie Lauber, Vice President of Marketing for Matco. "He has been to a number of our tool expos and national meetings and understands our values and goals. Antron is not only an accomplished racer, he is also a technician and fabricator who uses our products everyday. We know this is a huge step from Pro Stock Motorcycle to Top Fuel, but know Antron will embrace this challenge. We have all the confidence that David Powers and Lee Beard will provide Antron with all the tools to make him successful at this level."
Brown and crew chief Lee Beard will team with David Powers Motorsports driver Rod Fuller, driver of the Caterpillar dragster. In a few short seasons, Fuller has grown into one of the premier drivers in the Top Fuel division. The former NHRA sportsmen competitor has earned six career Top Fuel victories and six poles. Last weekend in Las Vegas, Fuller also captured the lucrative win in the $100,000 Technicoat Shootout bonus race. He is currently one of four drivers competing for the 2007 NHRA championship in the Countdown to 1.
"What I see in Antron Brown is an individual that is willing to give 110-percent to do whatever it takes to be successful out here in NHRA drag racing," Beard said. "What it takes to be successful today in racing is the total package and we feel Antron brings that to the table. A driver needs to be full circle with a commitment to working with the race team, the sponsors, and working and meeting with the Matco Tools distributors. His willingness to work at the shop and really learn about the race car will make him a better race car driver. His enthusiastic and outgoing personality is an asset to any team."
"The goal is to keep our heads down and work as hard as we can," Brown added. "There are a lot of great people whom I can absorb and learn from here in this environment. We want to remain positive and field a championship-caliber race team. That's our main goal."
The Powers organization also is mulling the opportunity of adding a third car to its racing stable. With the success of both the Matco Tools and Caterpillar teams, sponsors and drivers have approached the DPM camp about growing the business in the near future.




NHRA: 10 Most Recent Entries [ top ]

Mar 17- GAINESVILLE - Super Gas Round 2 Winners
Mar 17- GAINESVILLE - Super Stock Round 2 Winners
Mar 17- GAINESVILLE - Top Sportsman presented by RacingRVs.com Round 1 Eliminations
Mar 17- GAINESVILLE - Super Gas Round 2 Eliminations
Mar 17- GAINESVILLE - Super Stock Round 2 Eliminations
Mar 17- GAINESVILLE - Super Comp Round 2 Winners
Mar 17- GAINESVILLE - Stock Eliminator Round 2 Winners
Mar 17- NGK Adds 'Spark' to NHRA Four-Wide Nationals
Mar 17- GAINESVILLE - Super Comp Round 2 Eliminations
Mar 17- NHRA Launches Yearlong Celebration Leading Up to 50th annual Gatornationals