Thu, 1 Nov 2007, 09:00 PM



Coughlin, Todd, Arend and Sampey Are Top Qualifiers at Auto Club NHRA Finals



Courtesy of NHRA Communications


Photo copyright 2007 Auto Imagery, Inc.





POMONA, Calif. --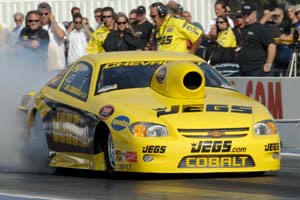 Jeg Coughlin
Second-place Countdown contender Jeg Coughlin continued to fight for his fourth NHRA POWERade Series world championship title Thursday by posting the quickest Pro Stock run of opening day at the 43rd annual Auto Club of Southern California NHRA Finals.
Coughlin, who earned Pro Stock crowns in 2000 and 2002, joined J.R. Todd (Top Fuel), Jeff Arend (Funny Car), and Angelle Sampey (Pro Stock Motorcycle) as the provisional qualifying leaders at historic Auto Club Raceway at Pomona.
The Auto Club NHRA Finals is the second and final race in the Countdown to 1, the two-race championship round of the NHRA Playoffs.
A runner-up last weekend in Las Vegas, Coughlin remains in control of a great hot rod as his Jegs.com Chevrolet Cobalt posted a 6.689 at 206.95 mph. Coughlin entered this weekend's race 34 points behind Greg Anderson, so every point is important.
"The points are set up where we couldn't get a round back on Greg in qualifying but we can get more than a round up on Dave [Connolly] so they all count, certainly," Coughlin said. "It's just good to run this well right out of the trailer and send the message we have a car to win the race with us this weekend."
Anderson, who beat Coughlin in Vegas, isn't giving up much in his Summit Racing Pontiac GTO, running a second-best 6.690 at 207.18 mph. Connolly is 11th-best with a 6.713 at 206.76 mph in his Torco Cobalt.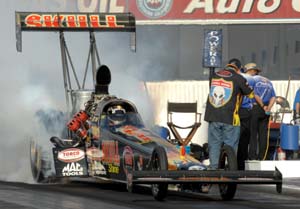 J.R. Todd
Todd would love to double-up at the birthplace of drag racing and his opening pass of 4.521 at 328.22 mph in his Skull Shine dragster got him off to a strong start. Todd has two low qualifiers this year, including one in late September in Dallas.
"Hopefully we can play spoiler and help my buddy Brandon (Bernstein) win the championship this year," Todd said. "I'm not worried about next year. We have some big announcements coming real soon. I'm definitely gonna be here racing next year in a Top Fuel dragster. Right now we're gonna worry about finishing this year as strong as we can."
All four Countdown to 1 racers are safely in the field. Brandon Bernstein is quickest in with a 4.529 at 329.83 mph, which is third best overall. Tony Schumacher follows in sixth place with a 4.544 at 323.04 mph. Larry Dixon is eighth with a 4.572, while points leader Rod Fuller shutoff early and carded a 15th-best 4.643 at 265.85 mph.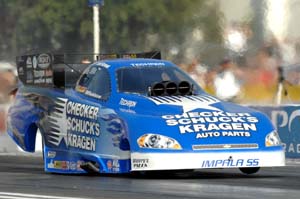 Jeff Arend
Local Funny Car racer Arend, who hails from nearby San Dimas, is tops in his category with a 4.781 at 324.90 mph in his Checker Schuck's Kragen Chevrolet Impala SS. Arend has been qualifying strong lately although he only has one No. 1 qualifying effort to his credit from earlier this year in Indy.
"We had an idea we could run in the 4.70s," Arend said. "It was a little soft early but after that it was fine. It certainly agreed with what we were trying to do. We're trying to do the best we can in my hometown here. I live just a few miles from here."
The highest qualified Funny Car racer in the Countdown to 1 chase is former champion Gary Scelzi, who is fourth with a 4.813 at 319.98 mph. Scelzi is second in the points, a distant 91 markers behind Tony Pedregon. Ron Capps is fifth with a 4.845 at 322.42 mph, while Pedregon (seventh at 4.864) and Robert Hight (eighth at 4.867) also earned top-half slots.
By qualifying for this event, Pedregon will eliminate Capps from championship contention.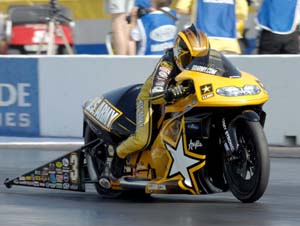 Angelle Sampey
Three-time Pomona winner Sampey is hoping to go out with a bang, running her U.S. Army Suzuki through a track record 6.973 at 188.94 mph to take the early lead. Sampey is scrambling to find a new sponsor after learning the Army wouldn't be back for 2008 so she was pleased with a chance to meet with the media.
"I hope that I can hold onto it because we're in the middle of finding a job for next year and we need every little bit of publicity we can get," Sampey said. "The news (of her sponsor leaving) hit us hard but it hasn't taken anything out of my determination to succeed. In fact, it's only made me more determined to show everyone we're worth sponsoring. I know we can still win races and championships and I want to show everyone that."
Points leader Andrew Hines is third on the grid with a 6.996 at 189.71 mph on his Harley-Davidson. Chip Ellis, who is second to Hines in the points, follows close behind in fourth place after a 7.010 at 188.46 mph on his S&S Buell V-Twin. Peggy Llewellyn posted a seventh-best 7.061 at 186.20 mph. Matt Smith didn't make it down the track under power Thursday.




NHRA: 10 Most Recent Entries [ top ]

Apr 18- Haney Headed for NHRA Pro Mod with Summit Racing on His Side
Apr 18- HOUSTON - Richie Crampton Enjoying Early-Season Success Heading to 31st Annual NHRA SpringNationals
Apr 18- 2018 Mustang Cobra Jet Celebrates 50th Anniversary of Racing Legend with Quickest
Apr 18- New Ford Mustang Funny Car Scheduled to Debut In 2019 NHRA Mello Yello Season Opener
Apr 16- HOUSTON - Fact Sheet
Apr 16- HOUSTON - After Early-Season Mishap Funny Car's Jonnie Lindberg Looks to Get On Track